George Harrison's Wife Started Writing Poetry While Grieving Him
George Harrison's wife Olivia started writing poetry shortly after her husband died of cancer in 2001. It helped her get all her thoughts down and grieve her 30-year relationship with George. On June 21, Olivia released her poems in a book called Came the Lightening.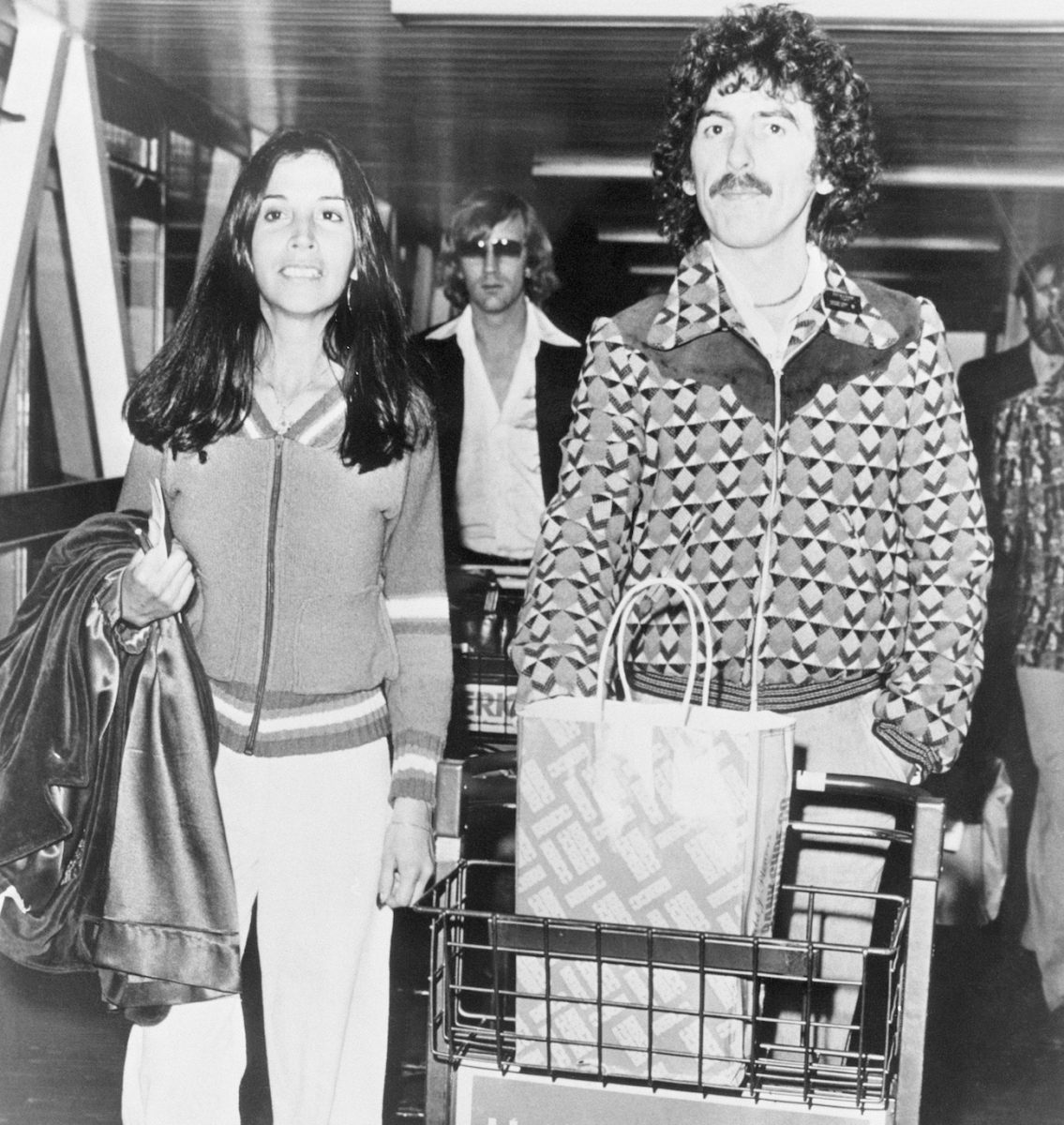 George 'lit the room' when he died
Once he became spiritual, George started to prepare for death. He knew he'd die one day and wanted to come to terms with that, so he wasn't frightened of death. Eventually, he'd wrung his life out and had trouble finding a reason to stay in the material world.
In the meantime, George did everything to stay connected to God, whether it was through gardening, chanting, meditating, or loving a person as much as he loved his creator.
In Martin Scorsese's documentary, George Harrison: Living in the Material World, Olivia said George "put so much emphasis and importance on the moment of death, of leaving your body. That's really what he was practicing for."
Michael Abram, who broke into the Harrisons' home to kill George in 1999, almost took that away from George. The incident took years off George's life. He'd just recovered from throat cancer. Then, he went back on the mend from a collapsed lung and tons of stab wounds.
In 2001, George's health started to decline again. He underwent a procedure to have a cancerous growth removed from his lungs. Months later, doctors treated him for a brain tumor. Shortly after that, George realized he wasn't going to get better. As he lay dying, surrounded by friends and family, George's son Dhani realized his father bore no scars from the 1999 attack or any other. He was like a Yogi.
All that mattered then was George leaving his body the right way. He didn't care that the press hounded him in those last months and days.
"There was a profound experience that happened when he left his body," Olivia explained in Scorsese's documentary. "It was visible. Let's just say you wouldn't need to light the room if you were trying to film it. You know, he just lit the room."
He truly made an art out of dying.
RELATED: George Harrison Said People Weren't Spiritual Because 'Ignorance Is Bliss'
Olivia started writing poetry while grieving George
In a recent interview with The Sunday Times, Olivia revealed that she started writing poetry after George died.
"I went to Hawaii," she said, "and when the moon would come up out of the ocean it would rise just to the roofline. I called that 'moon writing.' I would just sit there and write, going through this grief and this change, just writing on my own, hitting it head-on."
She also told The Times she started reading poetry five years ago following a "funny turn" that caused temporary amnesia. Then, Olivia began to write poetry again. Suddenly, it came to her easier, and she couldn't stop. She thinks it's a positive side effect of the "funny turn." Now, because poetry comes easier to her, she understands songwriting better.
"Carl Jung coined a phrase," she said, "a crazy word called enantiodromia. It's the reversal of poles. Left brain, right brain, all the things I couldn't get out suddenly were coming out. You know, I could organise you to death, but I could not get through that other creative side.
"And I think that's what happened. I understood George, I understand my son much better. He's a very creative person. I suddenly dipped into another world."
Came the Lightening, Olivia's new poetry book, is a collection of "twenty poems for George." It will include photos of them and their gardens at Friar Park. Scorsese calls it "a work of poetic autobiography."
RELATED: George Harrison Enjoyed Playing Bass Because It Holds Everything Else Down
Olivia wrote a poetry book because it was the only way she knew how to tell her story
Once her poems improved, Olivia realized that writing a poetry book was the only way she could write about her story. She didn't want to release an ordinary autobiography.
"In my world everyone's written their autobiography," she told The Times. "I don't want to. And I actually had no choice. I'm not a poet. It just came out in that form. And I tried to tell, I mean, everything in it, every line in it, there's no artistic licence. You know, it's all really autobiographical."
Olivia and George never stopped communicating after his death. So it's undeniable that George has heard his wife's poems from wherever he is and loves them.
RELATED: George Harrison's Heartbreaking Last Words To His Wife Olivia Still Ring True