Giada De Laurentiis' 12 Most Popular Recipes on the Food Network
Here's a look at Giada De Laurentiis' favorite dishes plus her top 12 most popular recipes on the Food Network.
Food Network star Giada De Laurentiis is giving fans a behind-the-scenes look at her life under quarantine. During a recent appearance on Today, De Laurentiis shared some of her favorite dishes she has prepared during the lockdown. This includes a tip on sneaking veggies into meals and what she considers to be the ultimate chocolate snack. Here's a look at the Giada at Home star's favorite dishes plus her top 12 most popular recipes on the Food Network.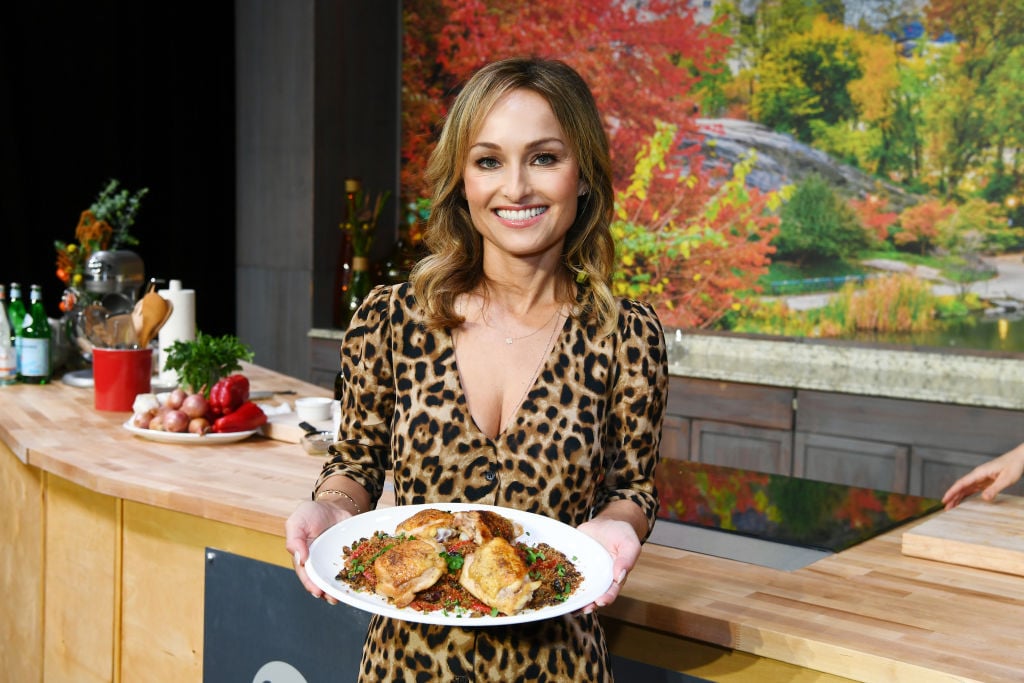 Giada De Laurentiis shares a tip on getting children to eat veggies
Pasta is one of the more versatile ingredients out there. It is used in a variety of different cuisines and can be incorporated in both complicated and simple dishes. But it is also very good at hiding vegetables that children don't like to eat.
One of the best recipes on that front is De Laurentiis' aglio e olio with peas and prosciutto. This dish can be completed in a little under 30 minutes and is great for those who are just learning how to cook.
According to Yahoo, De Laurentiis opened up about this recipe during her interview on Today. The Food Network star revealed that peas and prosciutto are one of her favorite pairings and that her dish is based on a classic recipe in her family.
"When my Nonno Dino arrived in Capri, he always made pasta with olive oil and garlic – which translates to aglio e olio! I dressed it up in my spin on the dish with one of my favorite flavor combos: peas and prosciutto," she shared.
For those who would like a sweet treat to start the day, De Laurentiis has got it covered. Her latest dessert is basically a half banana bread, half chocolate brownie. Although it is one the sweeter side of things, she assured fans that it is "healthy enough to eat for breakfast."
If those recipes aren't enough to get your appetite going, here's a look at Giada De Laurentiis' top 12 recipes on the Food Network.
12. Grilled Lamb Chops
These grilled lamb chops are perfect for any occasion and yield enough servings to feed a family. The limited ingredients – garlic, rosemary leaves, thyme leaves, cayenne pepper, and salt – also make for quick and easy prep.
11. Chicken Tetrazzini
De Laurentiis' chicken tetrazzini is a great way to mix things up and only takes around an hour and a half from start to finish. This dish features linguine in a creamy sauce, plus a healthy dose of peas for the veggies.
10. Simple Bolognese
Bolognese is a classic Italian dish that De Laurentiis has simplified into a dish the whole family can enjoy. You can also substitute the meat in this dish if you don't like to use beef.
9. Salmon Baked in Foil
If you are looking to add fish into your diet then look no further than De Laurentiis' salmon baked in foil. This recipe includes a limited amount of ingredients and can be finished in just over half an hour.
8. Chicken Cacciatore
This recipe is great if you are looking for a way to spice up fried chicken. The tomato sauce adds another layer of flavor to the dish, which is garnished with basil leaves.
7. Caesar's Pasta Salad
De Laurentiis' Caesar pasta salad is one of the easiest recipes on this list. Although the dish is easy to create, it yields a salad that is packed with plenty of flavors. You can serve it as a side dish or a main course.
6. Roman-Style Chicken
The great part about this dish is that you can make it a day ahead of schedule and it doesn't lose any of its flavors. While it is easy to make, the ingredients list is a bit long, so make sure you have everything in order before you begin.
5. Spa Water
This spa water is in the top five for good reason. Not only does it make drinking water more enjoyable, but you can also substitute the fruit for whatever is in season, including citrus varieties like oranges.
4. Chicken Piccata
Chicken is a common theme for De Laurentiis, and her chicken piccata is yet another way to mix up this classic ingredient. The big difference is that the chicken piccata features a butter and olive oil-based sauce that is garnished with parsley.
3. Tuscan Salad
De Laurentiis' Tuscan salad includes cooked green beans, romaine lettuce, cannellini beans, and black olives. It is tossed in an olive-oil dressing and topped with parmesan before serving.
2. Lemon Ricotta Cookies with Lemon Glaze
These lemon ricotta cookies with lemon glaze are sure to be a huge hit with the family. They take around two hours to finish after baking, so give yourself plenty of time before you start.
1. Lemon Parsley Bruschetta
De Laurentiis' top recipe on the Food Network is her lemon parsley bruschetta. This grilled bread recipe only takes a little over 10 minutes to make and features a yummy lemon mixture complete with parsley leaves.
Catch Giada De Laurentiis on Giada at Home on the Food Network.