Giada De Laurentiis' 3 Easy Weeknight Pasta Recipes Are Ready in 30 Minutes or Less
Giada De Laurentiis is the queen of pasta. Not only does the Food Network star know how to make spaghetti festive and kid-friendly, but she also has pasta recipes that make for easy and quick weeknight meals.
1. Giada De Laurentiis' Penne with Shrimp and Herbed Cream Sauce takes 10 minutes to prep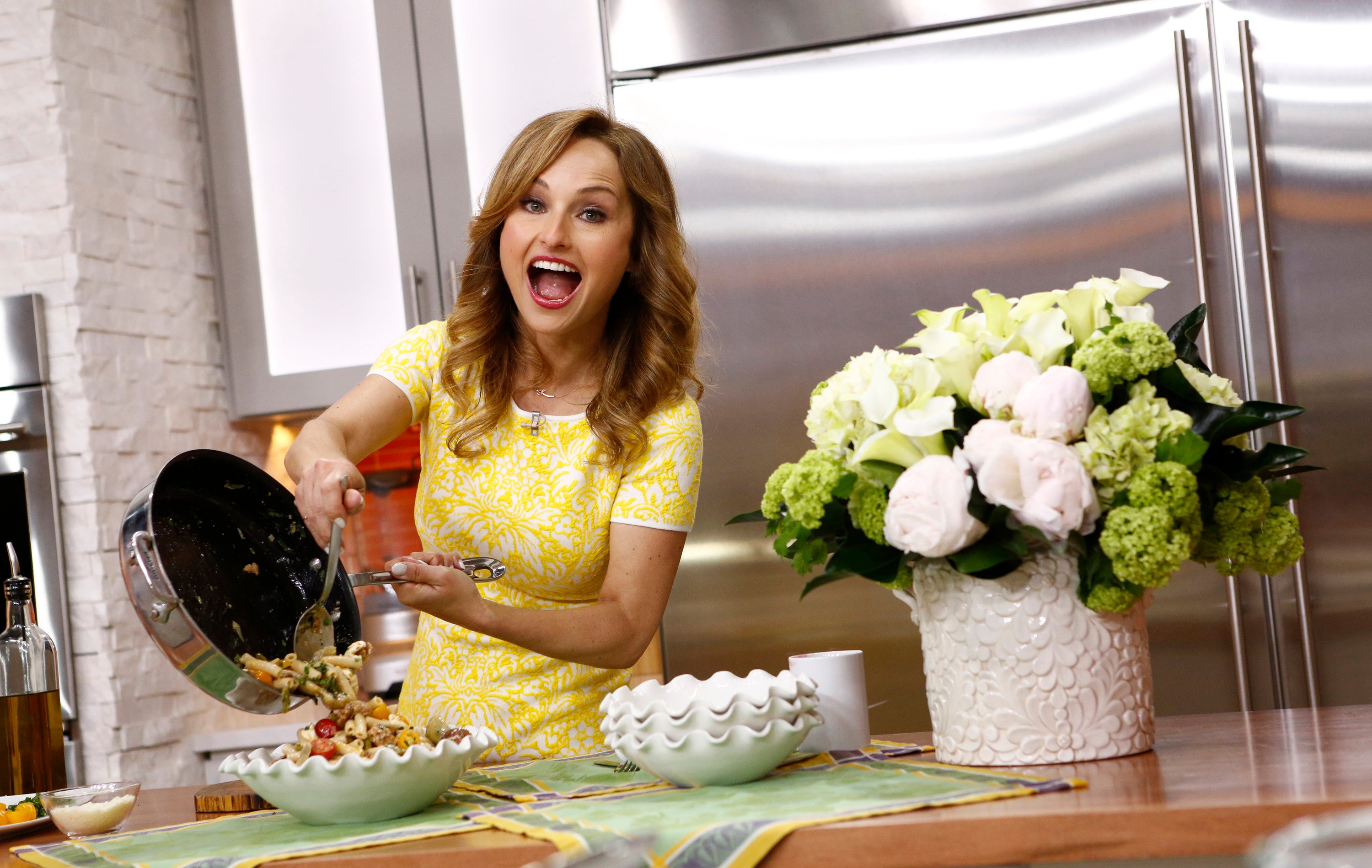 Don't want to spend a lot of time preparing dinner? Then this is the right dish. De Laurentiis' Penne with Shrimp and Herbed Cream Sauce takes 10 minutes to prep, according to Food Network. Add in 20 minutes of cooking time and this is a 30-minute pasta dish. 
For those who want to try the five-star recipe at home — it has been reviewed nearly 500 times at the time of publication— here are a few tips De Laurentiis shared on her cooking show. No. 1, watch the shrimp.
"A lot of times we end up overcooking shrimp but it really doesn't take long, she said. "As soon as they turn pink they're done. It's really quick so make sure you watch them."
Tip No. 2, add a pinch of red pepper flakes for a spicy "kick." Tip No. 3, use clam juice instead of chicken stock to enhance the flavor of the shrimp and create a sauce. Finally, No. 4, grate Parmesan cheese over the cooked pasta before tossing everything together. That way the cheese sticks to the pasta which sticks to the sauce.
2. Giada De Laurentiis' Fettuccine Alfredo is an easy 20-minute pasta recipe
RELATED: Giada De Laurentiis Natural Hair Actually Gets In the Way When She Films Her Show
Featured in a Food Network YouTube of De Laurentiis' weeknight pasta videos, it doesn't get more classic than Fettuccine Alfredo. Originally featured on the cookbook author's debut Food Network series, Everyday Italian, the recipe's remained popular with De Laurentiis' fans through the years and it's easy to see why. 
The Le Cordon Bleu-trained chef's version takes 20 minutes to make. It features a simple list of ingredients including cheese, butter, cream, and pasta. As De Laurentiis once explained on her cooking show, the fettuccine is ideal for a quick meal because it cooks faster than traditional pasta. It finishes cooking in the sauce which means it absorbs all of those flavors.
The surprise ingredient in De Laurentiis' Fettuccine Alfredo is lemon. The addition of lemon zest and lemon juice not only cuts the richness of the dish but also provides a tang. Once again this is another incredibly popular recipe from De Laurentiis. At the time of publication, it averages 4.5 stars on Food Network's website and it's been reviewed more than 600 times.
3. Giada De Laurentiis Italian Helper is a 30-minute 1-pot meal
RELATED: Giada De Laurentiis' Picnic Pasta Is An Easy Summer Pasta Salad
De Laurentiis puts a spin on the boxed pasta dishes that gained popularity in the '70s with her recipe for Italian Helper. Once again the ingredient list is simple and it doesn't require dirtying lots of dishes. De Laurentiis considers it a one-pot meal however she does boil the pasta separately so technically it requires two. She combines shallots, garlic, ground beef, tomatoes, and cheese in a pot before tossing with cooked elbow macaroni. 
De Laurentiis' advice? Don't skimp on the cheese. She uses mascarpone and freshly grated Parmesan which, according to her, brings together the entire dish.
Before making De Laurentiis' weeknight pasta recipes remember to check out her list of pasta do's and don'ts.