Giada De Laurentiis' Almond Cake Is a 'Quintessential Italian Dessert'
Food Network star Giada De Laurentiis' Almond Cake looks deceptively more difficult to make than it actually is. This elegant, rustic dessert is a crowd-pleaser, and it's done in no time.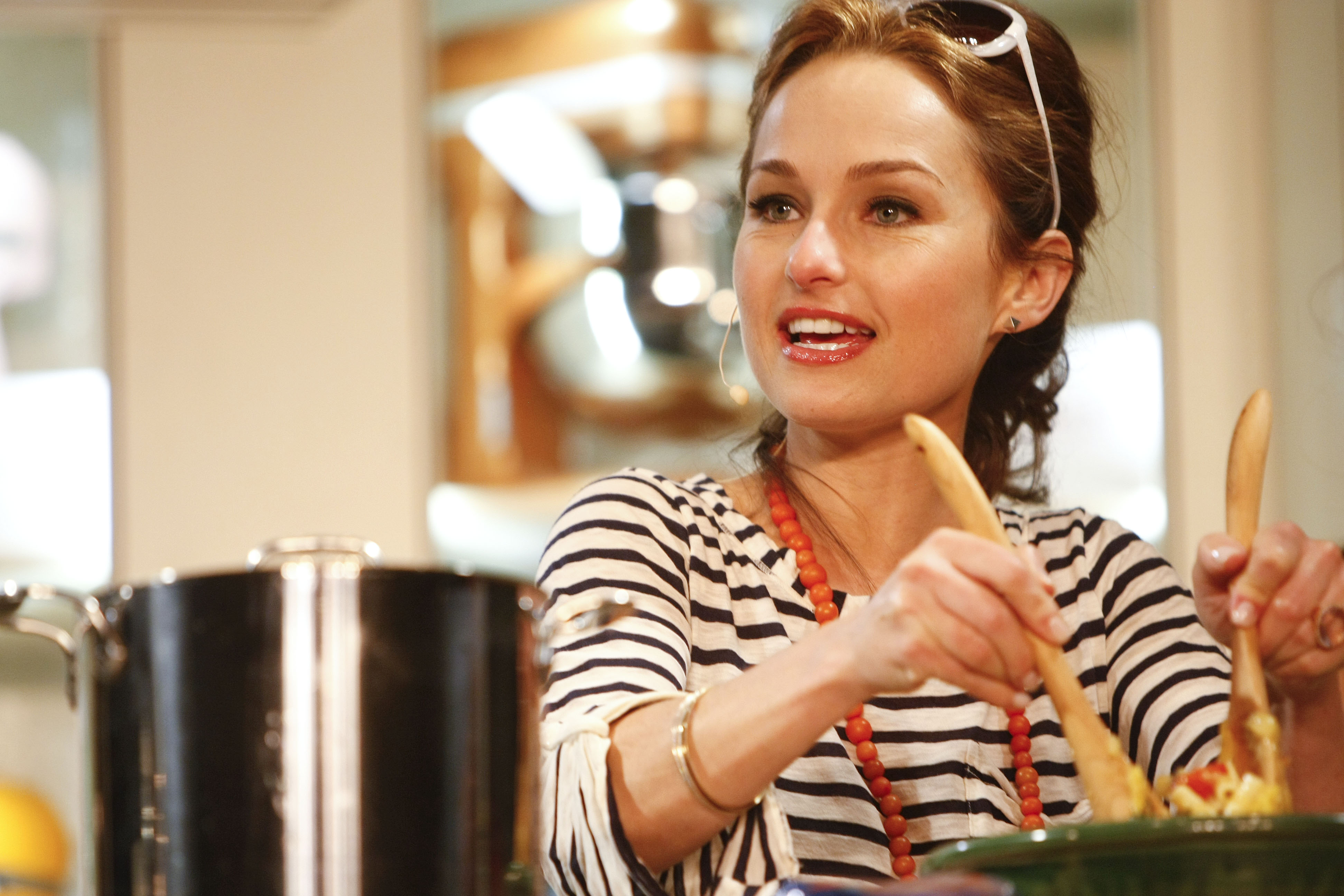 De Laurentiis' Almond Cake is simultaneously rich and light
Can a cake be both airy and satisfying? The Food Network chef says it's possible.
"My classic almond polenta cake is rich in flavor and light in texture," she wrote on her lifestyle and food blog Giadzy.
The beauty of the recipe, as well, is it can be prepared ahead of time, De Laurentiis says: "Best of all, it can be made the day before, as long as you can resist cutting into it!"
As Giadzy's tweet about the perfect afternoon snack cake states, "Rich in flavor but light at the same time, this almond polenta cake is a quintessential Italian dessert."
Get the complete recipe, video, and reviews on Food Network's site.
Giada De Laurentiis' elegant cake is much easier to make than it looks
Made with fine yellow cornmeal that gives the dessert its sunny color, the chef's cake is infused with the unmistakable aroma of almond, thanks to the almond paste in the recipe.
The almond paste is combined with unsalted butter in a food processor. "It's easier if you just crumble it up with your fingers," the Simply Giada star says in the Food Network video of the almond paste. "That way, it'll incorporate into the butter faster."
In the meantime, baking powder and confectioners' sugar are combined in a bowl, then added to the almond paste mixture in the processor. Add vanilla extract, eggs, and egg yolks, "for a richer-tasting cake." The yolks also help transform the batter into a "nice yellow mixture, it's gorgeous."
It's time to add tangy sour cream, as "it goes really, really well with the sweetness of the almond paste."
Finally, cake flour and the cornmeal are incorporated into the batter, which is scraped with a spatula into a greased, 8-inch round pan. Bake in a preheated 350-degree F oven for about 30 to 40 minutes.
"What I'm looking for," De Laurentiis says, "is a nice, golden brown top and for the sides of the cake to pull away from the pan."
Dust with powdered sugar for a beautiful decorative effect.
Home cooks praised De Laurentiis' Almond Cake for its simplicity and deliciousness
Cakes are worth every bit of effort they can at times require. But Giada De Laurentiis' Almond Cake is a rustic treat that isn't labor-intensive at all, as reviewers on Food Network's site pointed out.
"This is the best cake I have ever tasted. Not only is it very easy to make, but it is SO GOOD! You will definitely receive many compliments with this recipe! One of the best!," one home cook said.
Another reviewer agreed, adding, "This is simple but fantastic. … The almond flavor is subtle and it is just divine. It never lasts more than a day in my house."
RELATED: Giada De Laurentiis' Spaghetti with Chianti and Fava Beans Is a Showstopping Dish