Giada De Laurentiis' Delicious Sheet-Pan Recipes Are Quick Clean-Up Dinner Winners
Get dinner done in a flash with these quick, easy, and delicious sheet-pan dinner ideas from Food Network star Giada De Laurentiis.
Food Network personality Giada De Laurentiis' sheet-pan dinners are a great way to get dinner done quickly and efficiently. Chicken, beef, seafood, and/or vegetables are nestled on an oiled baking sheet. It's placed in an oven and left to roast for an amazing weeknight dinner.
Here are three easy, roast-it-and-forget-it (for about half an hour, of course) sheet-pan dinners from the culinary star.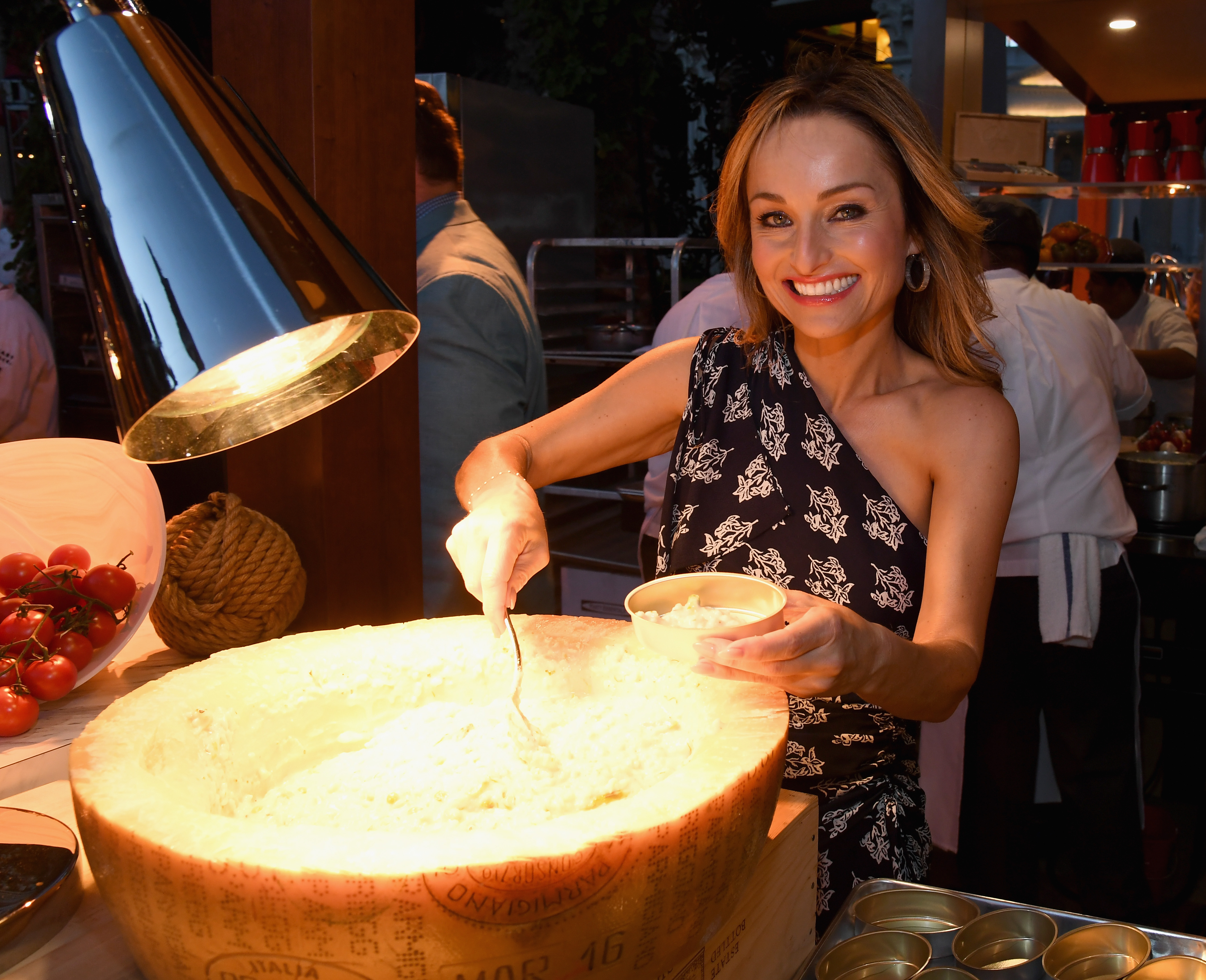 De Laurentiis adds extra flavor to her Italian Sheet Pan Chicken
The chef reveals the secret to the deliciousness in this sheet pan meal that she features on her food blog Giadzy.
"How do you revamp a classic?," she writes. "Turn all the flavors of a cacciatore into a great tasty marinade, and then roast the marinated chicken on a sheet pan to speed up the cooking time."
Dunk the chicken in a marinade and refrigerate, she says, "in the morning, and since it only needs 30 minutes in the oven, this is totally doable for a weeknight." 
Smoked paprika adds its woodsy flavor, "which isn't traditional but really amps up the flavor."
Lastly, De Laurentiis suggests serving this succulent chicken dish over a bread salad.
Get the complete recipe on Giadzy.
De Laurentiis' Sheet Pan Parmesan Shrimp and Veggies
The Simply Giada star's seafood sheet pan recipe features broccoli florets, diced red onion, cauliflower florets, halved cherry tomatoes, peeled and deveined large shrimp, grated Parmesan cheese, dried oregano, and lemon zest.
It's a hearty and healthy dish that takes dinner from the oven to the table in no time, as the chef noted on Giadzy.
"Dinner is one-and-done with this sheet pan shrimp recipe and vegetables," she said. "In the warmer months when you don't want to be hanging out over the stovetop, this is a great set-and-forget recipe to turn to!"
One reviewer on Giadzy praised De Laurentiis' dish, writing, "So easy, so fresh and beyond delicious."
You can find the recipe on Giadzy.
Giada De Laurentiis' Vegetarian Roasted Potatoes, Carrots, Parsnips, and Brussels Sprouts
In the Food Network video for this vegetarian dish, De Laurentiis shared her love for roasted vegetables: "Roasting is my favorite way to cook vegetables. It draws out all of the natural sugars and creates a crispy outside and a tender inside."
As the recipe's title reveals, this dish includes sweet and small red potatoes, carrots, parsnips, and Brussels sprouts, all roasted with salt, pepper, olive oil, and dried herbs in a high-heat oven.
The dried herbs including oregano, rosemary, thyme, and basil make an appearance in this recipe, the chef explained, "because I love that concentrated flavor. Also, if I were to use fresh herbs, they'd burn in a 400-degree oven. So it would be a waste."
Sometimes the simplest recipes really are the best, as one reviewer on Food Network's website confirmed: "Try this just once and it will become a favourite forever!!"
You'll find the full recipe, video, and reviews on Food Network's site.