Giada De Laurentiis' 'Favorite Summer Recipe' Is Her 18-Minute Lemon Spaghetti
Leave it to Giada De Laurentiis to make a plate of spaghetti a summer dish. The Food Network star, who is known for infusing each one of her recipes with Italian flair, once called her Lemon Spaghetti her "favorite summer recipe." 
Lemon Spaghetti is Giada De Laurentiis' 'favorite summer recipe'
When asked to name one dish people should have on-hand for summer get-togethers, the Le Cordon Bleu-trained chef picked her Lemon Spaghetti. 
"My favorite summer recipe is my lemon spaghetti," she told InStyle in 2014. "It's my favorite. It's lemon juice, lemon zest, olive oil, Parmesan cheese."
De Laurentiis continued, sharing how she prepares it.  
"I sometimes add some red pepper flakes just to give it some kick, and one garlic clove that I smash—not chop, smash," she said. "You can use any pasta. I toss the hot pasta in that sort of lemon vinaigrette and I add a little bit of pasta water to thin it out and that's it!" 
"I serve it with either chicken, steak, shrimp, veggies, or just on its own," she added before noting that "it's great hot or at room temperature."
Don't just take De Laurentiis' word for it. She said an "elevated version" is the top-selling pasta dish at one of her restaurants (she has three, according to her official website: two in Las Vegas, Nev., and one in Baltimore, Md.). 
De Laurentiis' Lemon Spaghetti is ready in 18 minutes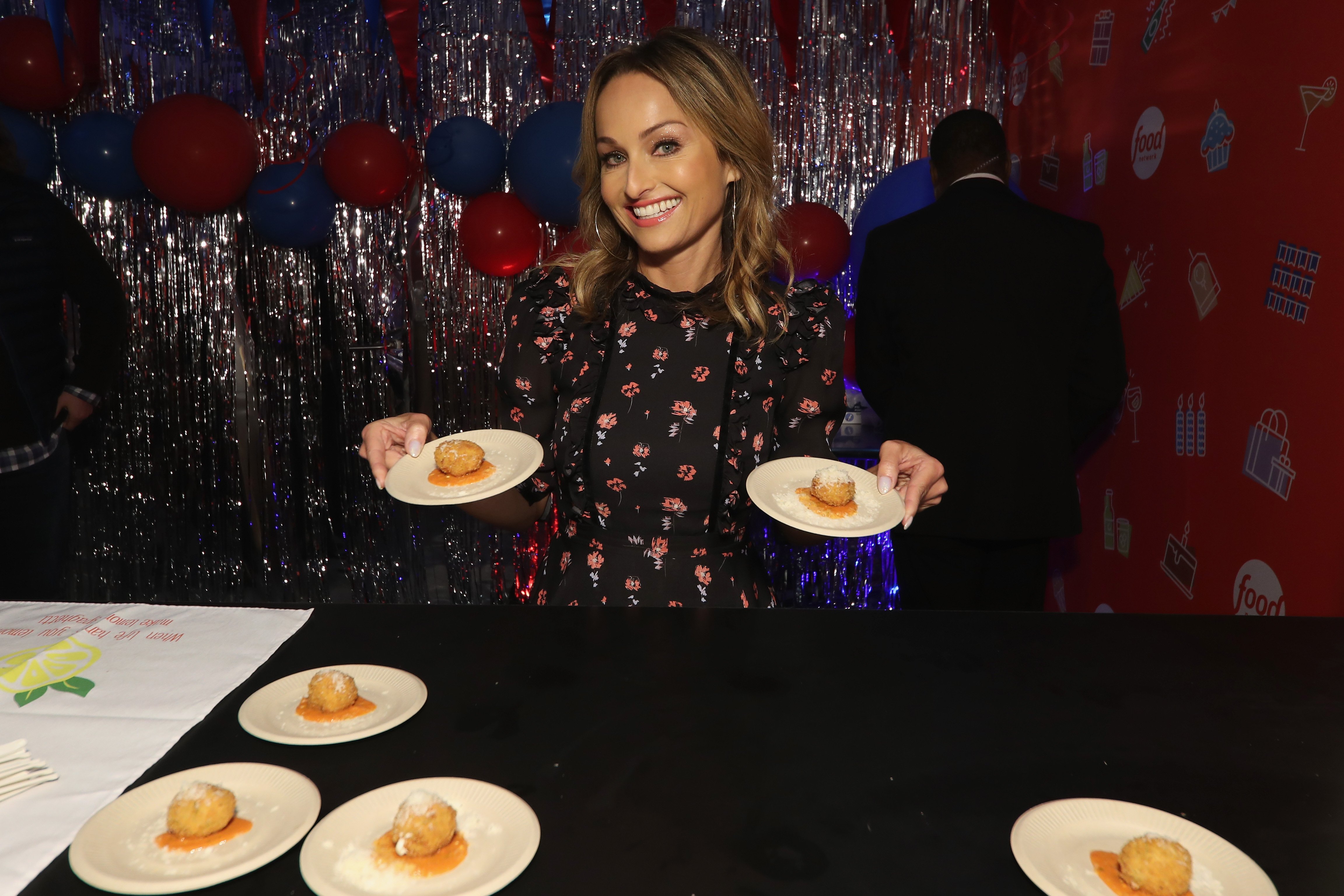 Don't worry about traveling to Las Vegas or Baltimore for a taste of De Laurentiis' Lemon Pasta. The Food Network star featured the recipe on an episode of her first-ever cooking show, Everyday Italian. 
The Lemon Pasta certainly lives up to the episode's title, "Quick Italian Dishes." Per the recipe instructions on Food Network's website, the total cooking time is 18 minutes; 10 for prep and eight for cooking. 
Like De Laurentiis told InStyle it's a simple dish to prepare. While the pasta's boiling, freshly-squeezed lemon juice, olive oil, and cheese get mixed together in a bowl. 
Once the pasta is cooked it's time to drain it. Some of the water is set to the side — it's on De Laurentiis' list of pasta dos — before getting tossed in with the pasta. Finally, it's sprinkled with fresh herbs and seasonings and De Laurentiis' Lemon Pasta is ready to eat. 
It's easy to see why Lemon Spaghetti is one of her favorites and popular on Food Network's website. It's incredibly simple. The recipe calls for eight ingredients including salt and pepper. The short ingredient list combined with the total cooking time and it's a fan favorite.
The Food Network star's Lemon Spaghetti recipe has been reviewed more than 600 times
At the time of publication, De Laurentiis' Lemon Spaghetti recipe averages 4.5 stars on Food Network's website and has been reviewed 601 times. It doesn't make the list of her top recipes on Food Network but it's certainly popular. While some reviewers felt the dish was too lemony when they made it at home most loved the light and fresh taste.  
It's "absolutely perfect in every way," one reviewer wrote. "If you want to impress your friends and family, make this recipe for them and follow it exactly."
One person described it as "perfect, light, and refreshing," while another called it "simple and super fast to make yet so flavorful." Others noted that when it's on the menu guests will probably ask for the recipe.