Giada De Laurentiis' Festive Lemon Ricotta Cookie Sandwiches Are the Ultimate 'Patriotic Treat'
If you're looking for a sweet treat for the Fourth of July holiday that's yummy and celebratory, Food Network star Giada De Laurentiis' Lemon Ricotta Cookie Sandwiches fit the sparkly bill.
And you won't believe where the ricotta cheese goes in this cookie creation.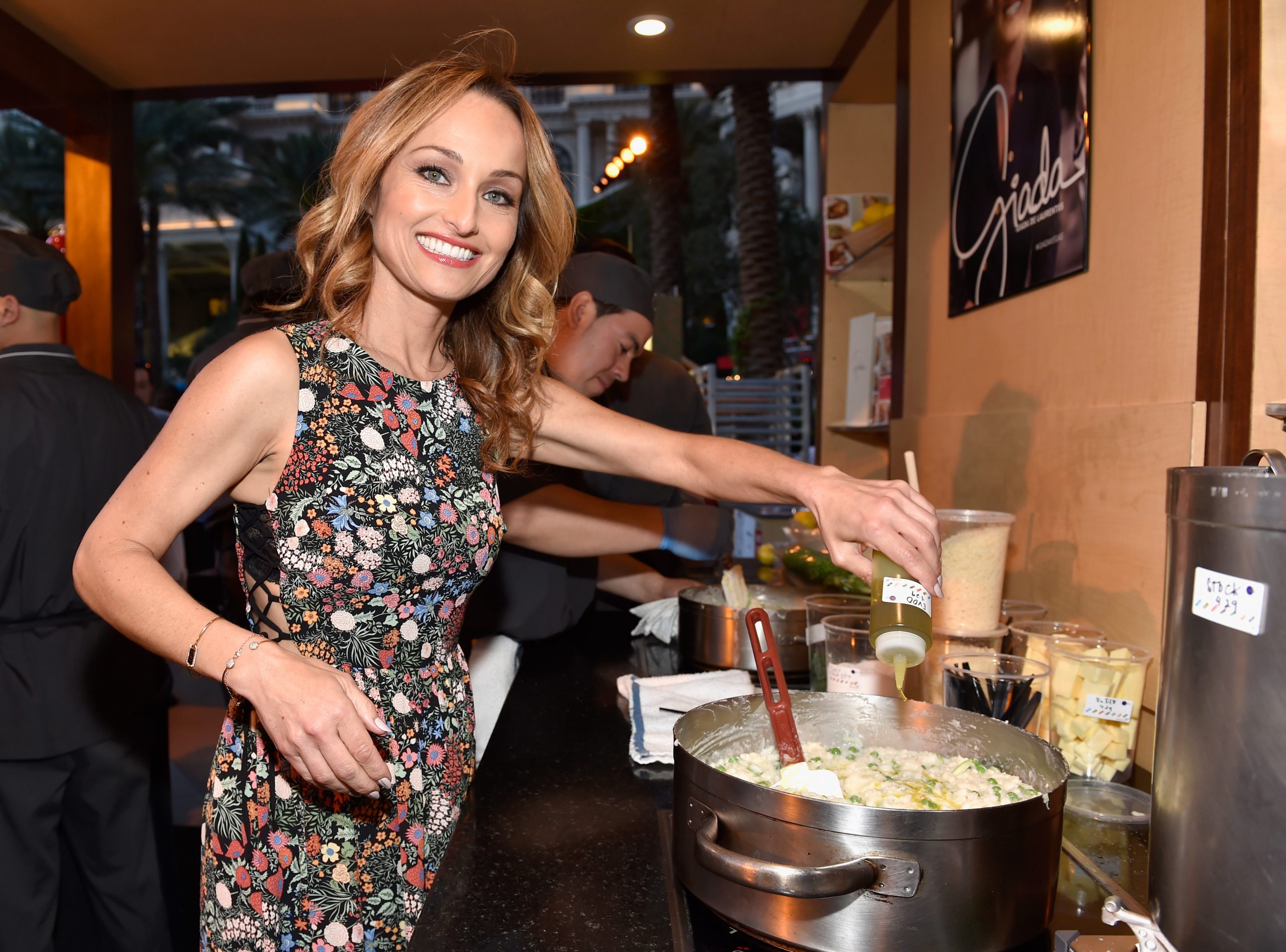 The ricotta cheese doesn't go in the cream center of De Laurentiis' Lemon Ricotta Cookie Sandwiches
The tart and sweet cookies (full recipe and instructions here), De Laurentiis noted on her food and lifestyle blog Giadzy, have made it onto the menu of one of her restaurants.
"These festive icebox cookies will have everyone reaching for seconds!," the chef wrote. "Lemon Ricotta Cookies are by far my most famous and popular recipe, and I took a page from my restaurant, Giada Vegas, by sandwiching some gelato in between. This recipe calls for vanilla, but raspberry is a favorite flavor combination, too!"
And, in case you were wondering, the luxuriously creamy whole-milk ricotta cheese isn't part of the middle of the cookie cream; it goes in the cookie batter.
The rest of the ingredients De Laurentiis calls for are: flour, baking powder, salt, unsalted butter, sugar, eggs, lemon juice, and zest. And for the glaze, you'll need powdered sugar, more lemon juice, and more lemon zest.
You'll need the following kitchen equipment: bowls, an electric mixer, parchment paper, and baking sheets.
How to put together De Laurentiis' creamy cookie sandwiches
After combining the flour, baking powder, and salt, the butter and sugar are beaten in the mixer and the eggs added one at a time. Once they're incorporated, the ricotta cheese, lemon juice, and zest are stirred in, as well as the dry ingredients.
The batter is dropped by the tablespoonful onto baking sheets for 15 minutes and then removed from the oven to cool.
Once they've cooled, they can be glazed with a mixture of powdered sugar and lemon juice with zest.
De Laurentiis pumps these cookies up even more by sandwiching any flavor gelato or ice cream in between and then rolling them in colorful sprinkles. As Giadzy pointed out on Instagram, "We already know how good @giadadelaurentiis' lemon ricotta cookies are, but with gelato or ice cream sandwiched in between?? Even better. Roll 'em in festive sprinkles for a patriotic treat this weekend!"
Thumbs-up reviews for De Laurentiis' Lemon Ricotta Cookies
De Laurentiis' creations received overwhelmingly positive feedback from lemon cookie lovers.
One reviewer attested to the power of De Laurentiis' recommended whole milk ricotta in the cookies: "Most Italian cookies are cake like. Using a good whole milk ricotta cheese makes a big difference. I usually use orange in my recipe but this was a great alternative."
And another home cook credited the chef with helping him win a local baking contest.
"These are award winning!," they reported. "And I mean that truthfully. I won my work bake-off with these cookies… Since that day I am asked to make these over and over… and I do!"
RELATED: Giada De Laurentiis' No-Bake No-Guilt Chocolate Almond Butter Cookies 'Actually Help You Keep Full'