Giada De Laurentiis' Hot Italian Sausage-Stuffed Bacon-Wrapped Dates With Lemon Basil Crema Is an Appetizer for the Senses
Put pigs in a blanket in your rear-view mirror with Food Network star Giada De Laurentiis' literally sensual appetizer of Spicy Italian Sausage-Stuffed Bacon-Wrapped Dates with Lemon Basil Crema. By the name, it sounds like this recipe might have an incredibly long ingredients list, but it's actually a satisfying and small bite that packs a punch of flavor.
The spicy ground sausage is stuffed into the chewy, sweet pitted dates, wrapped in the salty, savory bacon, and after baking completely to a crisp, dipped into the tart, cool, and herby dip. Here's how to make Giada De Laurentiis' unforgettable appetizer.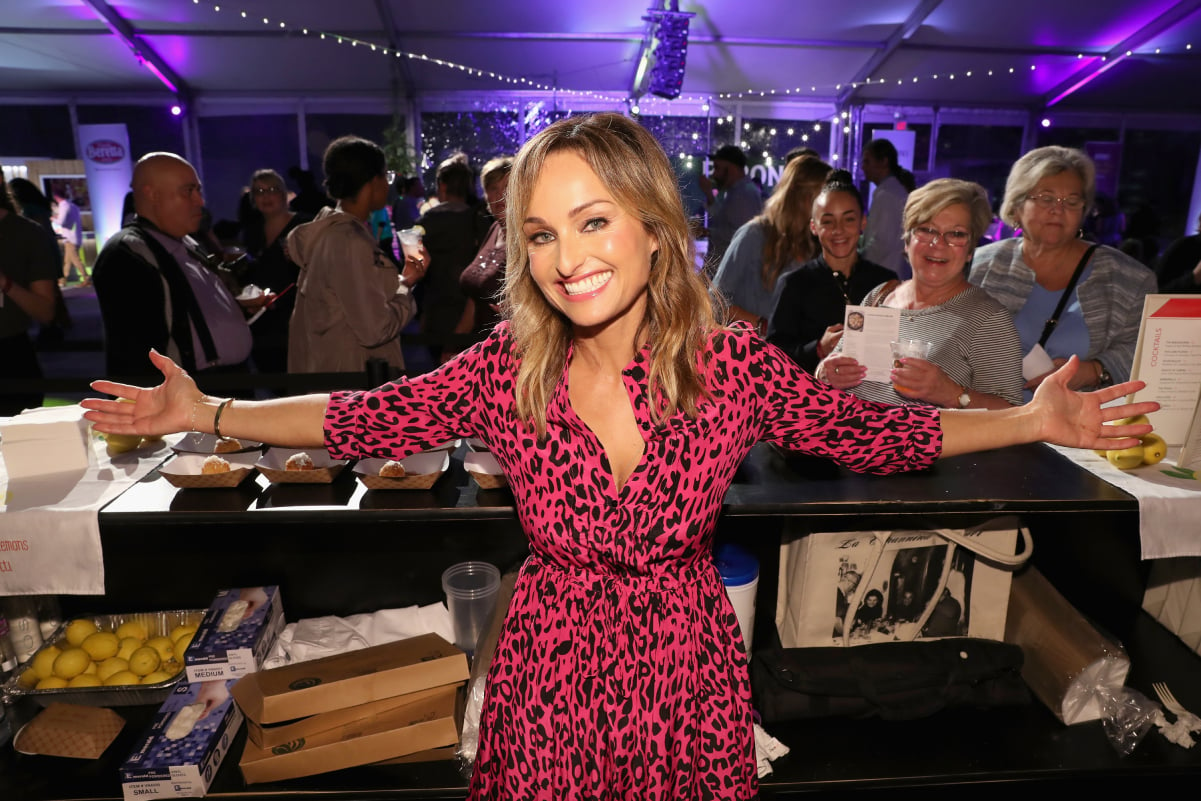 What you need for De Laurentiis' palate-bursting recipe
Although this recipe (find full instructions here) has a lengthy name, its ingredients list is surprisingly brief. You'll need for the appetizer: sour cream, mascarpone cheese, lemon zest, lemon juice, fresh basil, salt, Medjool dates, hot Italian sausage, and bacon.
De Laurentiis' lifestyle and food blog Giadzy notes that these "sausage-stuffed dates broiled in bacon always get an especially warm welcome (and they can easily be assembled well ahead of time then baked off as needed)." They're so good, according to an Instagram post from the blog site, the chef serves them in her Vegas restaurant.
How to put the recipe together
De Laurentiis first suggests preparing the lemon-basil crema by combining the sour cream, mascarpone, lemon zest, lemon juice, basil, and salt. The cream should be refrigerated for "at least an hour" so the various flavors come together.
Preheat your oven to 400-degrees F, then get to work on the dates, cutting a "slit" into the center of each piece of the dried fruit. Discard the pits.
Now, remove the ground sausage from its casings, and cut the bacon slices into halves.
Two teaspoons of the ground sausage are spooned into the hollowed-out dates, then each date is wrapped in a bacon piece and moved to a baking sheet.
After baking for about 10 minutes, flip each date over and bake another 10 minutes "until the bacon is crisp," alongside the lemon and basil crema.
Thumbs-up from De Laurentiis' followers
On the Instagram post for the sweet, spicy, and savory recipe, fans confirmed that the tasty bite appetizers definitely look worth the effort.
"One of my favorite appetizers," said one home cook.
Another fan noted, "Had these at the restaurant in Vegas! They are AMAZING!"
Yet another cook echoed what so many meat-lovers are thinking: "anything with bacon count me in!!!" It should be pointed out that De Laurentiis has a catalog of bacon recipes on her Giadzy site including Bacon Onion Dip, Candied Bacon Bites, Candied Bacon Popcorn, Warm Artichoke and Bacon Dip, Blue Cheese and Bacon Truffles, and even Bacon and Jam Sandwiches.
It's that salty and sweet combination in her appetizer that offers a winner of a flavor bite you'll be making again and again.
RELATED: Giada De Laurentiis' Mushroom Risotto Recipe Gets Called Out by Reviewers for This 'Problem'