Giada De Laurentiis' Linguine with Shrimp, Plus Her Tips for Enjoying Pasta, Guilt-Free
Food Network personality Giada De Laurentiis wants pasta to be taken off the 'enemy' list of foods and her Linguine with Shrimp, Asparagus, and Cherry Tomatoes is a great place to start.
Packed with shrimp, asparagus, and cherry tomatoes, this satisfying linguine dish from Food Network star Giada De Laurentiis is a bright, fresh-tasting pasta that can be part of just about any eating plan.
Here's how to prepare the chef's colorful dish, plus why pasta can, and in De Laurentiis' opinion should, be a regular part of your menu.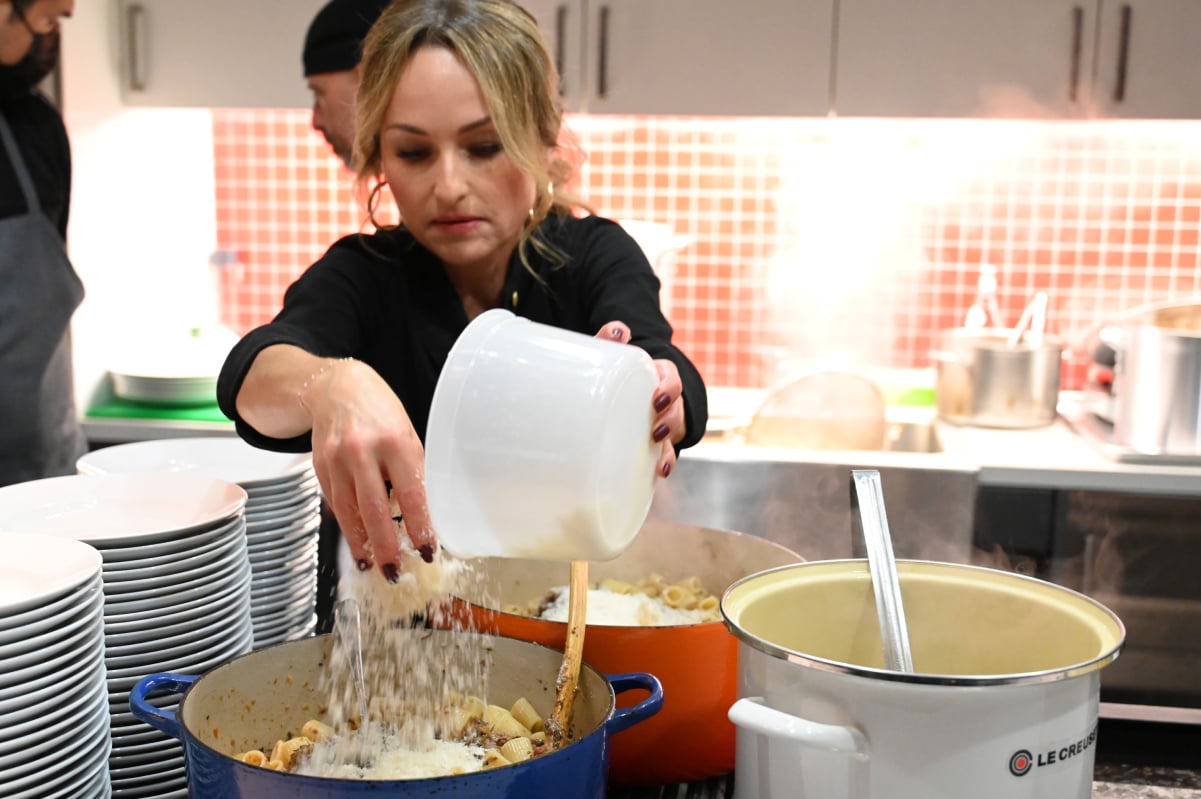 De Laurentiis on making pasta work as part of any eating plan
On her food blog Giadzy, the Food Network star shared her tips for reducing pasta anxiety, that fear of carbs that keeps so many from enjoying pasta regularly.
"I feel strongly that pasta—any kind of pasta—can be part of a healthful diet, …" she wrote. "It makes me sad that so many people consider pasta the enemy, a guilty pleasure to be indulged in only occasionally and atoned for afterward."
Some of her strategies for enjoying a guilt-free plate of pasta include:
Weighing your portion size: "A 2-ounce portion of pasta—yes, that's an eighth of a box—is actually plenty to satisfy that pasta craving without filling you up. Try it. I bet you will be surprised," De Laurentiis added.
Try alternative pastas such as those made from "rice, quinoa, and spelt (which is tolerated by some who can't eat wheat)."
"Go grainless" with spiralized vegetables or spaghetti squash serving as your pasta.
The chef's linguine and shrimp is a great weeknight pasta recipe
De Laurentiis' linguine dish is an excellent dish for those avoiding becoming too filled up on carbs. As the Simply Giada host noted in her blog article, "use pasta as an accent." In the case of this dish, a portioned amount of pasta can go a long way when piled with the shrimp, asparagus, and cherry tomatoes that accompany it.
The recipe also calls for crushed red pepper, garlic, fresh basil, mint, oregano, and white wine. "I like to add Pinot Grigio because it's nice and crisp and works really well with the shrimp," De Laurentiis explained in the Food Network video for this recipe.
Get the complete recipe, video, and reviews on Food Network's site.
Reviewers loved De Laurentiis' fresh and filling recipe
Home cooks were wowed by the fresh appeal of the chef's linguine dish.
"I was shocked at how much I enjoyed it. … I feared that I wouldn't like the mint, but the mint didn't say 'mint' to me…it just said lovely herb combination," one reviewer admitted.
Another fan of the recipe confirmed it's great for those who don't consider cooking their thing. "I hate to cook," the reviewer said. "This was soooo easy & delicious."
The recipe's bright flavors, between its use of fresh herbs, dried and crushed red pepper, and garlic impressed another home cook: "Easy and healthy and delicious. The flavor of the fresh herbs and the heat of the red pepper seemed perfectly balanced. Big hit, will definitely add to the weeknight rotation."