Giada De Laurentiis' Upscale Spaghetti and Meatballs Is a Hit with Food Network Fans: 'It Will Blow You Away'
Food Network star Giada De Laurentiis elevates ho-hum spaghetti and meatballs with her Bucatini with Spicy Smoked Mozzarella Meatballs. 
Gloriously stringy bucatini pasta is paired with satisfying meatballs stuffed with the goodness of mozzarella cheese. And it's all served up with a light tomato sauce.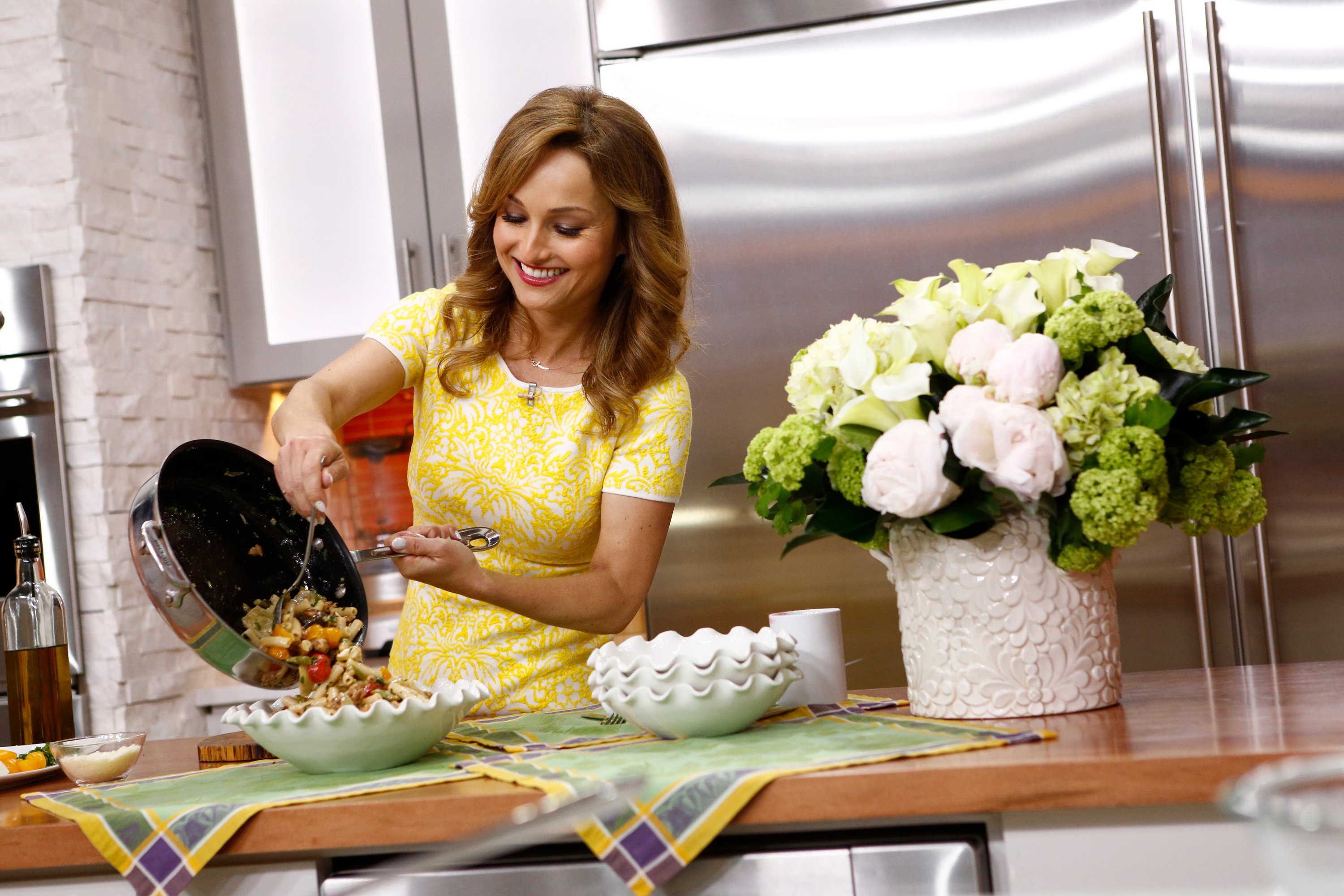 De Laurentiis' bucatini pasta dish tucks cheese into the meatballs
The Food Network personality's recipe is a fresh take on spaghetti and meatballs.
For the All'Amatriciana Sauce, you'll need: olive oil, pancetta, chopped onion, minced garlic, crushed red pepper flakes, crushed tomatoes, kosher salt, black pepper, and grated Pecorino Romano cheese.
The meatballs will need a grated onion, fresh parsley, grated Parmesan cheese, Italian-style bread crumbs, an egg, ketchup, minced garlic, crushed red pepper flakes, ground beef, ground veal, cubed smoked mozzarella cheese, and of course, salt and pepper.
Lastly (and some would say most importantly), you'll need the pasta: De Laurentiis suggests a long pasta, like bucatini.
Giada De Laurentiis' trick for moist meatballs
Place all of the ingredients for the sauce in a pot and allow this to simmer while you work on the meatballs (the pancetta should first be fried, set aside, and then returned to the sauce).
De Laurentiis in the Food Network video, below, for this recipe reveals how she keeps her meatballs moist. If they're overly handled, she explained, you're left with tough meatballs.
The meatball ingredients, except the meat, are mixed in a large bowl — and De Laurentiis does this for a reason.
"What I like to do when I'm making meatballs," she said, "is just add all of the ingredients ahead of time. And then I add the meat last. That way, I don't overwork it and the meatballs stay nice and moist."
The chef grates her onion for the meatball mix: "You don't have to worry about cooking it and this way, it'll cook in the meatballs."
Once the meat is mixed in, De Laurentiis says to "just make sure that all of the meat has some of the flavoring mixed into it." She adds the cubed mozzarella: "I'm going to stick one cube of the smoked mozzarella in the center of the meatballs."
The meatballs, once they're all assembled, are baked in a 400-degree F oven for 15 minutes "until cooked through."
When the pasta is cooked, the meatballs and sauce are tossed with it and served with Parmesan cheese.
You can find the complete recipe, video, and reviews on Food Network's site.
Food Network reviewers were wowed by De Laurentiis' next-level pasta and meatballs
At first glance, the Italian-American chef's dish may seem simply like another bowl of spaghetti and meatballs. But the flavors and textures she's added to it through the pancetta and smoked cheese take the classic pasta dish to another level, as reviewers noted.
" … To look at the dish, one might think, oh it's just spaghetti and meatballs but one taste and OH BOY! It will blow you away. My husband says this is a keeper!," one home cook wrote on Food Network's site.
Another reviewer added, "Oh this was just wonderful. Pretty easy to make and there is so much flavor going on in this dish. The meatballs were just divine."
RELATED: Giada De Laurentiis' 'Pasta in a Hurry' Is a Nostalgic Favorite of the Chef's