Giada De Laurentiis' Showstopping Easter Side Dish Winners
Make room on your Easter menu for these showstopping side dishes from Food Network star Giada De Laurentiis.
If your Easter dinner table still has room for a few more sides, here are a few guaranteed winners from Food Network star Giada De Laurentiis.
With two different kinds of salad, a light and fresh pasta, as well as a bread festively stuffed with Italian meats, there's something here for everyone.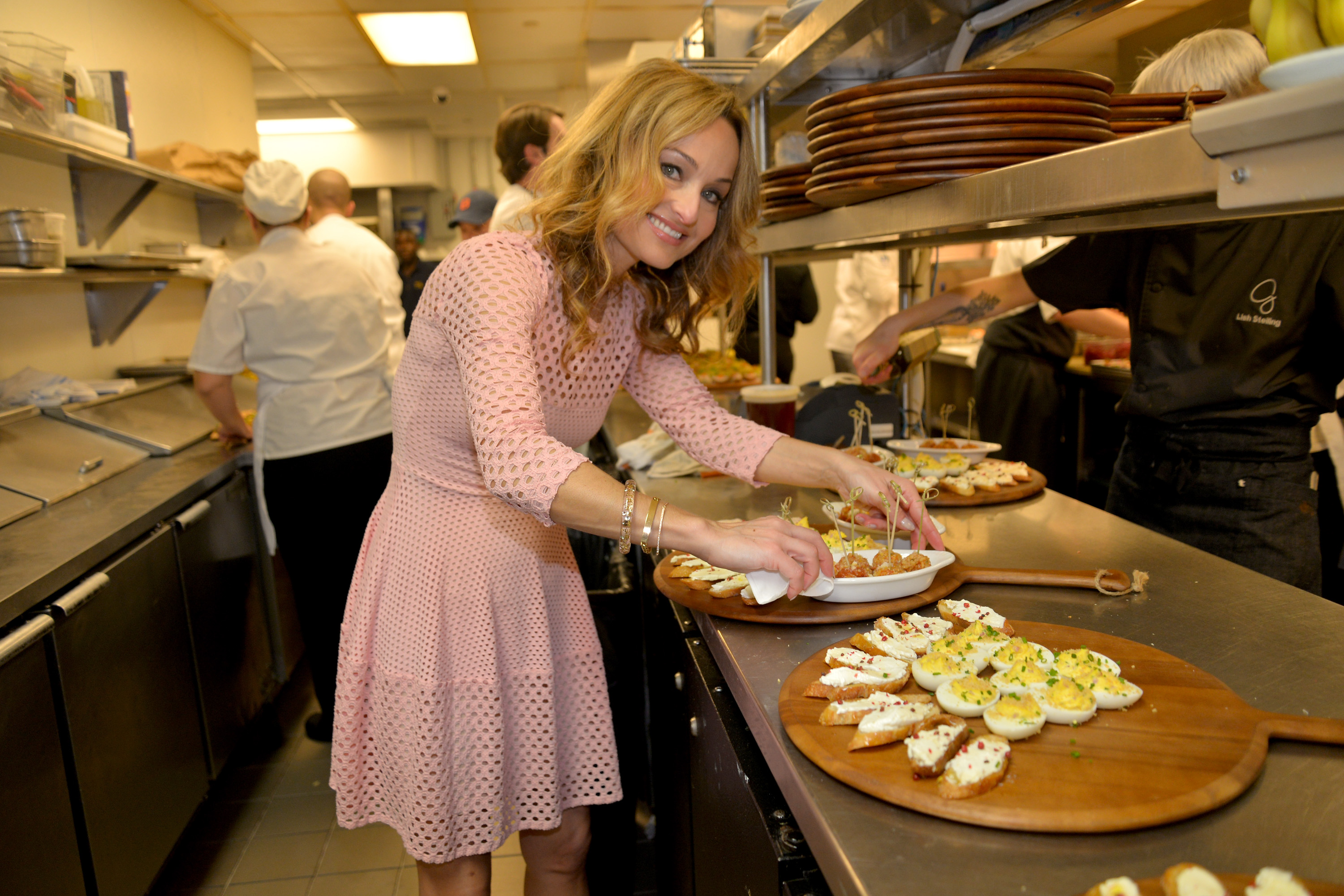 De Laurentiis' Skewered Greek Salad
The Italian-American chef's salad on a skewer comes together with cherry tomatoes, feta cheese cubes, pitted kalamata olives, sweet onion chunks, and fresh oregano leaves. Lemon juice, red wine vinegar, more fresh oregano, extra-virgin olive oil, salt, and pepper make up the tangy, fresh dressing.
De Laurentiis' recipe also calls for 12 six-inch bamboo or wood skewers.
The skewers are threaded with one tomato, then a feta cube, an olive, a piece of onion, and another tomato. Place the completed skewers on a platter, spoon the mixed dressing over each component, and sprinkle with the oregano. Enjoy!
One reviewer learned, after having several feta cubes crumble, that it's important to skewer the cheese "at room temperature" and make "larger cubes & it worked perfectly."
Get the complete recipe, video, and reviews on Food Network's site.
Pasta Primavera is the chef's fresh twist on the classic dish
De Laurentiis' version of this dish "cuts out the blanching, and instead you roast the vegetables and end up with a sweet, caramelized, intensely flavored bite."
The Simply Giada host adds: "Consider doubling the recipe: it only gets better the next day."
Although you can use whatever veggies you prefer, De Laurentiis uses carrots, zucchini, yellow summer squash, yellow and red bell peppers, and onion cut into equal-sized pieces.
One reviewer said, "Simple and delishhh! As a side dish or entree, just outstanding!!!"
Find the complete recipe, video, and reviews on Food Network's site.
Giada De Laurentiis' light Asparagus with Melon Salad
With prosciutto, asparagus, cubed canteloupe and mozzarella cheese, De Laurentiis' salad is a sweet and savory feast.
The asparagus is grilled and placed on a platter. Toss the cubed melon and cheese in a quick dressing of olive oil, lemon juice, salt, and pepper; then arrange the fruit and cheese salad over the asparagus. The prosciutto is crisped up in an oven and crumbled over the asparagus platter. Lastly, pine nuts are sprinkled over everything for extra texture.
The Eat Better, Live Better author notes that any melon can be used: honey dew, watermelon, or canteloupe.
Home cooks wrote on Food Network's site: "The perfect dish to remind you that spring is not far away! I usually improv on most recipes, but followed this one exactly… how can ya possibly mess w/ a Giada masterpiece!?" and "I served this on Easter with a Crown Roast of Pork. It was very seasonal and light. I'll make this again."
The complete recipe, video, and reviews can be found on Food Network's site.
De Laurentiis' festive Casatiello bread
The Food Network star wrote on her food blog Giadzy of this fun-to-make and delicious bread, "This Italian Easter Bread, known as Casatiello in Italian, is a classic Neapolitan bread stuffed with meat and cheese. Traditionally, it's made the day after Easter, when there is generally a lot of leftover charcuterie to be used up. However, it's just so festive and fun, I like to serve it up the day of."
One reviewer on Giadzy said of this bread, "I made this for Easter and we loved it. … It reminded me of the Easter bread my great-grandma used to make when I was a girl. My job was putting the eggs into the dough. Her bread was braided and the eggs tucked into parts of the braid. I love your recipes, Giada."
Find the recipe and reviews on Giadzy.