Giada De Laurentiis' Spaghetti with Chianti and Fava Beans Is a Showstopping Dish
Pasta is cooked in tart, juicy Chianti wine and served with earthy fava beans in this impressive recipe from Food Network personality Giada De Laurentiis. Here's how to make this simple, satisfying dish.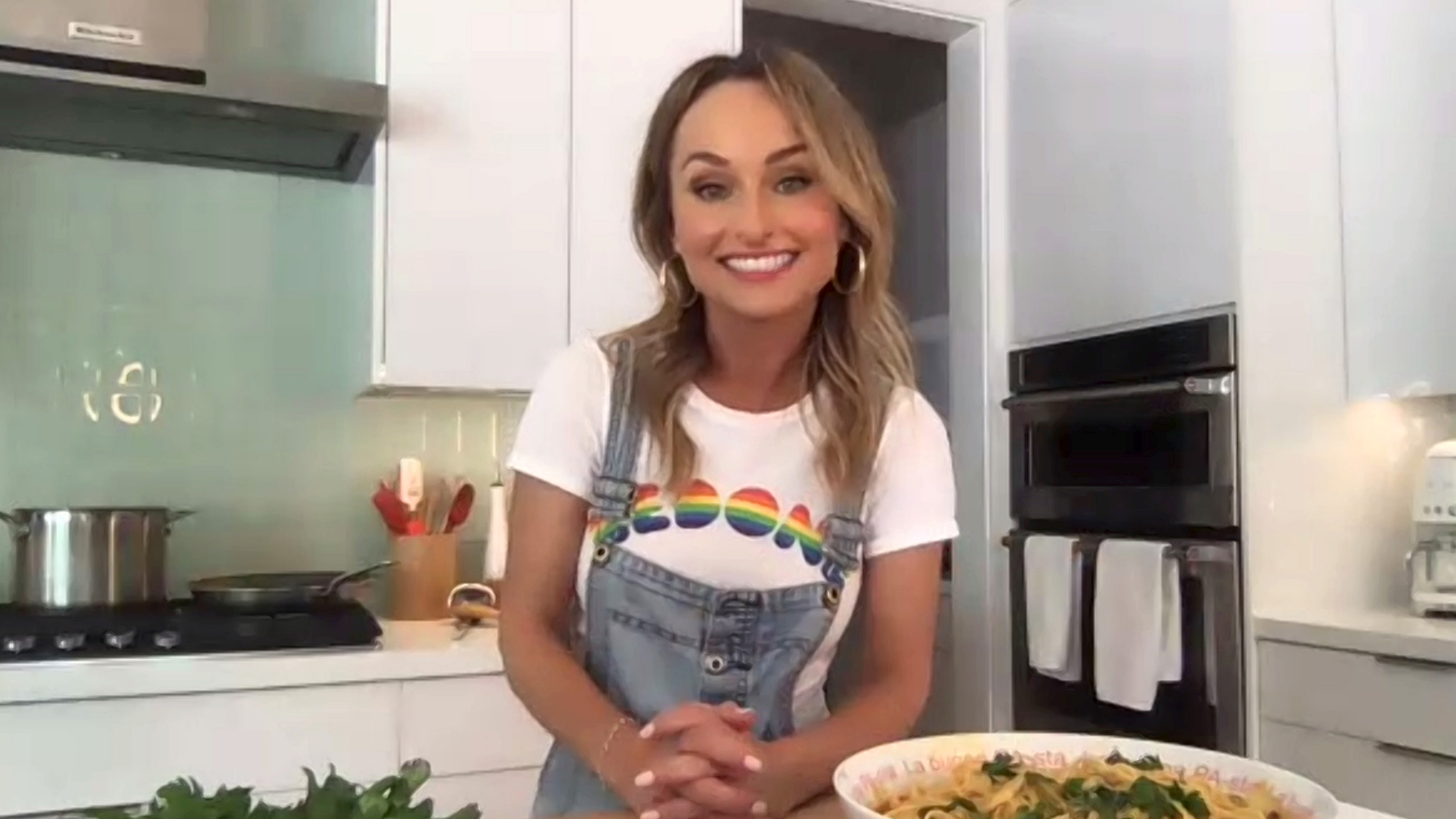 Giada De Laurentiis says 'this is a really fun dish'
The chef in the Food Network video for this recipe says, "This is a really fun dish and what's going to happen is that the pasta is basically going to absorb all of the flavors of the Chianti and actually turn red."
As the Simply Giada host says on her food blog Giadzy, "this Chianti pasta water takes it to the next level. The pasta cooks in water & Chianti giving it a super-rich flavor!"
An entire bottle of the wine is used to cook the pasta (along with a bit of water). Along with the other ingredients: spicy Italian sausage, grated Parmesan cheese, mascarpone cheese, and fava beans, the end result is "colorful, spicy, and rich."
Get the full recipe, video, and reviews on Food Network's site.
De Laurentiis' recipe calls for about 3 cups of Chianti wine
The chef starts by cooking shallots and garlic in oil, followed by the spicy sausage. Once the meat is browned, "you put the spaghetti directly into the pan." The whole idea, she adds, "is to finish it in a hot pan with all of the ingredients you're going to toss it with."
Parmesan cheese is grated right into the pan ("You get a nice cheesy flavor on every, single bite"). Then, "to create a little sauce," one or two ladlefuls of the red wine pasta water are poured into the pan. Mascarpone cheese is stirred into the spaghetti, "again, creating a nice creamy texture to it."
The heat is turned off and a bit more of the hot pasta water/wine mixture is spooned into the pan "to loosen up the mascarpone a little bit." Freshly chopped rosemary is added, followed by cooked fava beans. "You can also use peas," De Laurentiis added.
Reviewers were surprised at how much flavor red wine gave De Laurentiis' dish
Home cooks praised the Food Network host's easy-to-make, elegant pasta recipe.
"AMAZING!! The pasta has so much flavor from the wine. I substituted turkey sausage instead of the pork. My son and husband loved it. Giada never disappoints," one home cook said.
Another reviewer praised the recipe for its authentic flavors: "Just made this! OMG….fantastic! Love love this and the pasta cooked in the Chianti is so good. Reminds me of my time in Italy and my childhood with all these fantastic dishes."
And one fan noted that the creamy mascarpone cheese imparts a richness to the dish: "This is delicious. All the ingredients blend together beautifully. The mascarpone adds a finishing creaminess that elevates this pasta to fine dining standards."
RELATED: Giada De Laurentiis Is Executive Producing a Hallmark Movie: 'It Has Been a Dream of Mine'