Gilbert Gottfried Made Robin Williams Laugh With His 'Aladdin' Ad-Libbing
Comedians Gilbert Gottfried and Robin Williams brought a lot of humor to Disney's animated film 'Aladdin.' They even made each other laugh.
Comedian Gilbert Gottfried had a long and successful career. In 2022, the actor died due to a genetic disorder and heart condition. But his greatest works live on. For many, this includes his voice acting role in Aladdin alongside another deceased comedian, Robin Williams. And apparently, Gottfried made his fellow legend laugh in one improvised scene.
Gilbert Gottfried played Iago in 'Aladdin'
Like other animated Disney classics, Aladdin draws inspiration from an old folktale. The original story dates back to the 1700s from a collection titled The One Thousand and One Nights. Of course, the animated movie has differences in its plot compared to the source material. 
The film follows the titular character, who makes a wish on a magic lamp. Having fallen in love with Princess Jasmine, he wishes to win her over, but Jafar derails his plans to gain power. 
Amongst the stellar cast is Gottfried and Williams. The former brought the iconic Iago to life. Iago is Jafar's hot-tempered henchman and a parrot, and fans love him for his sarcasm. Gottfried's previous work as a comedian and recognizable voice made him perfect for the role. 
Williams portrayed the Genie. Fans believe no one else could have done it better — including Will Smith, who took on the role in the live-action remake. Williams provided plenty of unscripted dialogue in the pivotal role, leading to lots of laughter.
Gilbert Gottfried's ad-libbing made Robin Williams laugh
People are not surprised that Aladdin has unscripted lines since the cast included genius voice actors. While Williams allowed his creativity to pour out during recording, Gottfried also improvised in one notable scene. As a MsMojo video explains, the comedian explained the directors gave him plenty of freedom. 
"I did no preparation. I just went in and just had fun with it," Gottfried stated. He began improvising beginning with his audition and kept that up throughout his time working on the film. 
The scene in question involves Iago contemplating while packing his luggage. He and Jafar plan to depart from the palace, and he rushes about. Iago makes a quick comment about how he thinks he is making a weird face in the picture. 
While the director cut some improvised lines, this one stayed in. The scene made Williams laugh. And it likely made viewers chuckle, too.
Gilbert Gottfried's and Robin Williams' legacies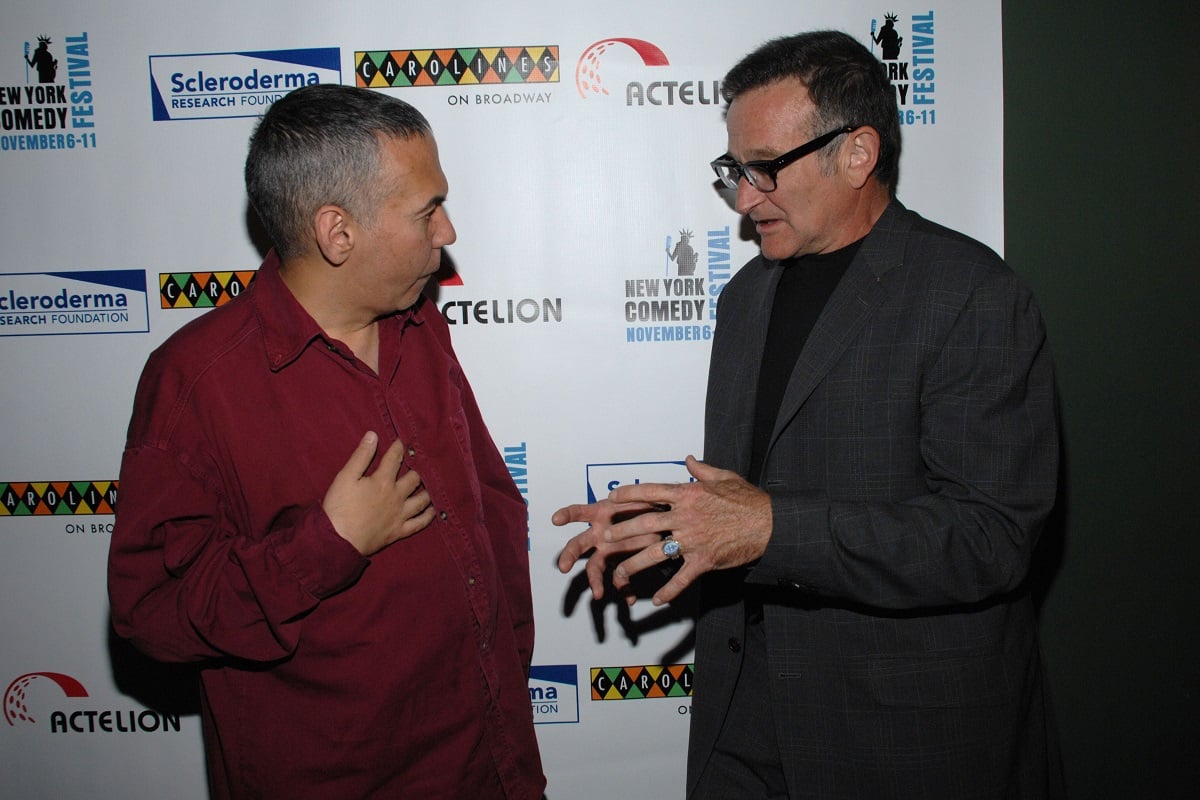 Gottfried died in April 2022. He lent his voice to shows like Cyberchase and The Fairly OddParents. Fans everywhere mourned his death online and complimented how he "never failed to steal a scene." 
The impact Gottfried had was not only in film and television. According to The Atlantic, he influenced stand-up comedy. While he was not the only offensive comedian, Gottfried could turn the observational into "pure nonsense." He made being irritating hysterical to audiences. 
Williams made a name for himself for his acting skills and energy. Fans get to remember the late actor through his works. His most famous movies include Mrs. Doubtfire and Jumanji. 
Williams made people laugh with his physical comedy routines before his death in 2014. He also made an impact by being kind-hearted and generous when he could. People will never forget either him or Gottfried.