'Gold Rush' Cast Member Jesse Goins Dies, and It's Not the First Tragedy on the Set of the Discovery Channel Series
Jesse Goins, a cast member on the Discovery Channel series Gold Rush: Dave Turin's Lost Mine, has died. He was 60 years old. 
Goins joined the cast of the show — which follows Dave Turin as he hunts for riches in abandoned mines — in 2019. He worked as a gold miner and gold room operator and appeared on 15 episodes of the series, according to IMDb.
Jesse Goins died on the set of 'Gold Rush' 
Goins was on the Gold Rush set in Colorado on August 18 when another crew member found him unconscious, sources told Variety. He was transported to the hospital, where he was later pronounced dead. A cause of death has not been announced, but TMZ is reporting that he may have suffered a heart attack.
"We are absolutely heartbroken to hear about Jesse Goins death," a Discovery spokesperson said in a statement to Variety. "Our hearts and prayers go out to his family."
Gold Rush: Dave Turin's Lost Mine is a spinoff of the hit series Gold Rush. That show premiered in 2010 and has aired for 10 seasons.
This isn't the first 'Gold Rush' tragedy 
RELATED: 'Naked and Afraid' Previews Between Food Network Shows Are Unsettling at Best
Goins' death is not the first tragedy on the set of the Gold Rush spinoff. Two years ago, producer Terrence Woods Jr. disappeared in Idaho while working on the series. Deadline recently reported on the strange case, highlighting questions from Woods' family, who believe the full details of what happened to their loved one are being concealed.   
Woods, then 27, vanished on October 5, 2018. He was filming at Penman Mine in Idaho County, when, according to his colleagues, he suddenly ran down a steep cliff and into the forest. Despite an extensive, week-long search, he hasn't been seen since.
Woods' relatives believe there's more to the disappearance than the show's producer Raw TV is letting on. 
"You say my 97-pound son ran down the cliff without tripping, falling, hurting himself. You don't have a trace of his blood or piece of his clothing, and he ran like a hare and ran so fast, nobody could catch him," Woods' father, Terrence Woods Sr, told Deadline.
"Something happened of foul play and they're trying to cover it up," he said. "My son saw something, or heard something that he didn't agree with, and he wanted to leave."
'Gold Rush' producers say there's no evidence to support claims of foul play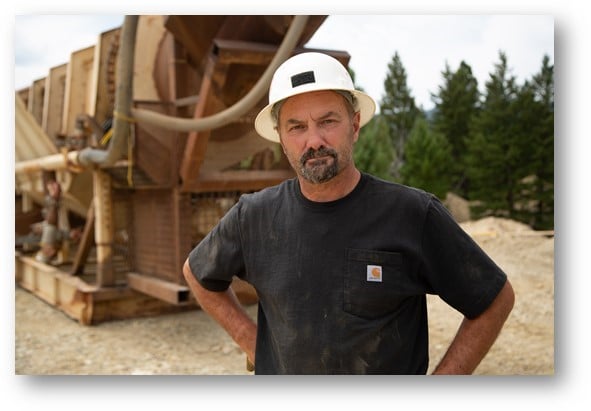 RELATED: 'Alaskan Bush People' Might Be Even Faker Than the Kardashians
Raw TV told Deadline that Woods' disappearance was a "tragedy" but that there was no evidence to support "speculative claims" of foul play. Local law enforcement also told the publication that there was no sign of the show's producers had a role in Woods' disappearance or that he was mistreated on set. There has been speculation that Woods' may have been dealing with mental health issues at the time he vanished, though his family says that is not the case. 
Idaho County Sheriff Doug Giddings did tell Deadline that Woods, who had only recently started working on the show, had an "uneasy" relationship with his coworkers. "We determined that he wasn't happy there and there were several people who weren't happy with him," Giddings said.
Woods is Black, and the case has attracted more attention in recent weeks in the wake of the Black Lives Matter movement.
"It's baffling, I just don't understand. I don't know why it happened," Gia Tabasco, a friend and former colleague of Woods, told VICE. "Is it because he's a junior member of staff? Is it because he's Black?"
Anyone who has information concerning Woods' disappearance can contact the Idaho County Sheriff at 208-983-1100.