'Good Girls': Christina Hendricks Believes Beth and Rio Have a 'Reactionary Relationship' for This Reason
'Good Girls' stars Christina Hendricks and Manny Montana play an unlikely team on the series. The actor opened up about their relationship in a 2019 interview.
Christina Hendricks and Manny Montana star in Good Girls as Beth and Rio. Throughout the show's four seasons, viewers have watched Rio invade Beth and her family's life, including her marriage. Hendricks gave more insight into the actors relationship in 2019.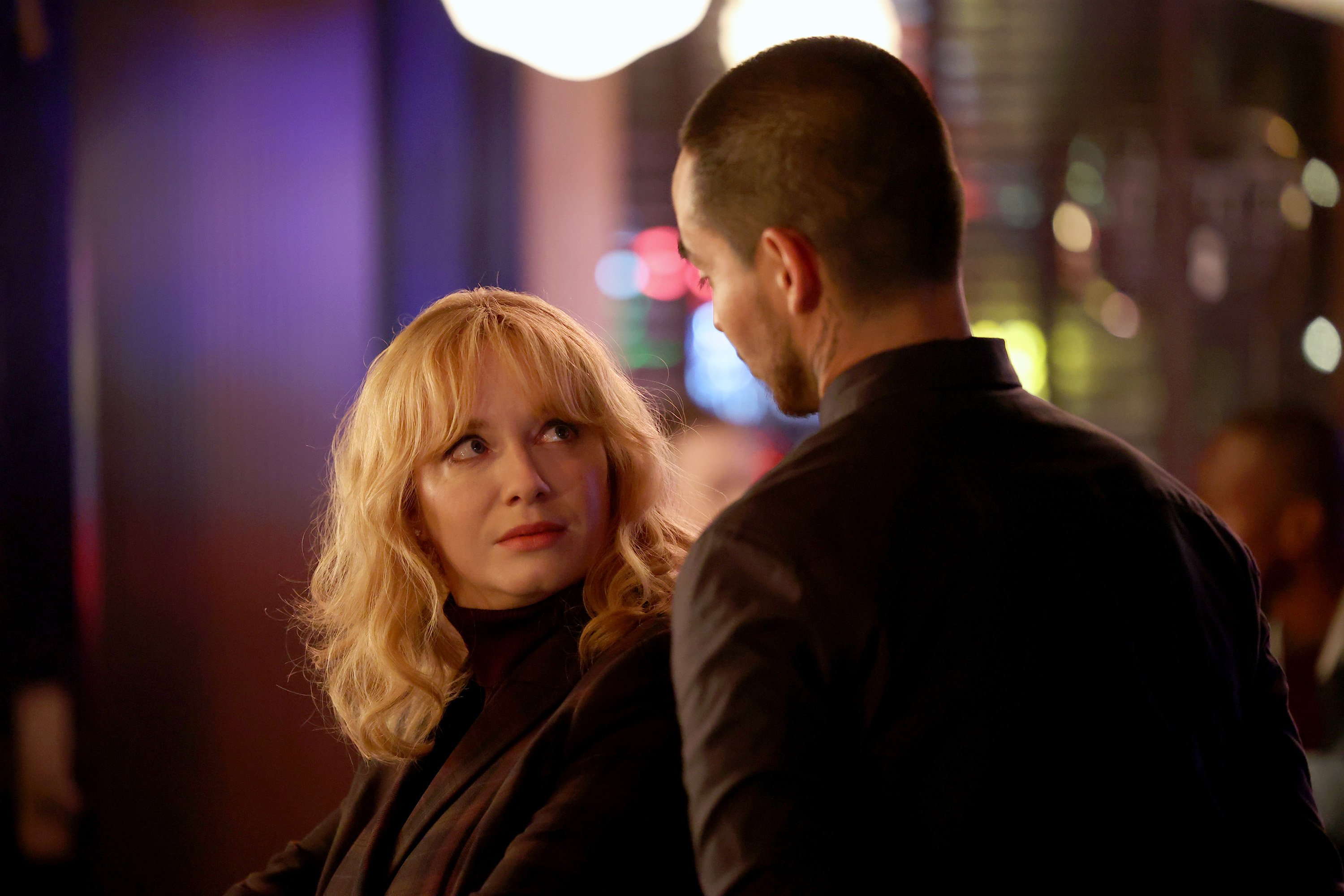 Christina Hendricks believes her 'Good Girls' character Beth has a 'confusing' dynamic with Rio
On Good Girls, Beth, her sister Annie (Mae Whitman), and her best friend Ruby (Retta) are three moms in desperate need of money. However, their lives became more chaotic when they decided to rob the grocery store where Annie works.
Eventually, the women meet Rio, who operates a money-laundering scheme from the store. Once he figures out he can use the women to make more cash, Rio decides to keep them around. Along the way, Rio and Beth try to outsmart each other and exchange stolen glances in multiple episodes. 
In 2019, Hendricks explained to Awards Daily that Beth's relationship with Rio wouldn't have happened without her world turning upside down. Because she's entered a life of crime, the actor feels that her character is attracted to Rio's enigma. 
"The Rio character is so interesting because it's just acting out," Hendricks said. "It's the most reactionary relationship that you can have. It's mysterious and it's confusing. It's that power play that leaves you with that horrible feeling of letting someone control you. You want to fight back, and you want to be the controller. The back and forth cat and mouse is interesting. But it's also business and there's sex, but it's much more than that too, so it's really confusing for her." 
Christina Hendricks and Manny Montana have 'great chemistry' on 'Good Girls' 
Hendricks and Montana met for the first time during Good Girls Season 1. Before then, the actors appeared in several shows such as Mad Men and Rosewood. Although they played drastically different characters in the past, Hendricks said she and Montana didn't have any trouble with their roles. She also said kissing her co-star on screen comes "easy" to her. During Season 2, Episode 4, "Pick Your Poison," Beth and Rio had sex in a public bathroom. 
"I mean, he's a great actor and, we have great chemistry working together, and…He's just…it's just a very sort of respectful work," Hendricks told The Black C.A.P.E. Magazine. 
The Toy Story 4 actor also said that she and Montana's professional relationship is less appealing than Beth and Rio's.
"You know, it's funny because I know people love, they love it," she said. "We, of course, we love that. It's exciting and stuff, but it's not as…it's much more professional than anyone would think."
Beth and Rio might get closer in season 4
In Good Girls Season 4, Beth, Ruby, and Annie attempted to rat Rio out to the feds. However, the plan meant that the women had to give up their money-laundering business. When Rio decides to continue working with Beth, he hatches a plan for them to make money again. During the Good Girls midseason finale, Rio gifted Beth with a box of Canadian money. The gift implied that he wants Beth and the girls to start "cleaning" the cash for a profit. 
Viewers can expect to see what Beth decides when Good Girls returns with new episodes on June 24, 2021.