'Good Girls': Who Is Actress Christina Hendricks' Husband Geoffrey Arend?
'Good Girls': Who Is Actress Christina Hendricks' Husband Geoffrey Arend?
NBC's Good Girls is coming back for Season 2, and star Christina Hendricks, who plays Beth Boland on the show, couldn't be happier about returning to work with her friends and cast mates.
"We click as friends and we click as workmates, and then we also click as both," the actress told People of her relationship with fellow stars Retta and Mae Whitman. "It's an extraordinary thing that like, we would just be friends if we weren't working together." In the article, the three actresses shared stories of their girl's night antics, including Hendricks' late-night munchies.
It's not just Hendricks' work life that's going great. When the Mad Men alum isn't hanging out with her co-workers, she's busy spending time with her husband of 10 years Geoffrey Arend, who is often photographed with her at events like Vanity Fair's Oscar party.
Geoffrey Arend stars in Madam Secretary
Arend, who is also an actor, might not have quite the name recognition as his six-time Emmy nominee wife, but he's enjoyed a successful career of his own. The 41-year-old got his start voicing a character on MTV's animated series Daria in 1998.
Since then, Arend has appeared in one-off roles on numerous TV shows, including Law & Order, Guiding Light, Law & Order: SVU, Greek, Private Practice, Medium, and The Closer. He's also had parts in movies like Super Troopers, Bubble Boy, The Ringer, 500 Days of Summer, and Save the Date.
From 2011 to 2013, Arend starred in Body of Proof, a medical drama that aired on ABC. Currently, he plays Matt Mahoney, speechwriter to Secretary of State Bess McCord (Téa Leoni), on Madam Secretary.
He and Hendricks married in 2009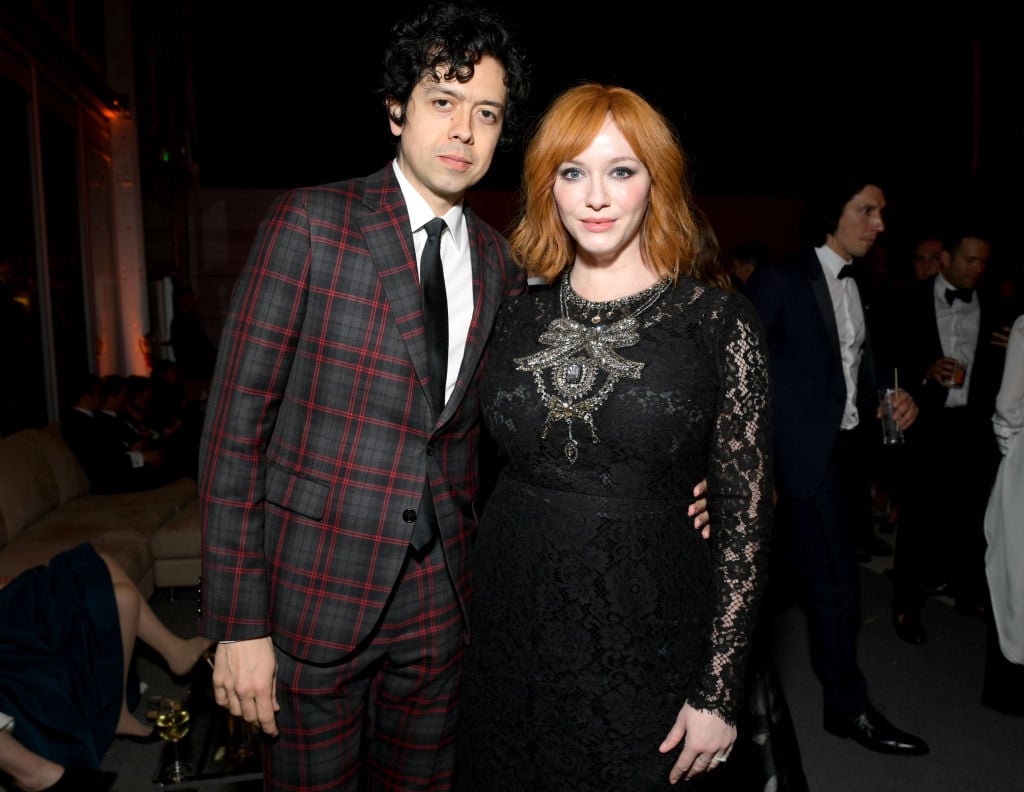 Hendricks and Arend were introduced by her Mad Men co-star Vincent Kartheiser. The couple wed in 2009 in an intimate ceremony at Il Buco restaurant in New York City, People reported at the time. They had their first dance to "Origin of Love" from the 2001 movie Hedwig and the Angry Inch.
"He's considerate, he's thoughtful, he's smart, he takes care of me," said Hendricks when describing her fiancé to People before they were married. "He's very, very giving."
The couple doesn't plan to have children
Hendricks and Arend have been married for almost a decade, but they don't plan on expanding their family any time in the future. Hendricks has been open about the couple's decision not to have kids.
"We've decided that we are not really interested in having children," the actress told Health magazine in 2014, adding that people sometimes didn't believe her when she told them of her and Arend's decision to be childfree. 
"It seems like it's expected that you'd want to have kids. It's just very normal for people to say, 'Well, when you guys have kids…' And then when I say, 'Actually I don't think we're going to do that,' people will say, 'Oh, you say that now…' It doesn't bother me, though." 
In later interviews, she said that some people thanked her for being so open about her choice not to have children.
"There were a lot of people who came and thanked me for saying it out loud, and I thought, 'Well isn't it sad, that we can't say it out loud?' she told The Times in 2017. "I really don't understand the hullabaloo around it. There's people who have kids and people who don't have kids. We're the people who don't have kids."
Season 2 of Good Girls premieres Sunday, March 3 at 10/9c on NBC.
Check out The Cheat Sheet on Facebook!