'Good Witch' Season 7 Episode 5 Promo Trailer: Martha Receives a Frightening Message
Last week's episode of Good Witch didn't focus too much on the mystery involving the Merriwick women. Instead, we saw a lot of Martha's (Catherine Disher) conflict with her cousin Maxine (also played by Disher), Sam's (James Denton) struggle after a basketball injury, and the revival of the Middleton gift exchange. But it looks like we'll be seeing a bit more of the unexplained — and even spooky — in the Hallmark Channel show's June 13 episode, titled "The Kite."
Someone has a creepy message for Martha in 'Good Witch' Season 7 Episode 5
Is this Middleton or the Overlook Hotel? In a trailer for Good Witch Season 7 Episode 5, we see a cheerful Martha stroll into her kitchen in her bunny slippers. But the mood quickly shifts when she spots a bizarre message written in dripping red ink on her refrigerator: AHTRAM. It's her name, spelled backward. 
Martha drops her coffee cup in terror, and who can blame her? Someone clearly wants to frighten her. But who could it be, and why? According to an episode description from Hallmark, the unusual events cause Martha to lose sleep until she discovers the surprising truth about what's really going on.
Joy, Abigail, and Cassie consult the runestones
Meanwhile, Cassie (Catherine Bell), Abigail (Sarah Power), and Joy (Katherine Barrell) are still puzzling over the true meaning of the tree of life symbol formed by the dirt from the original Merriwick family farm in England. 
Cassie suspects that the symbol is meant to protect them. She also has a theory that the pendant on the necklace Joy has been dreaming about might be an amulet. 
"If you're dreaming about that amulet, maybe we need to be protected from the same thing your dad did," Abigail says. "The only way to find the truth is to find your dad." 
Joy consults the runestones she received in the exchange, and Cassie points out that one is missing — wunjo, or joy. Surely that's a sign of something, but of what it's not yet clear. Given the episode's title, we can also expect some tie-in to the old kite Cassie received in the exchange last week, which was owned by her parents.  
The Merriwicks go on a road trip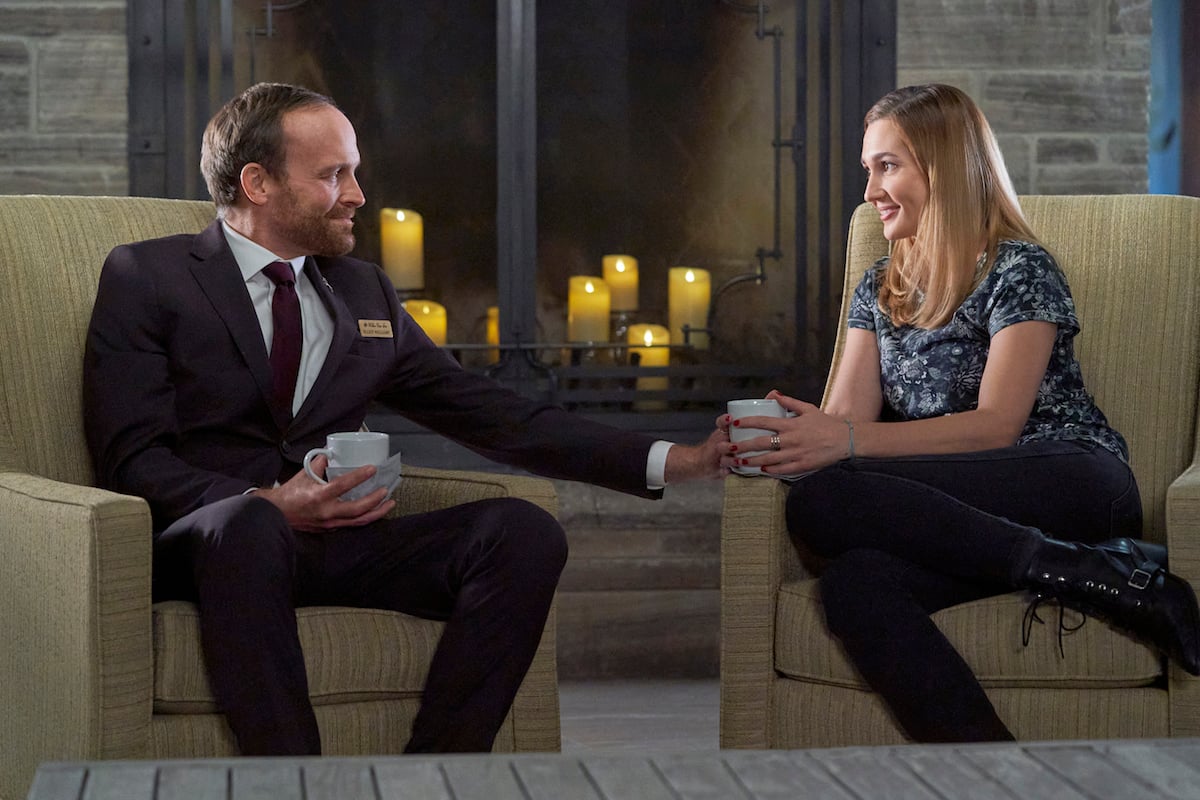 As hinted at in the preview, the questions surrounding Joy and the amulet prompt all three Merriwick women to take a road trip in search of a missing piece of Joy's past — her father Phillip. We know Joy's mother died in a car accident when she was a teen, but what happened to her father is a little less clear. Perhaps this episode will provide some answers. Based on episode photos shared by Hallmark, it does look like father and daughter are ultimately reunited. 
Also in this episode, Stephanie (Kylee Evans) agrees to go on a date with her French teacher (Liam Bilyk). However, the two have very different ideas about what a date means. Plus, Sam, Donovan (Marc Bendavid), and Adam (Scott Cavalheiro) get a surprise when they pay a visit to Leopard Lodge at George's (Peter MacNeill) invitation. 
Good Witch Season 7 Episode 4 "The Kite" airs Sunday, June 13 at 9 p.m. ET on Hallmark Channel. 
Check out Showbiz Cheat Sheet on Facebook!