'Good Witch' Series Finale Recap: A Magical End to the Hallmark Series
The final episode of 'Good Witch' aired Sunday, July 25 on Hallmark Channel. In the series finale, the Merriwick cousins figured out how to defeat the red-haloed moon. Also, Stephanie and Adam got married, Abigail and Donovan broke up, and Joy and Zoey shared their first kiss.
The final episode of Good Witch aired July 25 on Hallmark Channel. Though the episode, titled "The Wedding," wasn't originally intended as a series finale, it still managed to neatly tie up several storylines involving Cassie (Catherine Bell), Joy (Katherine Barrell), Abigail (Sarah Power), Stephanie (Kylee Evans), and other residents of Middleton. 
[Warning: This article contains spoilers for the Good Witch series finale.] 
The Merriwick cousins defeat the red-haloed moon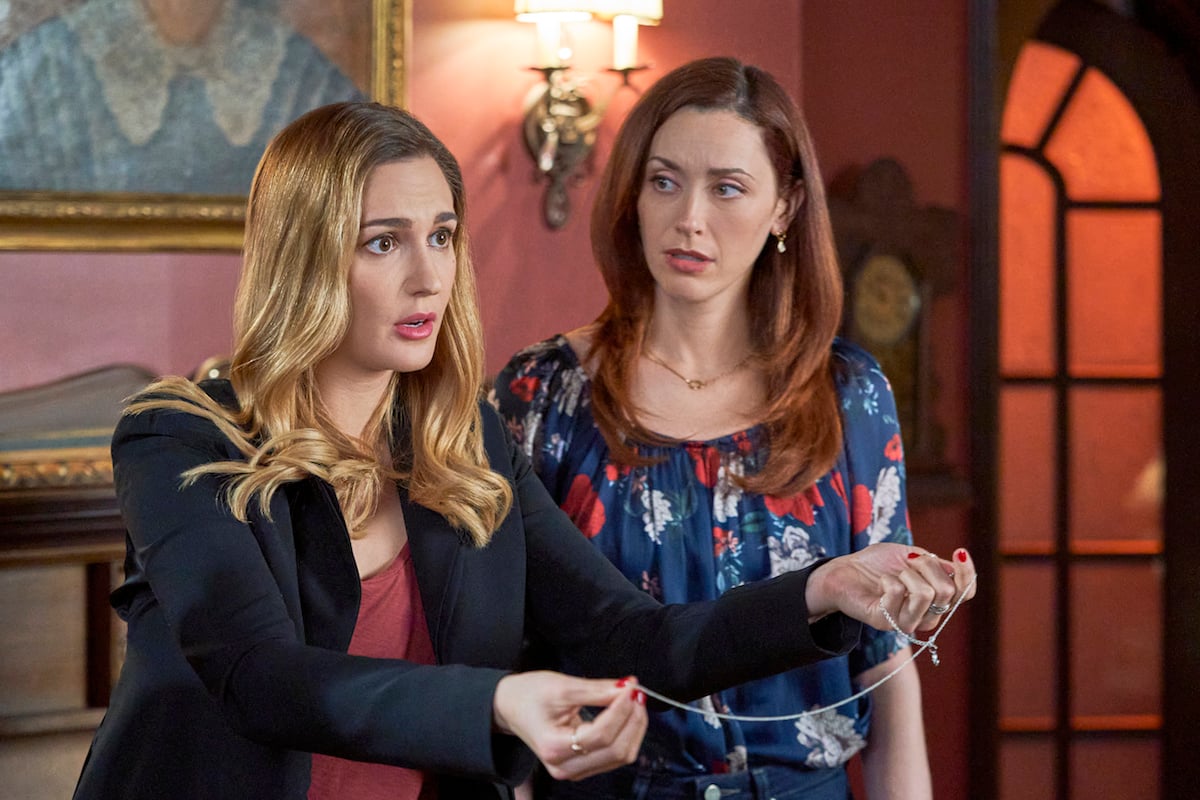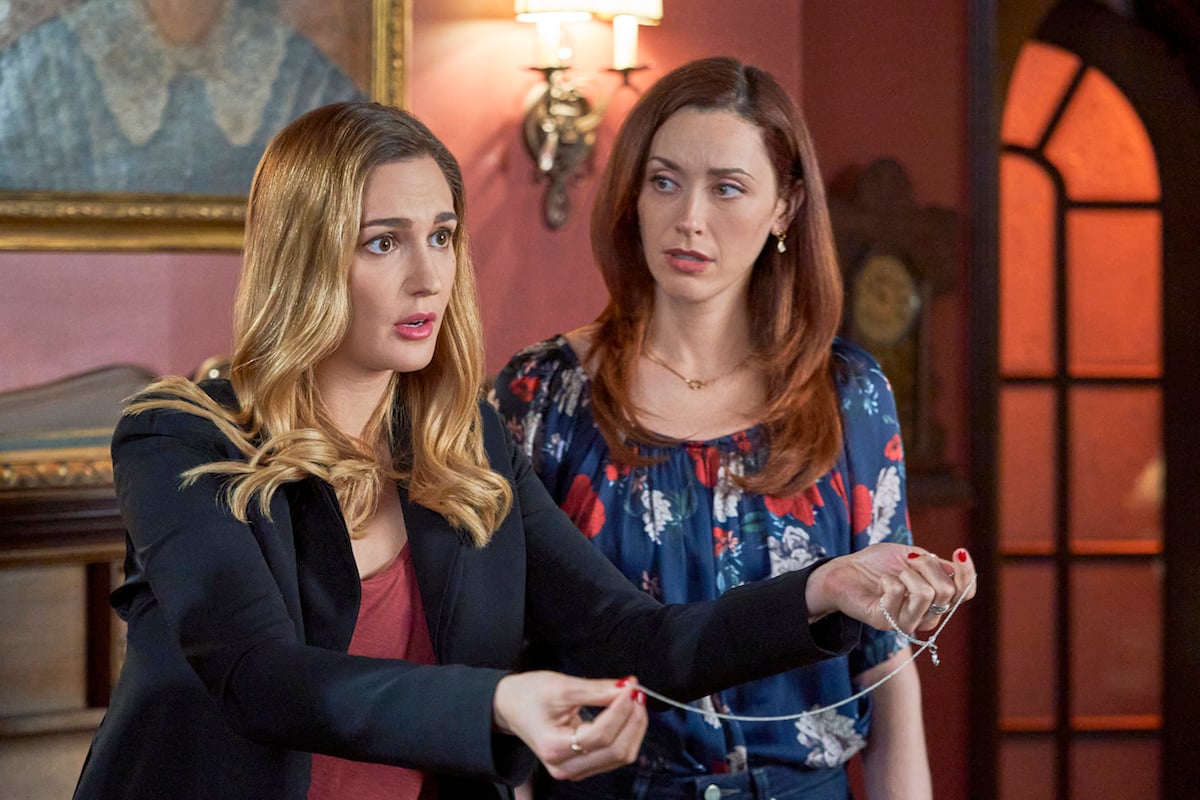 Throughout Good Witch Season 7, Cassie, Joy, and Abigail have been trying to unravel a mystery involving some mysterious bags of dirt, strange old amulets, and the red-haloed moon. It all goes back to the origins of the Merriwick family powers several centuries earlier. In the series finale, the trio finally figures out how to defeat the mysterious force that's sapping their powers and putting their legacy at risk. 
One of Joy's prophetic dreams reveals what they need to do to recreate the missing second amulet. Soon after, the Merriwick cousins discover pieces of the lost amulet when a storm blows over an old tree. With the missing pieces in hand, they can put old and new together and defeat the power of the red-haloed moon (and retain their witchy powers). 
Stephanie and Adam say 'I do' 
The first half of the Good Witch series finale mostly focused on the Merriwicks solving their magical dilemma. The second half was all about romance, with various Middleton couples making decisions about the future. 
For Stephanie and Adam (Scott Cavalheiro), that means saying "I do." After Stephanie's flight to Paris is canceled, she returns to Middleton, and she and Adam decide to elope. At the reception, Adam announces that he plans to follow Stephanie to France so they won't have to spend any time apart. 
Adam's declaration of love inspires Sam (James Denton) to rethink his own marriage to Cassie. His workaholic ways have been causing tension between them, but after the reception, he gets down on one knee and asks Cassie to accompany him on an around-the-world trip. 
"I don't want to look back on our life together and have any regrets," he says. "And the biggest one would be if I didn't spend enough time with you." 
Abigail and Donovan call it quits, Joy and Zoey share a kiss 
At Stephanie and Adam's wedding, almost every couple in town takes to the dance floor. Abigail and Donovan (Marc Bendavid) are the notable exception. Previously, he surprised her with tickets to Tuscany, revealing that he'd arranged for them to get married there. But witnessing the other couple's ceremony causes them to have a realization about their own relationship. 
"We're never going to put our marriage first," Donovan says. "I think we've both known it for a long time." 
At the end of the episode, Abigail decides to go to Tuscany on her own, possibly for good.
Fan-favorite couple Joy and Zoey (Kyana Teresa) got a happier ending. Earlier in the episode, Joy's ex-girlfriend Charlotte (Jessica Huras) showed up in Middleton and announced she wanted to get back together. Joy isn't sure what to do, and Zoey tells her her she needs to make a decision. But Zoey also decides to show Joy how she truly feels by getting some salsa dance lessons from Sam. After the wedding, the two dance and share their first kiss. (It's also the first-ever kiss for an LGBTQ couple on a Hallmark Channel original series.) 
Cassie and Sam say goodbye
Elsewhere in this episode, Martha (Catherine Disher) stresses about Tom's (Paul Miller) heart surgery. Fortunately, it all turns out well in the end. Cassie's foster brother Vincent (Gianpaolo Venuta) also arrives and reveals he's decided to move to Middleton. 
In the final moments of "The Wedding," we see several Good Witch characters looking to the future — and going their separate ways. Stephanie and Adam decide they want three kids, and Abigail heads off on her Tuscan adventure. Sam and Cassie leave the B&B in Joy and George's (Peter MacNeill) capable hands as they leave for their trip. 
"There's nothing I want to do more than wander the world with you," Sam tells Cassie as they get in the car and say goodbye to Grey House and Middleton for one last time. 
Check out Showbiz Cheat Sheet on Facebook!