'Gossip Girl': Behind-the-Scenes Photos Show a New Class at Constance
Hold onto your smartphones, Upper East Siders. Your favorite anonymous gossip blogger is back, and she's ready to welcome a new class of freshmen to Constance Billard School for Girls and St. Jude's School for Boys. That's right, Gossip Girl is returning to television after nearly 10 years off the air, and behind-the-scenes photos unveil a few big reveals.
From far fewer headbands to a more diverse cast and an edgier storyline, behind-the-scenes scoops and new photos reveal just how dramatically the Upper East Side has changed since we last said goodbye to Serena, Blair, Dan, Nate, Jenny, Chuck, and the rest of the Gossip Girl cast.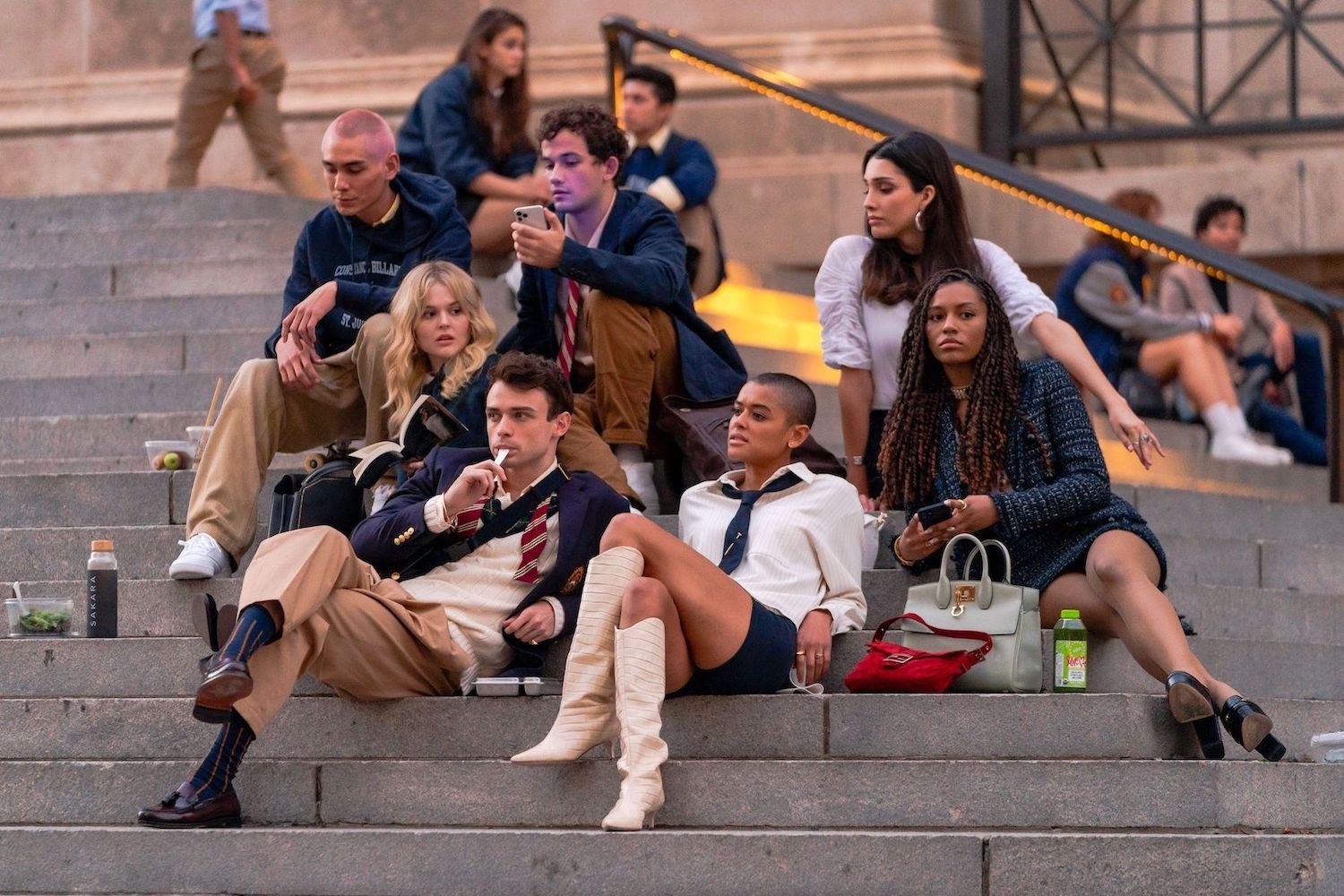 From 2012 to 2021: What happened at the end of the original 'Gossip Girl'?
RELATED: XOXO 'Gossip Girl' Fans — This Cast Member Is Officially on Board For the Revival
Everything started back in 2007 when Serena Van der Woodsen (played by Blake Lively) returned to Manhattan after her brother Eric experienced a mental health crisis. In that first episode, we meet her best friend Blair Waldorf (Leighton Meester), popular jock Nate Archibald (Chace Crawford), serial womanizer Chuck Bass (Ed Westwick), and social outsiders Dan Humphrey (Penn Badgley) and Jenny Humphrey (Taylor Momsen).
Over the next six years, each character faces a litany of dramatic events as they each navigate their elite New York landscape, from drug overdoses to attempted murder. All the while being followed (and documented) by the eponymous Gossip Girl blogger (Kristen Bell).
In the Gossip Girl series finale, a controversial twist reveals that Dan Humphrey was the gossipy blogger all along. We then jump ahead five years and see how each character's life plays out. Everyone gets a seemingly tidy — if not happy — ending. For example, we see Dan and Serena finally getting married. With such a clean conclusion, why is Gossip Girl being rebooted? It turns out, the new Gossip Girl is not actually a reboot.
Welcoming the new freshmen class of St. Jude's and Constance Billard
RELATED: The 1 Important Way 'Gossip Girl 2.0' Will Be Different From the Original
Think of the new Gossip Girl as less of a reboot, and more of an extension.
It will still take place in the same universe as the original Gossip Girl, all the way down to the fact that the characters all attend the same exclusive, wealthy schools we saw previously. And yes, E! reports that Kristen Bell will return as the voice of the anonymous blogger who haunts their every move.
But that's where the similarities start to end.
First up is the network: The producers are moving the show from its original home at The CW to the online streaming platform HBO Max. This means that — liberated from the constrictions of daytime TV — the show's producers can push the boundaries even more. While the original Gossip Girl was controversial, with the Parents Television Council pushing for the show to be banned due to its risque plots, the new Gossip Girl may make its predecessor look tame.
"We're excited about being able to tell us a different version of the story, and with different levels of restrictions," explains executive producer Joshua Safran in an interview with E!.
The other major change will be the storylines. Back in 2017, Safran told Vulture that one of his biggest regrets was not featuring more LGBTQ story elements, as well as shying away from certain plots involving sex and sexuality. Sources report that all that will change with the new Gossip Girl.
"There's a lot of queer content on this show," Safran told E! in a recent interview. He also suggested the new show will tackle current, pressing social issues, such as inequality. "It is very much dealing with the way the world looks now, where wealth and privilege come from, and how you handle that," he adds.
Finally, the new show will include discussions about social media and online fame. "[That] was not at all possible the first time around," said Safran. "I just feel like there's so much to look at."
Take a look at the new, diverse 'Gossip Girl' cast
RELATED: The New 'Gossip Girl' Cast is Here
Photos of the new cast of Gossip Girl have arrived. Gone are the all-white leads, ever-present headbands, and perfectly pressed plaid suits. In their place, we have Zion Moreno, Thomas Doherty, Tavi Gevinson, Emily Alyn Lind, Eli Brown, Jordan Alexander, Evan Mock, and Savannah Smith.
Unlike the original Gossip Girl cast, many of these actors identify as BIPOC or LGBTQ, staying true to Safran's vow to have a more diverse TV drama this time around.
New photos also reveal that the characters have ditched their perfectly coiffed and manicured outfits. Gossip Girl has always leaned heavily on fashion to inform each scene and convey something about each character, and it's no different this time around.
"Everyone should watch the reboot to watch the clothes," said costume designer Eric Daman in an interview with Variety. He says the fashion will be more diverse and unconventional to reflect our modern times and also the revamped approach in the show. "It's exciting to be able to reinvent and play with gender, gender norms and what that means inside of the costumes," explains Daman. "[We are] adding more gender-neutral pieces and making it contemporary and inclusive."