'Gossip Girl': Why Leighton Meester Didn't Want to Wear Half of Blair Waldorf's Clothes Again
Fashion was a big part of Gossip Girl and the show's characters. Leighton Meester wore some great clothes as Blair Waldorf, but she once explained why she didn't want to wear half of it again.
Blair Waldorf had an iconic look on 'Gossip Girl'
RELATED: 'Gossip Girl': Is Leighton Meester and Blake Lively's Starkly Different Upbringings the Reason They Didn't Get Along?
Gossip Girl started with Blair being 16 years old and attending prep school. She still stood out by wearing headbands, tights and adding designer accessories to her uniform.
When she was out of school, she also dressed to impress. Her clothes were important to fit a type-A character who happens to be the daughter of a fashion designer. Her style matured later in the series.
But Meester didn't keep a lot of the clothes. She revealed why she actually wasn't tempted to keep them.
Why Leighton Meester didn't keep some of Blair Waldorf's clothes
RELATED: 'Gossip Girl': The Ages of the New Cast vs Original Cast in Their Premieres
Blair Waldorf had an iconic wardrobe that many fans tried to copy. Meester revealed that it included high fashion and more affordable items.
"The character wears a good mixture like she'll be wearing this gorgeous Valentino dress that's like straight off the runway," she told People in 2008. "And then she'll be wearing like tights and Nine West shoes. And you would never realize it because it looks so great and it's a really good mixture. So it's a very approachable style but it's still super high fashion and really great and young."
Some fans might assume that the actors took as many free clothes as they could get. But Meester admitted she didn't want a lot of it.
"I get like minimal stuff," she said. "I get like shoes that I haven't worn too much of and some jewelry and a few dresses here and there. Half the stuff I don't really want to wear again because I wore it like five or six days in a row while we were shooting. So I'm gonna get tired of it."
Leighton Meester refuses to give away the shoes she wore for her 'Gossip Girl' audition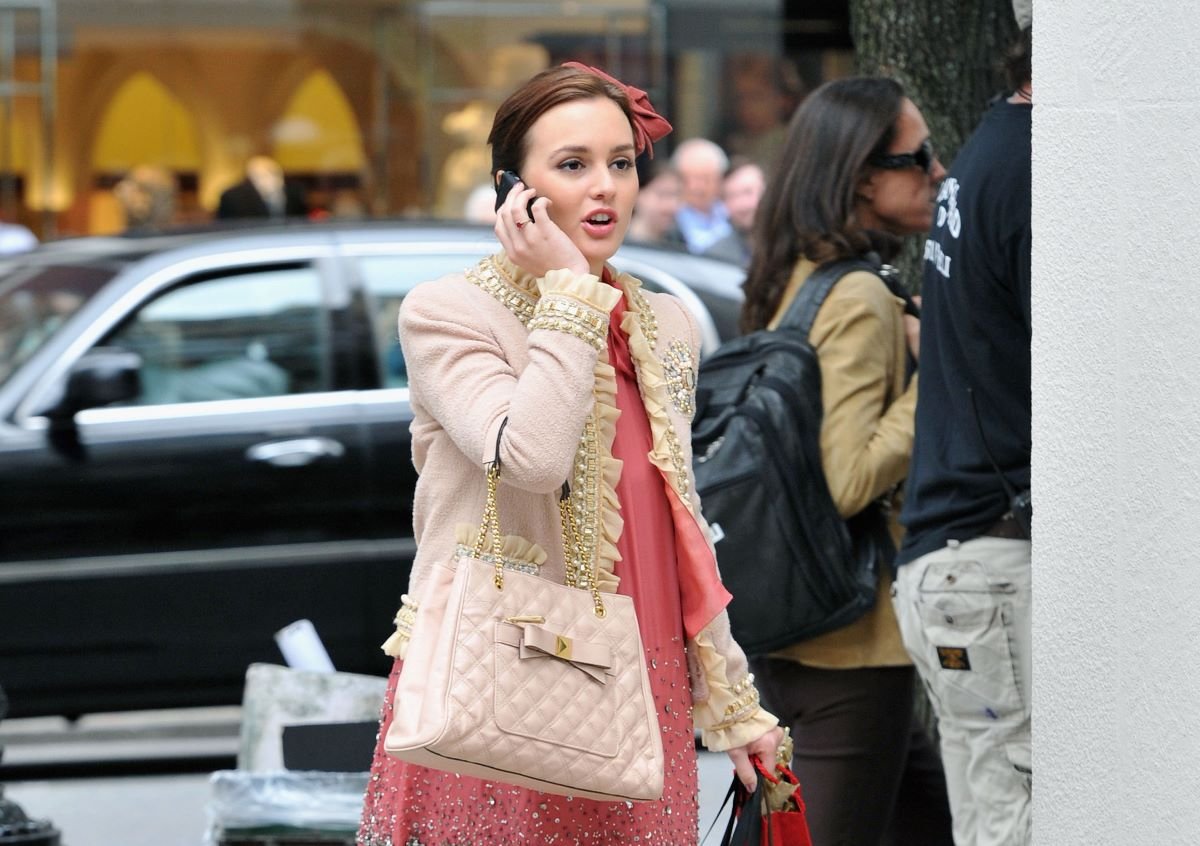 RELATED: 'Gossip Girl': Why the New Characters Might Remind You of Blair, Jenny, and More
Actors dress themselves for their auditions. Meester decided to wear red Marc by Marc Jabos shoes to audition for Blair Waldorf.
"In my heart, I could picture myself wearing them living in New York," Meester told Harper's Bazaar. "So I wore them to the audition and got the part. I can't give them away because every time I wear them, I'm living that dream."
She got the role, and Gossip Girl changed her life and her wardrobe. "If I don't take risks with fashion, where the hell am I going to take risks?" she said. "I love Stella McCartney, Chloé, the Row, Lanvin, and Calvin Klein."
However, Meester admitted she's not a fan of tights like her character. So sadly, the job made Meester get tired of a lot of Blair's clothes, and she returned them.