'Gossip Girl' Will Have Cameos From the Original Show but Not the Kind You'd Expect
Soon fans who are nostalgic for Gossip Girl will get new episodes that take place in its universe. The show's producer revealed there will be cameos in the first season, but not the kind you'd expect.
'Gossip Girl' has a new cast
RELATED: 'Gossip Girl': The Real Reason Leighton Meester Won't be in the Reboot
Gossip Girl is back with new characters, but many of them might remind you of the original stars. Obie (Eli Brown) looks like Dan Humphrey (Penn Badgley), but he's the wealthiest character. Zoya (Whitney Peak) is his little sister making her similar to Jenny. Max (Thomas Doherty) is rich and has a troubled life like Chuck Bass (Ed Westwick). Julien Calloway (Jordan Alexander) seems to be the leader of the pack like Blair Waldorf (Leighton Meester).
Julien is seen in the trailer spotting Zoya being a fish out of water. She then invites her to hang out with the group. It then shows Zoya getting close to Julien's boyfriend. A picture of them together gets released by Gossip Girl.
It looks like once again a Queen Bee at Constance will be threatened by a new girl. But will the original queen or any of her friends appear in the new episode?
Why the original stars aren't in the HBO Max Reboot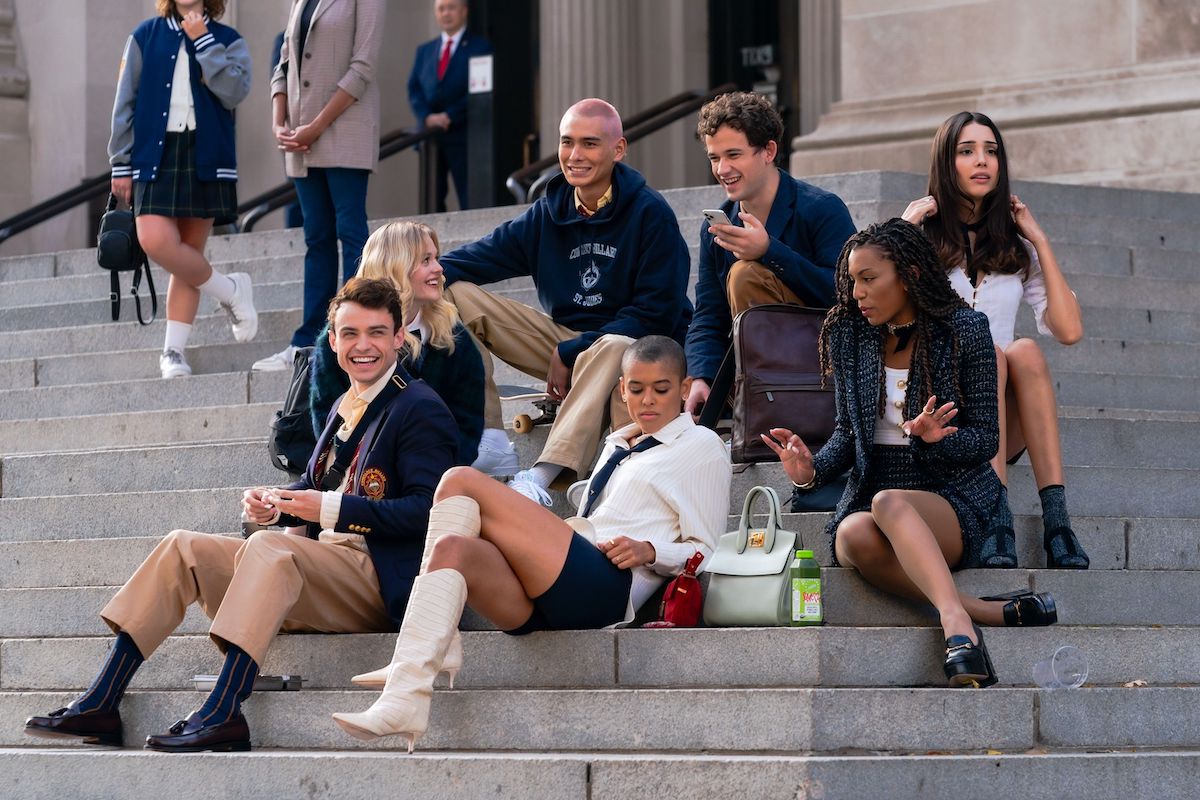 RELATED: 'Gossip Girl': Fans of 'You' Will See a Familiar Face
None of the original stars are in the reboot, although many fans of the original show might tune in hoping to see some familiar faces. Executive producer and writer Joshua Safran, who produced both shows, explained why to The Daily Beast.
"We made a decision early on—and I was nervous about this decision, but definitely came to believe it was right—that the audience would never accept these characters if they were in the shadow of the original characters," he said.
"If Blair showed up for two scenes, you'd say, 'I want more Blair,'" the producer later said. "The decision was: Let's get season 1 under our belt, and should we get season 2, we'll have the chance to bring in cameos that are more than glorified cameos but actually give them storylines."
Safran noted that the cast for the new show is also much bigger with 16 regulars. It would be more of a time constraint to include more characters.
There will be cameos from the original 'Gossip Girl'
RELATED: 'Gossip Girl': Who Is Jordan Alexander?
The reboot does exist in the same world as the original show, so it is possible to have cameos. The good news is there will be, but probably from more unexpected stars.
"There are some cameos in season 1 from people on the original show, but not the series regulars," teased Safran. This does make it hard to guess who it could be. Maybe we'll see some fun nods to the original like Dorota (Zuzanna Szadkowski) or Georgina Sparks (Michelle Trachtenberg). The cameos have yet to be revealed.