'Grace and Frankie' Costume Designer Allyson Fanger is Creating a New Legacy Through Style
Grace and Frankie have been effortlessly fashionable since the beginning. Jane Fonda and Lilly Tomlin rock a unique style that perfectly compliments their characters while on the show. Costume designer Allyson Fanger worked hard to avoid putting Grace and Frankie in stereotypical frumpy outfits. The Emmy-nominated costume designer is changing how people think about how older women "should" dress and creating a new legacy through style.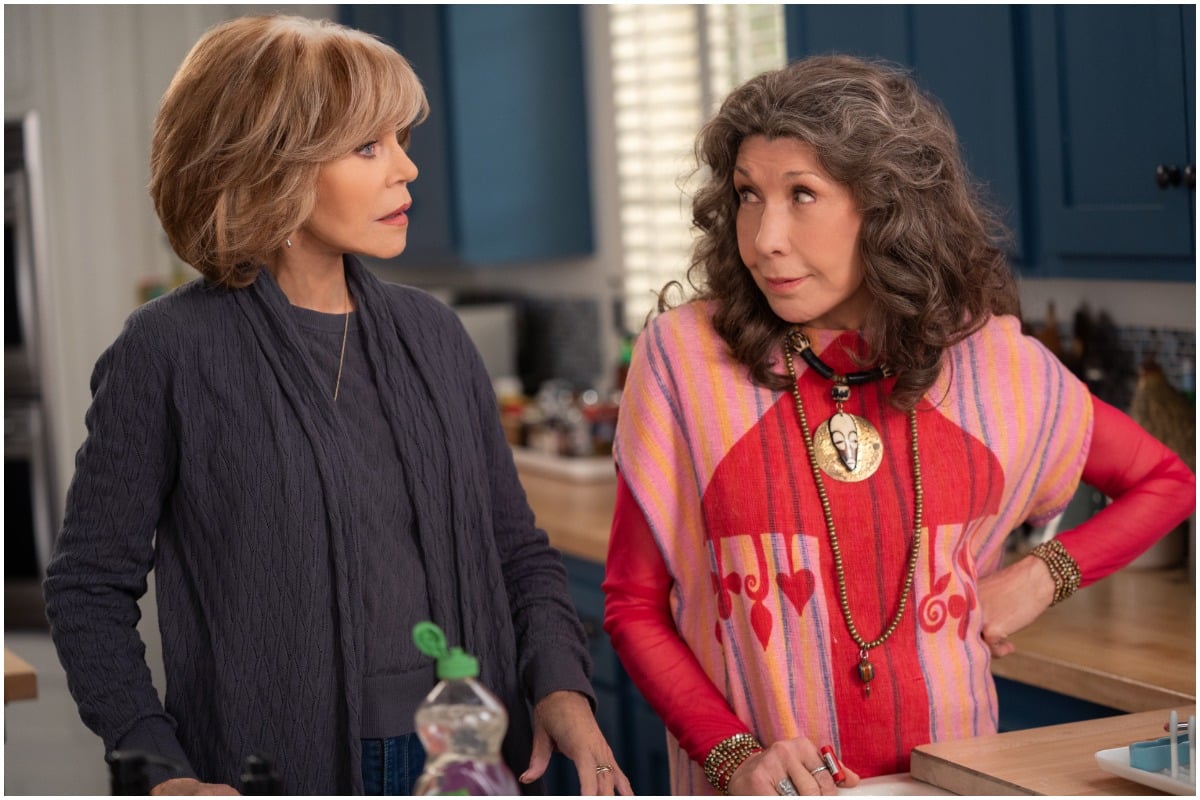 Grace's style is classic and polished
Fans of Grace and Frankie know that the show's titular duo rock very different kinds of outfits. Grace's style is classic and a bit conservative. She often wears simple and elegant pieces, like a little black dress or a stylish pantsuit. Fanger's go-to brands when dressing Grace include, Ralph Lauren, Brooks Brothers, and St. John Knits. "She's just got all this fantastic cashmere. Her stuff is gorgeous. I love it — so classy," Fanger said in a Shondaland interview. Fanger also began making custom, printed shirts for Grace after the first season.
Frankie's style is boho and free
Frankie's style, on the other hand, reflects her hippie outlook on life. "Lily was a little nervous because [Frankie's] look is not her look at all. But the first season came out, and we received all this positive feedback," Fanger told Shondaland. She used a lot of vintage clothing for Frankie and pulled from designers like Harari, Alembika, and Bryn Walker. Fanger also makes "special, one-of-a-kind pieces for Frankie whenever the occasion arrives," she told Shondaland. The clogs Lilly Tomlin often wears while filming are supposed to be hand-painted by Frankie herself.
Allyson Fanger is creating a new legacy with 'Grace and Frankie'
Fanger hoped to create a new legacy of dressing older women on television. Gone are the days of women giving up on style and fashion once they reach a certain age. "That's the "typical" older woman: granny in the rocking chair wearing your sweater and your housecoat and whatever, right? That doesn't happen anymore," Fanger told Shondaland. "Women are still so vibrant well into their later years." Fonda and Tomlin are perfect examples. Both actors are in their early eighties. They are still going strong in their careers, and they dress to kill at the same time.
The series also stands out as one of the only current shows centered around women over the age of sixty. Fanger's fashion choices help to elevate these women's stories and show their personalities through self-expression.
"At no point do either of them give up their unique style to adhere to "older lady" clothing," she told Shondaland. For them, that would be giving up their identities to fade into obscurity, to become ordinary, regular, predictable, or — at the very worst — completely thoughtless when it comes to personal expression through wardrobe choices. The opposite of empowered is to sit back and fall into a herd of peach-colored cable knit cardigans. My ladies are nowhere near that universe."
RELATED: Age Doesn't Get in the Way of Fashion for These 10 Celebrities
Related post url: