'Grace and Frankie': Dolly Parton Wants a Vibrator From the Show
Grace and Frankie stars Jane Fonda and Lily Tomlin are returning for a final season of the Netflix comedy series. Grace and Frankie Season 7 will bring on a long-anticipated guest, Dolly Parton. Fonda, Tomlin, and Parton have been friends for quite some time. The actors worked together on 9 to 5 many years ago, and Grace and Frankie Season 7 will be a kind of reunion. Grace and Frankie come up with several inventions during the show, and Parton has stated that she wants one of the interesting-looking vibrators from the series.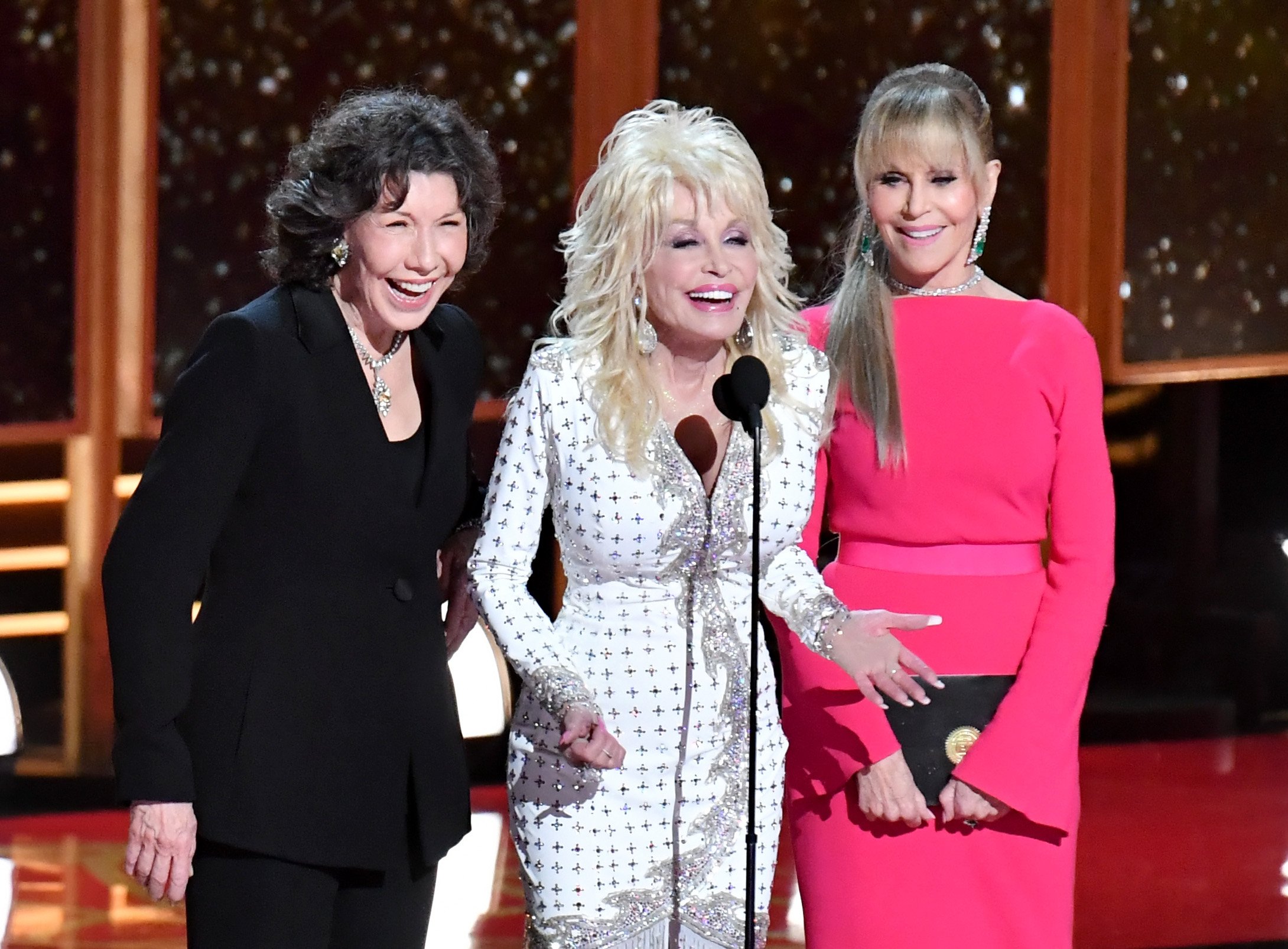 How did the 'Grace and Frankie' stars meet Dolly Parton?
Fonda and Tomlin have been good friends with Parton for quite some time. The trio first got acquainted on the set of the 1980 film 9 to 5. "She was wonderful; she's so quick, so natural, dazzling, down-to-earth, bigger than life," Tomlin said of Parton to The Rolling Stone.
It was Fonda who decided that 9 to 5 should be about secretaries, the outlet reports. Fonda was determined to get Parton to join the cast. "We developed a character based on who she is and what she seems like. Did we coach her? No. Her persona is so strong, you get somebody mucking about with that and making her self-conscious, and it could be negative."
Dolly Parton wants one of the 'Grace and Frankie' vibrators
The film was a hit, but the three stars have not acted together since. However, all that is about to change soon. Parton has confirmed that she will be teaming up with Fonda and Tomlin on Grace and Frankie Season 7. The show's final episodes will be released sometime in 2022.
Grace and Frankie doesn't shy away from addressing real issues faced by older women. In fact, the show's titular characters create products geared toward older women's sexuality. Frankie gives Grace some of her homemade "yam lube" to help with vaginal dryness after Grace begins dating again.
The women also invent a vibrator targeted toward older women. The Ménage à Moi features a soft-grip gel sleeve to help women with arthritis and glow-in-the-dark buttons. The product is lightweight, and the angles change easily.
Parton must stay pretty up to date on her friend's show because she knows all about the Ménage à Moi. While presenting the 69th Emmy Awards with Tomlin and Fonda, the actor stated, "I'm just hoping that I'm gonna get one of those Grace and Frankie vibrators in my swag bag today." Fonda and Tomlin laughed. "Think that's possible?" Parton asked.
'Grace and Frankie' will end after seven seasons
Grace and Frankie has had a good run, but unfortunately, the show will end after seven seasons. Luckily, Grace and Frankie fans will get to see Parton on the show before the end. It's bittersweet for Fonda and Tomlin as the series comes to a close, but the actors are thankful for the experiences they had on the show.
"We are both delighted and heartbroken that Grace and Frankie will be back for its seventh, though final season," Fonda and Tomlin told Variety. "We're so grateful that our show has been able to deal with issues that have really connected to our grand generation."