'Grace and Frankie' Season 5 Was Especially Emotional for the Cast and Crew for This Reason
Grace and Frankie is a comedy series that delivers laughs and, at times, maybe a few tears. The Netflix original follows the journey of two older women who become best friends after their husbands, Robert and Sol, fall in love with each other and leave them. In season 5, Grace and Frankie reclaim their beach home after finding out their children have sold it. The final episode shows a bizarre alternate reality that teaches the friends how much they need each other. Season 5 was an emotional one for more reasons than fans might know.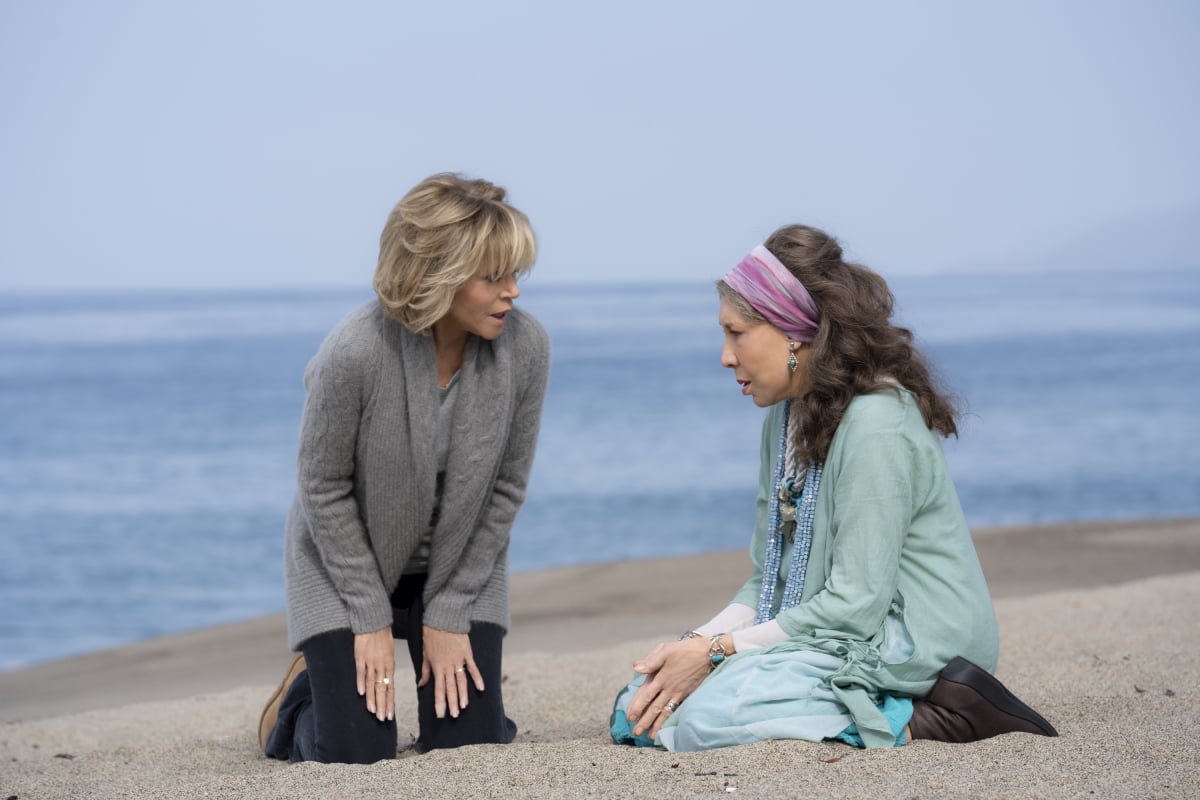 What happened in 'Grace and Frankie' Season 5?
At the end of season 4, Grace and Frankie escape an assisted living facility to find that their children sold their house. Season 5 revolves around the duo reclaiming their home by any means necessary. They end up befriending the pop star who bought their house and convincing her to live elsewhere. Grace also pursues her ex-boyfriend Nick, and the pair end up engaged.
Finally, the duo gets into a huge fight, and the final episode presents an alternate reality where they never make up. Frankie is under the full-time care of Robert and Sol, and Grace is sporting some intense plastic surgery. The season ends with the pair realizing they are better together and running to each other across the beach. It's an emotional ending, but it's not the only reason emotions ran high in season 5.
Season 5 is dedicated to Melissa DiNicola
After the season finale, these words appear on the screen: "This season is dedicated to the loving memory of Melissa DiNicola." DiNicola began working on Grace and Frankie as a writer's assistant and went on to co-write the season 4 finale. She was promoted to staff writer and is a big reason for the hilarious and heart-warming season 5 story.
DiNicola died in the spring of 2018 due to complications from cancer, according to Express. She put a smile on fans' faces with her work on the comedy series. DiNicola even wrote and recorded a music album that came out in 2013. Billy Finnegan, a producer on Grace and Frankie, had some kind words to say about his coworker.
"Melissa DiNicola was very special to me. She was also very talented, very funny, very smart, and very loved by all her fellow writers on Grace and Frankie. We will miss her terribly," he told Express.
'Grace and Frankie' will end after seven seasons
Season 7 will be the last of Grace and Frankie. The first four episodes of the final season are already available on Netflix. The remaining episodes are anticipated for early 2022. Fans can't wait to see how their favorite characters' journeys will end.
Still, it's a bittersweet goodbye for both fans of the series, and the cast and crew, some of whom will have been working together since 2015. Lily Tomlin has even expressed some regrets about agreeing to wrap up the show. Hopefully, the season finale will do the series justice.