Grammy Winner T-Pain Reveals How Twitch Became the 'Schitt's Creek' of Streaming (Exclusive)
Grammy award-winning recording artist T-Pain recently reflected on the explosive rise of Twitch during the pandemic, joking about how the streaming platform essentially became the Schitt's Creek of gaming.
T-Pain has built a massive Twitch following for his Nappy Boy Gaming company. He's had a significant presence on the platform since 2014, which he's developed beyond gaming, allowing for fans to chat with him and hear music. He's tracked a massive jump in new followers since the pandemic struck, citing how being at home has opened the door for an even wider audience.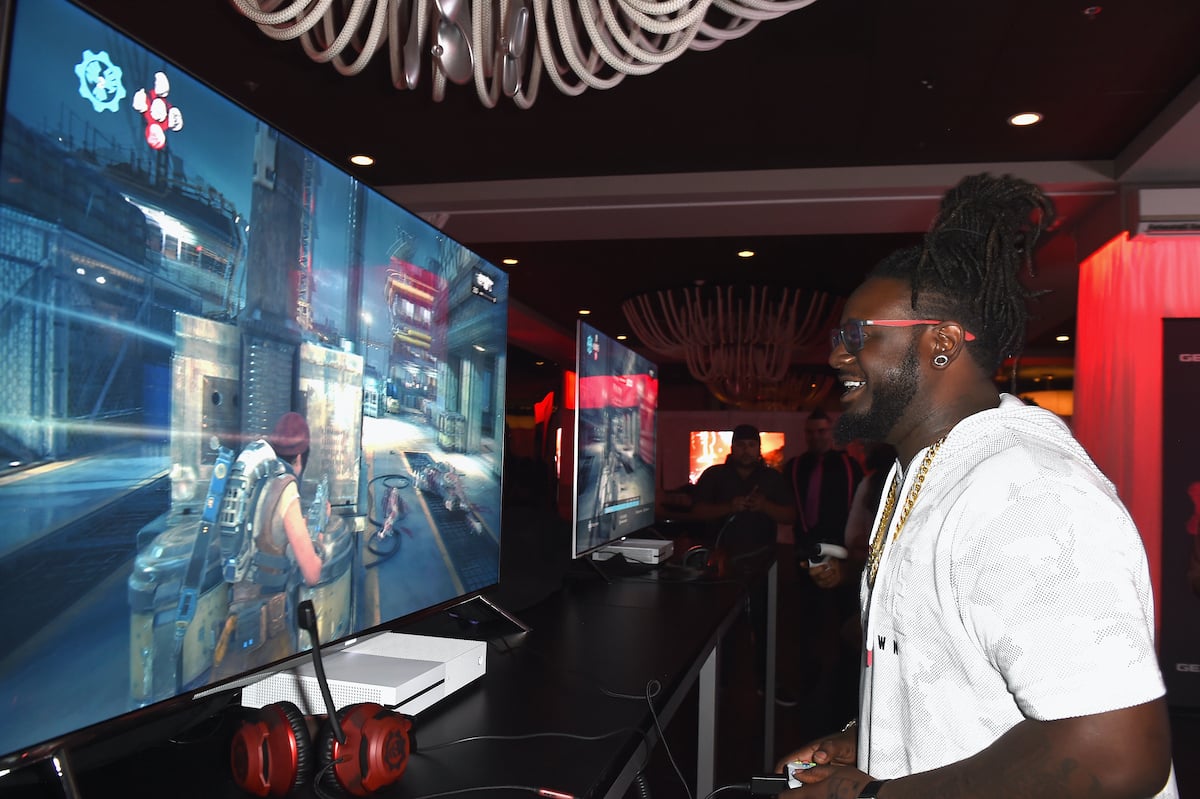 Twitch became wildly popular during the pandemic (like 'Schitt's Creek')
"I guess [Twitch] was like Schitt's Creek," T-Pain laughed during a chat with Showbiz Cheat Sheet. "Like how the show has been on streaming platforms for a while. But then people actually got a chance to sit down and watch it. Now they got Emmy's and all kinds of stuff! I think people just got a chance to sit down and be like, oh, OK he is still there."
"Now I can sit and watch," he laughed. "And I think it's just become more of an attention span thing. So, yeah, it's helped out a lot that people can stay home."
Despite being socially distanced, T-Pain says the Twitch platform has brought his music and gaming fans together. "The good thing is it's meshed," he reflected. "It's all coming together because I have four different streams that I do. Only two of them are gaming streams."
RELATED: T-Pain Doubles Down on Why Eating a Burrito Sideways Is the ONLY Way to Consume It
"One of them is what's called a 'just chatting stream' where you just literally just sit and talk to people and, you know, just talk with your fans," he described.
"They get to comment and I can answer their questions and stuff," he added. "And the fourth one is the music stream where I'm in my studio and you literally get to see me making songs from scratch and record, you know, in front of the camera and make sure everybody can see what's happening."
What is T-Pain's Twitch setup?
T-Pain says his fans have really come together on Twitch. "You can see my screen, how I put together my sessions and all of that," he shared. "So, you know, and I have the audio coming through the app. It's coming out of your speakers as if you're in the studio with me. So the music audience has come together with the gaming audience on my side, so it's kind of, you know melting together. It's not even separated anymore."
What is it like to be on-site with T-Pain? He describes what could only be compared to a Disney World for streamers. "It's four different rooms," he exclaimed. "So it's all over the place. It's everywhere. I mean, in this room I have four screens. There's two Ravens', the two touch screens."
RELATED: T-Pain Reveals That Chris Brown Tried to Poach 'Buy U a Drank'
"In another room, I got an 85 inch 3D screen with VR capabilities," he continued. "And another room I got a 75-inch screen. And in another room, I got a 49-inch widescreen with a 70 inch and two 55 inches in that same room. But it's mostly the hardware. It's mostly Corsair and Origin because I have a deal with them. I have to have a sponsorship with Corsair, Origin, SCUF, and Elgato. It's a lot of setup."
T-Pain's multi-dimensional talent was courted by Ruffles
Expanding his talents is nothing new for T-Pain. The godfather of auto-tune was recently tapped to appear in a new ad for Ruffles with a special spot dropping during the Grammy's. "The new Ruffles campaign is 'own your ridges,'" he reflected. "It's about being unique and being yourself. And really owning the things that make you, you."
RELATED: 'The Real World: New York' Cast Explains Why Going on MTV in 1992 Could Be a Career Killer
"I think I've been doing that for so long, I don't think Ruffles had a choice but to reach out to me," he chuckled. "It's about people who've been keeping their uniqueness out in the forefront and really making sure people know that we're not going to apologize for being unique."