Grammys 2022: Haim Is Nominated for Album of the Year (Again) Thanks to 'Evermore'
Haim is a Grammy nominated trio, earning recognition for their original songs and even their feature on Taylor Swift's album 'Evermore.'
Taylor Swift featured Haim on Evermore, leading to the trio's second Album of the Year nomination from the Grammy Awards. Here's what we know about the first time they were nominated at the award show.
Taylor Swift earned a Grammy nomination for 'Evermore'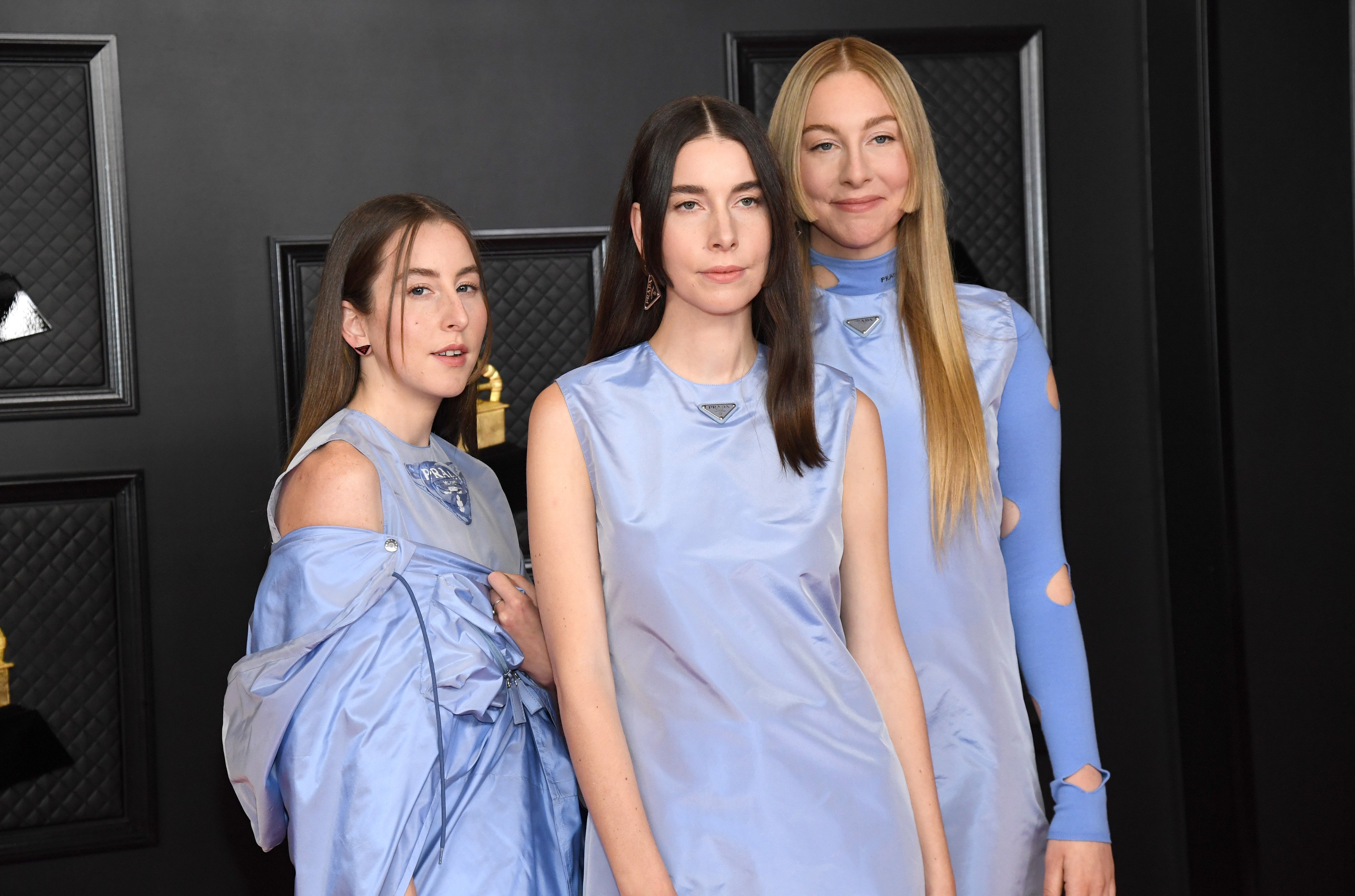 Swifties know her as the artist behind the "All Too Well" (10-Minute Version) — even if she's currently missing a red scarf. Swift is again nominated in the Album of the Year category for the upcoming Grammy Awards. That's thanks to her 2020 release Evermore. 
"Thank you so much to the fans. This is such an amazing honor. The fact that you would do this for Evermore, I've always been so proud of this album," Swift said, according to People. "I've always looked at evermore as sort of Folklore's adventurous, fun younger sister. So, thank you so much for doing this."
This nomination comes hot off the heels of Swift's Grammy win for Folklore. That was in the Album of the Year category at the 2021 ceremony, where Swift also performed recently released songs alongside her collaborators. Jack Antonoff, Aaron Dessner, Bryce Dessner, and Swift are credited as producers on Evermore, while Swift listed other performers as featured artists. 
Haim appeared on Taylor Swift's album 'Evermore'
Evermore includes Bon Iver, Haim, The National as "featured artists." Haim, a band that features sisters Este, Danielle, and Alana, appeared on Swift's song "No Body, No Crime." Since its release, this track has earned well over 125 million Spotify plays.
As a result, these musicians picked up Album of the Year nominations thanks to Swift's release. Of course, Haim is known for releasing their folk-inspired originals. That includes songs "Lost Track," "Want You Back," and "The Wire." Swift even lent her voice to the song, "Gasoline."
Haim earned a Best New Artist nomination from the Grammy Awards
The Evermore feature wouldn't be the first time Haim received a Grammy nomination. At the 57th annual award ceremony, the group earned a Grammy nod in the Best New Artist category. Years later, they received a Best Rock Performance nomination for "The Steps," while Women In Music Pt. III earned an Album of the Year nod.
That means if Swift's Evermore snags the coveted Album of the Year trophy, Haim could, in turn, earn their first Grammy Award. At the 2021 event, the trio performed "The Steps" live. They performed the same day as Billie Eilish, Harry Styles, and other Grammy-nominated artists.
Grammys aside, the Haim sisters keep busy, earning the Brit Award for International Group in 2021 and the NME Award for Best Band in the World. This year, they embark on their world tour, performing songs from Women In Music Pt. III for fans.
Aside from music, Alana Haim starred in the 2021 flick Licorice Pizza. It's unclear if Haim will physically attend the 2022 Grammys, with the ceremony taking place on April 3.