'Grey's Anatomy' Fans Are Tired of How the Show Handles Political Issues
It's might be one of the most popular medical dramas of all time, but fans still take issue with Grey's Anatomy from time to time. Since 2005, viewers have tuned in to Grey's Anatomy to follow along with the trials and tribulations of the resident doctors and staff at Seattle Grace Hospital.
Still, the show has caused some controversy in recent years for the way it has dealt with sensitive subjects. Recently, some fans opened up on Reddit to discuss the turmoil that Grey's Anatomy has caused.
'Grey's Anatomy' has been praised for diverse casting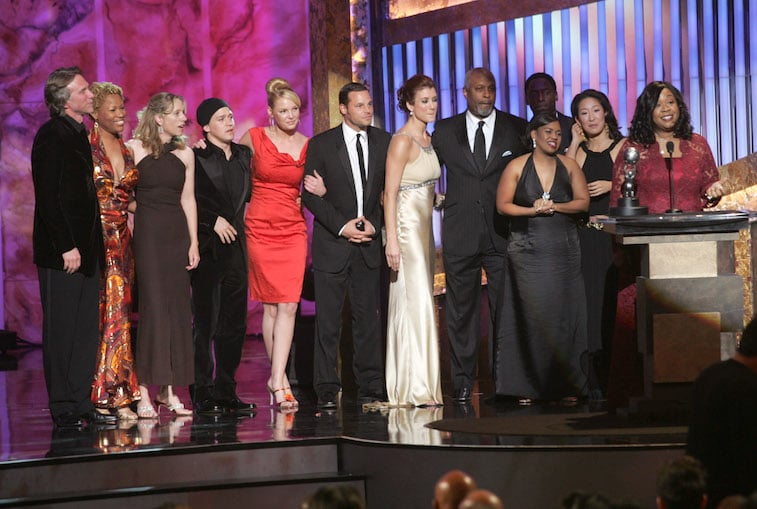 When Grey's Anatomy debuted in 2005, viewers were introduced to a roster of medical professionals, all working to further their careers at one of the preeminent hospitals in Seattle.
The cast was large, talented, and perhaps most notably, ethnically diverse. Grey's Anatomy utilized "colorblind" casting, which, as showrunner Shonda Rhimes described it, seemed only appropriate for the 21st-century world that surrounds us. Rhimes explained that "we're post-civil rights, post-feminist babies" and that it's a diverse world.
A few of the actors and actresses featured in the early seasons of Grey's Anatomy included Sandra Oh, Isaiah Washington, Chandra Wilson, T.R. Knight, Katherine Heigl, Sara Ramirez, and Jessica Capshaw. Viewers loved seeing a cast that represented people all over the United States, and for many people, Grey's Anatomy represented the first time that fans saw someone who looked like them on a major television show.
Also notable, the show never tried to make much of the fact that the casting was diverse, and didn't make a point of having characters call out their differences. Still, Grey's Anatomy hasn't been so seamless with every message that it tries to get across.
Some fans don't like when 'Grey's' gets political
In the past few years, especially since season twelve, Grey's Anatomy has taken on a decidedly more somber tone, with a distinct increase in political messaging. At least, that's according to some fans on Reddit, who recently took to the site to break down why they don't love when Grey's gets preachy.
One poster claimed that when the show takes a more political tone, that it feels like watching a lecture rather than an entertaining episode of a beloved TV show. A few other users pointed out that in the older days of Grey's Anatomy, the show did a much better job of showing serious issues rather than "telling," and that they wish the series would return to that format.
Most of the examples of overt political commentary that Reddit users cited were from newer seasons of the show. And while one or two forum users stated that they appreciated the times that Grey's discussed politics, they did state that the writing could have been a lot better.
Should 'Grey's Anatomy' change up the format?
With season sixteen of Grey's Anatomy set to debut in September of this year, fans are looking to the future and wondering how their favorite show will be able to come back swinging. After all, it is a tense political time in the country, with celebrities and talk-show hosts discussing politics even when they would never have normally done so. It is entirely possible that Grey's Anatomy decides to continue the trend of making a statement on political and social justice issues.
Still, if the showrunners are truly listening to all their fans, they could do one of two things: return to the previous format of "showing, not telling," when it comes to political matters, or dial back the commentary altogether.
Stay tuned to Showbiz Cheat Sheet for all the latest Grey's Anatomy news!