Some 'Grey's Anatomy' Fans Had 'No Sympathy' for Callie During Her Custody Battle for Sophia
'Grey's Anatomy' has become one of television's most iconic shows, a series that focuses on the trials and tribulations that doctors face daily.
Grey's Anatomy has become one of television's most iconic shows, a series that focuses on the trials and tribulations that doctors and residents deal with on a daily basis.
The show first began airing on television in 2005, and it is still going strong today, although many other shows have fallen by the wayside. Series frontrunner Ellen Pompeo is the star of Grey's Anatomy, and for many fans, she is far and away their favorite — still, there are many other characters who have made an impression over the years, for better or for worse.
One of these characters, Callie Torres, has caused some controversy in the Grey's Anatomy fan community, especially after a season 12 storyline that ruffled many feathers. 
'Grey's Anatomy' is an award-winning medical drama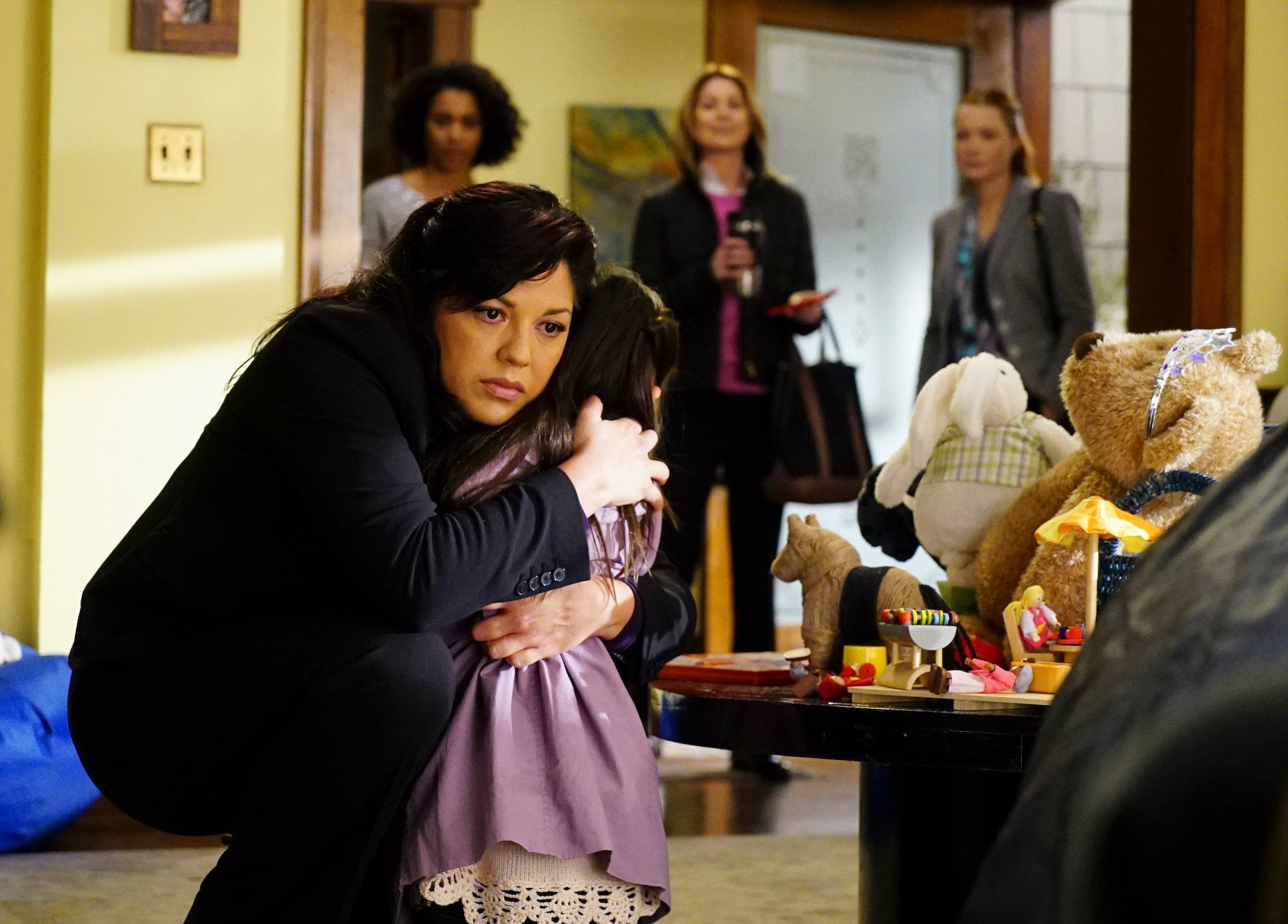 There are many medical dramas, but few are as influential as Grey's Anatomy. The series follows the day-to-day lives of residents, doctors, and staff at a prominent fictional Seattle hospital. Created to focus on an ensemble cast, the show originally starred Ellen Pompeo, Sandra Oh, Katherine Heigl, Eric Dane, and Patrick Dempsey.
Today, Pompeo is one of the few remaining original cast members, but many other actors and actresses have starred in guest roles over the years.
In season two, a character named Calliope Iphegenia Torres was introduced on Grey's Anatomy. "Callie," as she became known to viewers, has gone through quite a character arc during her time on the show, and even though Callie, played by Sara Ramirez, took her final bow from the series in 2016, fans still talk about her trajectory and one storyline in particular. 
Arizona and Callie went through a bitter custody battle
The most contentious storyline involving Callie began after she formed a romantic relationship with Arizona Robbins, played by Jessica Capshaw. Callie and Arizona move in together, and after Callie gets pregnant after a one-night stand with Sloan, she becomes pregnant.
The baby, named Sofia by Arizona and Callie, is born premature but is able to grow and thrive. Callie and Arizona get married, and resolve to raise baby Sofia together.
Unfortunately, Callie nor Arizona are unable to really mend the problems in their relationship, and even after a brief stint in couples therapy, the two decide to go their separate ways. Their daughter, Sofia, is caught in the middle, and when Callie reveals that she wants to move to New York and take Sofia with her, she and Arizona become locked in a tough custody battle.
What did some fans say recently about Callie's custody battle?
Ultimately, the custody battle becomes a huge issue that involves multiple doctors from the hospital testifying. At the final courtroom showdown between Callie and Arizona, Callie loses custody of her daughter — which causes a slew of problems between Callie and Penny, her new girlfriend.
Although the custody battle storyline took place four years ago, some fans still haven't gotten it out of their minds, and recently took to Reddit to discuss why they don't feel sorry for Callie.
One fan posted, "during the custody battle in season 12 I was team Arizona the whole time. I thought cali was being selfish tearing their family apart over penny. PENNY??? REALLY??????? I had no sympathy for her."
Many fans agreed, with one stating "agreed, plus she played dirty. Turning Arizona's work against her and using the texts between them against her. I was angry for Arizona." A number of fans pointed out flaws in Callie's character in general, with some calling her "a lot" to deal with. It certainly seems as though there isn't a lot of love lost for Callie, even though she was one of the long-running characters on Grey's Anatomy.