Are Maggie and Jackson Dating In Real Life? The Love Lives Of 'Grey's Anatomy' Co-Stars Jesse Williams And Kelly McCreary
On Grey's Anatomy, doctors Jackson Avery and Maggie Pierce are a couple. The two have been through many ups and downs, as is common on the medical drama. Co-stars Jesse Williams, who has been playing Avery since Season 6, and Kelly McCreary, who has portrayed Maggie Pierce since Season 10, both have had their love lives in the spotlight. So are they together in real life? Here's what we know about the two actors.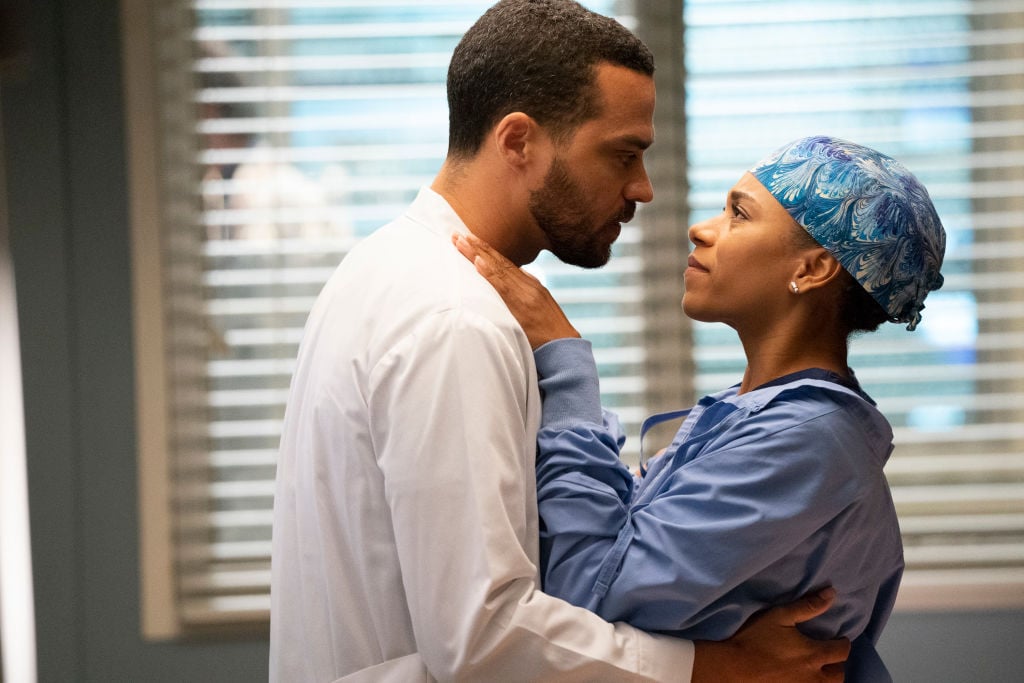 Avery was married before

First, a recap of the Grey's Anatomy romances. Williams' Jackson Avery entered the show as an intern who came to the hospital when Seattle Grace and Mercy West merged. Avery, whose last name opened doors for him as the grandson of a renowned surgeon, had a brief tryst with fellow doctor April Kepner before dating Stephanie Edwards. Jackson then broke up April's wedding, and the two ran away together and got married.

However, this was a rocky start to a relationship, and things never really improved from there. Their first child, Samuel, was deemed not viable for life while in the womb, and died shortly after being born. Jackson and April had a daughter together, Harriet, but she wasn't born until after her parents were divorced.

Maggie dated this doctor

Maggie Pierce enters Grey Sloan Memorial in an intriguing way: Though she is hired to replace Cristina Yang as head of cardio, she actually ended up at the hospital after learning that she is the biological daughter of Ellis Grey, making her Meredith's half-sister. Pierce goes through a lot in the beginning, becoming acquainted with her biological father, Richard Webber, and her adoptive parents' divorce, followed by her mother's death.

Though she's busy helping Meredith raise her three children after Derek's death, Maggie does find some time for dating. She and Andrew DeLuca, then an intern, begin an intimate relationship, which ends after they take things public. Now, she's dating Jackson.

Like his character, Jesse Williams is divorced

Jesse Williams was married to real estate broker Aryn Drake-Lee, whom he met when he was a high school teacher in New York, from 2012-2017. The couple has two young children. Williams was rumored to be dating actress Minka Kelly around the time he filed for divorce.

He is rumored to be dating Taylor Rooks

Following his split from Kelly, Williams was said to have another new girlfriend. Shortly thereafter, in Spring 2018, multiple outlets reported that Williams was dating Taylor Rooks, a sports reporter. There has been no physical evidence shown that the two are together, however, they do follow one another on social media, so take that as you will.

Kelly McCreary is in a relationship

Though not as widely reported on, Williams' on-screen love interest has been a bit more open about her personal life. McCreary has been dating director Pete Chatmon since the two met on the set of Grey's Anatomy in 2017. They announced their engagement in Jan. 2019.

Chatmon has directed a number of short films, as well as feature film Premium, which starred Zoe Saldana. However, where he has really shown is on TV, directing episodes of Black-ish, Insecure, and, of course, Grey's Anatomy.

McCreary and Williams are friends in real life

Though they aren't a couple off-screen, McCreary and Williams are friends and co-stars who support one another. When Williams was nominated for an NAACP Image Award, McCreary was quick to congratulate him on Twitter.

What's next for Maggie and Jackson?

It's hard to say what's to come for this still-relatively-new couple. Dealing with the aftermath of Avery's mother Katherine's surgery was tough on them, but it looks like they have things a bit more under control now. Of course, this is Grey's Anatomy, and there's no doubt turmoil for the pair in the future. Let's hope they can make it through it.