'Grey's Anatomy': Sandra Oh Says Fame Literally Made Her Sick
Sandra Oh is one of television's biggest stars. But the Grey's Anatomy actor says fame originally made her sick. In a video for Variety's Actors on Actors series, the Killing Eve star spoke with Squid Game's Jung Ho-yeon. In the dual interview, Oh elaborates on how fame negatively affected her health.
'Grey's Anatomy's Cristina Yang was Sandra Oh's breakout role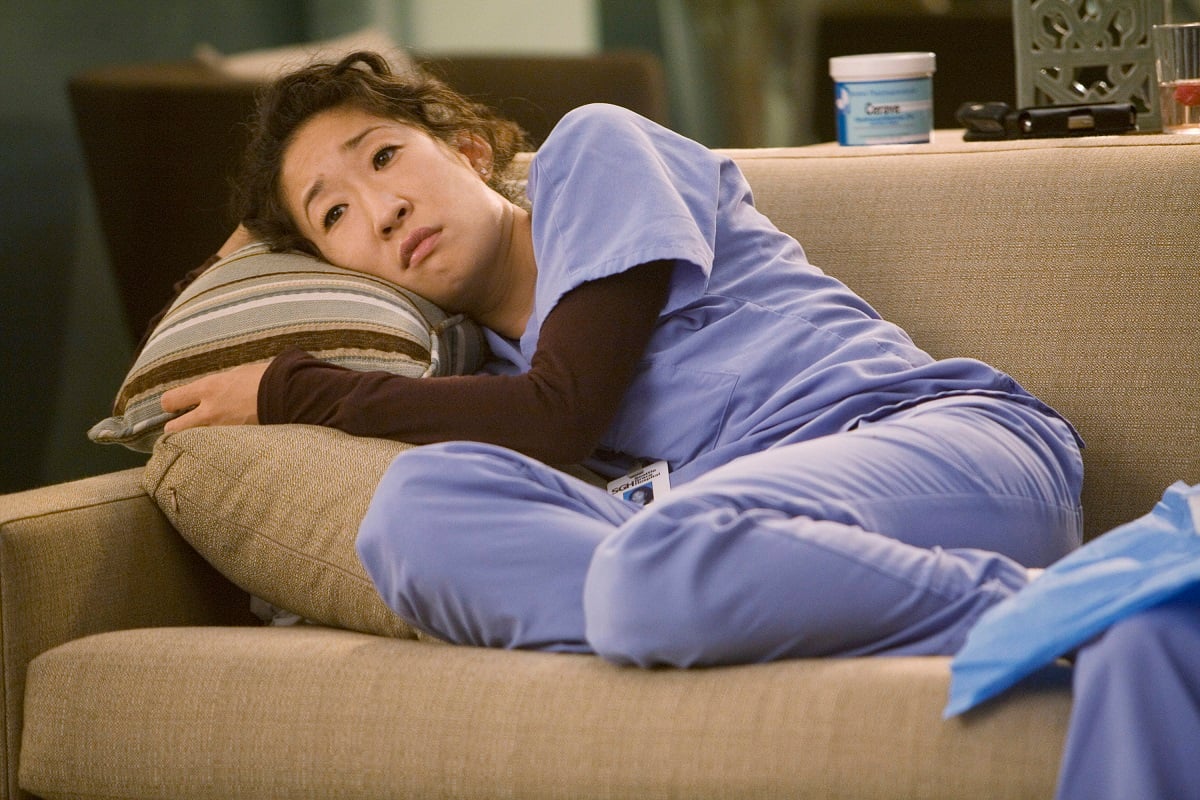 Debuting in 2005, Grey's Anatomy quickly became a hit series. With that, the cast members (Ellen Pompeo, Katherine Heigl, Justin Chambers, T. R. Knight, Chandra Wilson, James Pickens Jr., Isaiah Washington, and Patrick Dempsey, who was notably already a star) skyrocketed to fame.
In the series, Oh plays Cristina Yang, an uber-ambitious, perfectionistic intern who later becomes a surgeon. In season 10, Cristina leaves Grey Sloan Memorial Hospital to become Chief Medical Officer and Director of Cardiothoracic Surgery at the Klausman Institute for Medical Research.
How fame made Sandra Oh sick
Speaking to Squid Game's breakout star Jung Ho-yeon for Variety, Oh addressed her instant fame after joining Grey's Anatomy. "When Grey's Anatomy came, I think my life changed very much," she began. "Honestly, I got sick. I think my whole body was very, very sick." Oh further elaborated her dilemma between wanting to do the work despite how it affected her. "Even though you keep on working, but it's just like, 'Oh, I can't sleep. Oh, my back hurts, I don't know what's wrong with my skin.'"
Her experience with fame was likely quite different than Ho-yeon's because, in Oh's case, her fame took hold before the era of social media. Yet, the challenges, she claims, are the same. "The stress is the same, or the confusion is the same … when people are in extremely amazing, privileged, heavy responsibility positions like this," she added.
Oh also spoke with Access at length on the subject. She explained the challenges of losing her anonymity and privacy and how difficult it can be to maintain a sense of self amidst fame. "When one loses one's anonymity, you have to build skills to still try and be real," Oh says.
Sandra Oh's wellness routine
Following her Grey's Anatomy departure, Oh began starring as Eve Polastri in the hit series Killing Eve. With her continued celebrity status, Oh has learned how to cope with the challenges of being a public figure. "I learned that I had to take care of my health first," she told Ho-yeon. "But that's not only your body. That is your soul. That is definitely your mind."
Oh's wellness routine reflects a whole-body approach. The actor eats a well-balanced, organic diet that integrates the Korean food she was raised with. As for skin care, Oh claims that after her Grey's Anatomy fame wreaked havoc on her skin, she pursued change from the inside out. She does this with acupuncture and trips to the Korean spa, which she's continued with regularly.
Just like her diet, Oh also takes a balanced approach to her fitness. Oh has trained with Dove's Bodies trainer Dove Rose for over 20 years. She also practices Pilates and loves to hike. Speaking to The New Potato, Oh says that above all else, she believes it is vital to "focus on what makes you feel healthy and strong."
RELATED: Sandra Oh Claims' Grey's Anatomy' Fame Was 'Traumatic'