'Grey's Anatomy': Why Was Teddy in the 'Station 19' Finale? Fans Think There's Hope for Owen
[Spoiler alert: Station 19 Season 3 finale.] Grey's Anatomy Season 16 may have ended early, but fans believe the Station 19 Season 3 finale may have given away a few clues about what's to come. A few Grey Sloan Memorial doctors — including Meredith Grey (Ellen Pompeo), Amelia Shepherd (Caterina Scorsone), and Teddy Altman (Kim Raver) — appeared in the firefighter spinoff on May 14.
Meredith and Amelia's storylines didn't seem to tie into their Grey's Anatomy arcs. However, some fans think Teddy's comments to Carina DeLuca (Stefania Spampinato) could have something to do with cheating on Owen Hunt (Kevin McKidd) with Tom Koracick (Greg Germann).
What happened to Teddy Altman in the 'Station 19' Season 3 finale?
In the Grey's Anatomy Season 16 finale on April 9, Teddy and Owen were set to get married. Of course, it would be fine if Teddy weren't sleeping with Koracick. Then in true Grey's fashion, Owen found out about the affair after Teddy and Tom accidentally left a steamy voicemail while hooking up. 
Later, in the Station 19 Season 3 finale on May 14, Teddy suddenly appeared at the coffee cart with Carina. In the previous episode, Carina broke up with her girlfriend, Maya Bishop (Danielle Savre). Maya was in denial about her father's abuse and cheated on Carina with her ex. Then after a major breakthrough in the finale, Maya came to Grey Sloan to apologize.
At first, Carina did not want to accept Maya's apology. She wasn't sure whether she could trust Maya for cheating on her. Meanwhile, Teddy interjected a few times, telling Carina to forgive Maya.
"If you love her, forgive her," Teddy said. Finally, all was forgiven. Maya and Carina embraced while Teddy stood to the side with a smile spread across her face.
'Grey's Anatomy' fans predict why Teddy Altman was in 'Station 19'
Following the Station 19 Season 3 finale, Grey's Anatomy fan couldn't help but point out Teddy — the woman who cheated on Owen with Koracick — was pushing her friend to get back with a cheater.
"Teddy McCheater telling Carina to forgive Maya," a fan wrote on Reddit. "Holy sh*t I can't stop laughing!"
Meanwhile, some fans were just confused about why it had to be Teddy who advocated for Carina and Maya to get back together on Station 19.
"Teddy was just kinda there and told Carina she should accept Maya's apology," a fan wrote on Twitter. "I honestly don't even know why Teddy was there lol I don't think she and Carina are even really friends?"
But a few viewers had their own theories on why Teddy was there, speculating the character's remarks indicate Owen forgives her for cheating. "That urging from Teddy has to come from Owen forgiving her," a fan tweeted.
Then others theorized Teddy is still trying to reach Owen at this point on Grey's Anatomy. "Of course Teddy says forgive her. She is going to want Owen to forgive her too," a fan wrote on Twitter.
Krista Vernoff discusses Teddy Alman's role in 'Station 19
As you may know, Grey's Anatomy Season 16 was cut short by a few episodes due to the coronavirus (COVID-19) pandemic. The original finale was meant to air right after the Station 19 finale. So there was supposed to be some development on the Grey's Anatomy front between April 9 and May 14.
Even so, showrunner Krista Vernoff previously mentioned the Station 19 Season3 finale would not include any scenes that could spoil Grey's Anatomy storylines moved to season 17. Then after the May 14 episode aired on ABC, Vernoff spoke with TVGuide and revealed she doesn't know whether Teddy's scene with Carina and Maya will mean anything when the flagship series returns.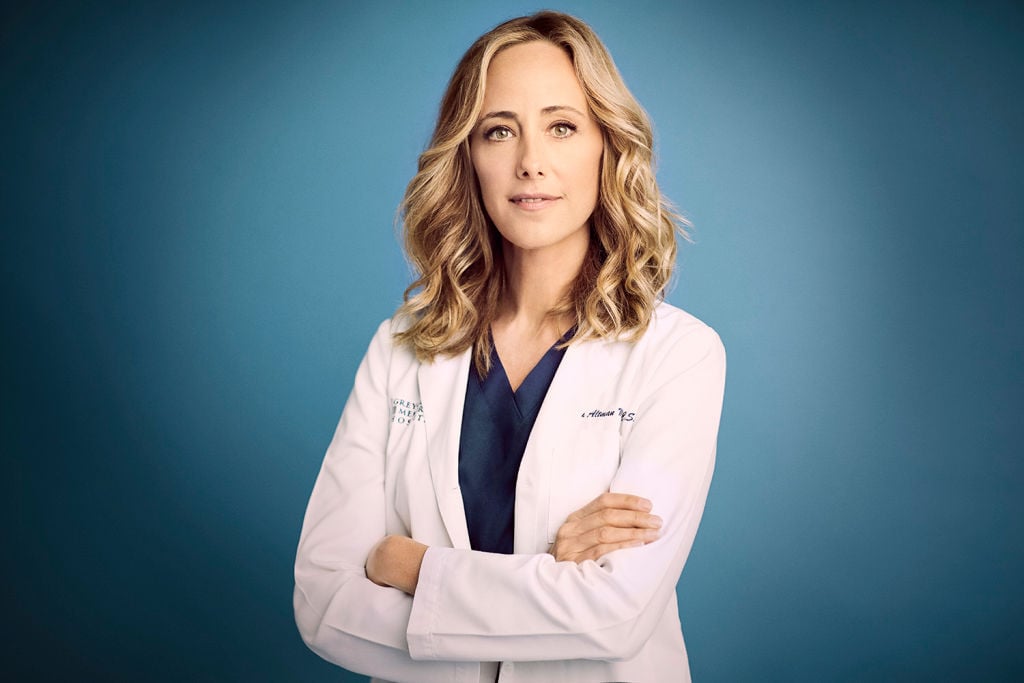 "Teddy has a rich emotional life around cheating and forgiveness based on what she went through and what was illuminated from her deep past all season on Grey's Anatomy," Vernoff said. "So, whether it was wish fulfillment or whether she'll be forgiven — I don't know."
She continued: "We certainly had plans on Grey's Anatomy, but what I liked about that Teddy scene is you don't know! You don't know what Teddy's been through. And so I let the scene stay because I don't feel like it ruined any plans for story that we may continue to tell."
For now, we'll have to wait and see whether Teddy's cameo on Station 19 will mean anything significant when Grey's Anatomy comes back. But we just hope the character receives some clarity soon.
RELATED: 'Grey's Anatomy': Krista Vernoff Reveals Why Alex Karev Didn't Die in Season 16