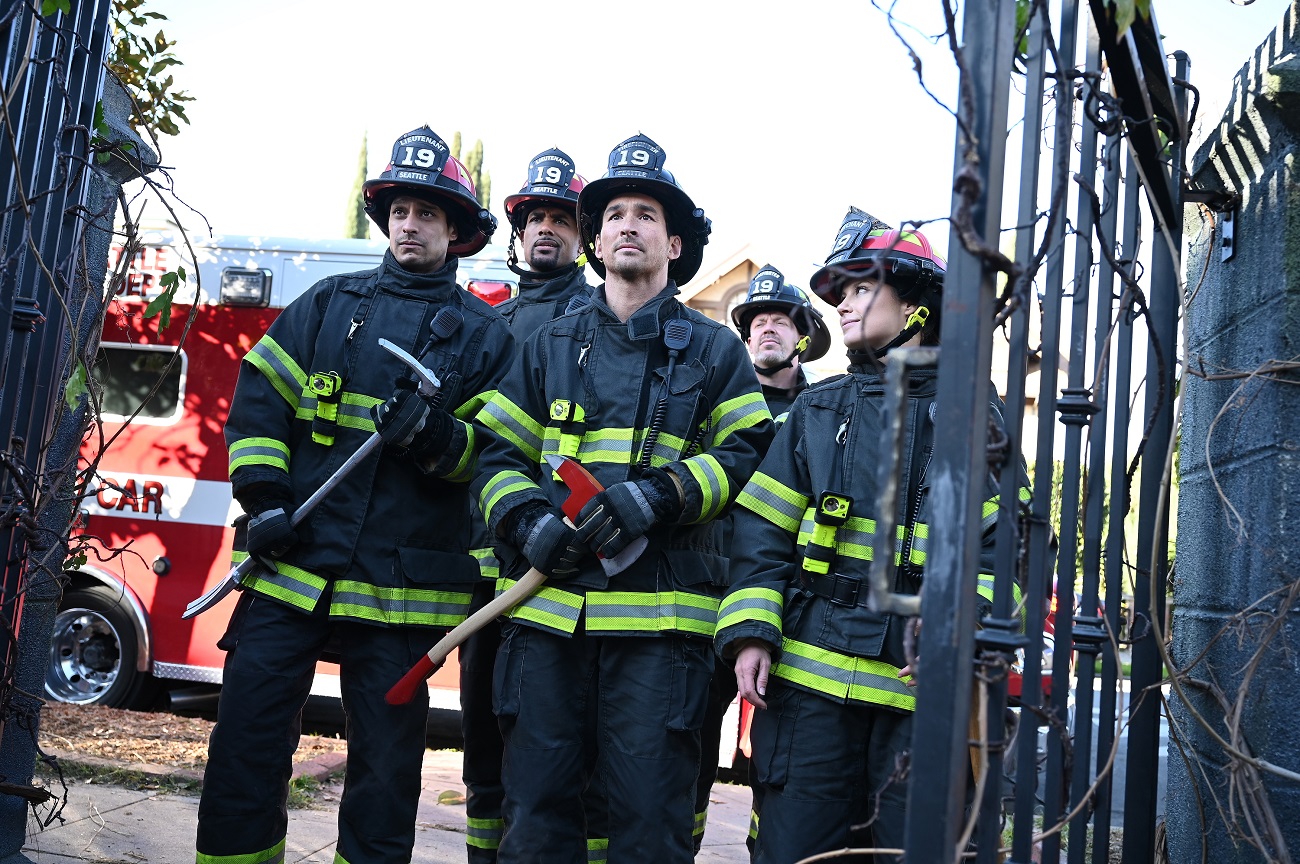 Station 19
Station 19 is an American action/drama TV show chronicling the dangerous work, steamy romances, and personal challenges of a team of Seattle firefighters. A spinoff of the award-winning medical drama Grey's Anatomy, the series debuted in 2018.
The Station 19 cast includes Jaina Lee Ortiz as Andy Herrera, Jason George as Ben Warren, Grey Damon as Jack Gibson, Barrett Doss as Victoria Hughes, Jay Hayden as Travis Montgomery, Danielle Savre as Maya Bishop, Boris Kodjoe as Capt. Robert Sullivan, and Stefania Spampinato as Carina DeLuca.
Station 19 airs Thursdays at 8 p.m. Eastern/7 p.m Central on ABC and streams on-demand on Hulu.
---
Main cast: Jaina Lee Ortiz, Jason George, Grey Damon, Barrett Doss, Jay Hayden, Danielle Savre, Boris Kodjoe, Stefania Spampinato
Genres: Action, drama, romance
Original release: March 22, 2018
Seasons: 5 and counting
Network/Streaming: ABC, Hulu
Famous episode: Season 5, Episode 5, kills off a key player
Behind the scenes: Cast member Okieriete "Oak" Onaodowan received hate mail from viewers for his character's grappling with racial injustice following the death of George Floyd.
Fun fact: Actor Jason George also played a firefighter in an episode of Friends.
Series like Station 19: 9-1-1, Chicago Fire, Grey's Anatomy, New Amsterdam, Private Practice, The Resident, S.W.A.T.
---
Visit the Station 19 page on ABC's website.
Read more about Station 19, including the cast, behind-the-scenes information, and new episodes: