'Grey's Anatomy': The 'Vajayjay' Episode Featured a Continuity Error and a Medical Unliklihood All in 1
When Bailey screamed the word 'vajayjay,' 'Grey's Anatomy' fans laughed. Learn what else makes that early episode a memorable one.
Looking back on old Grey's Anatomy moments, many stand out — but few compare to the "vajayjay" episode. The series has earned significant critical and commercial acclaim as the longest-running medical drama on air. Fans and critics alike call out the quality dialogue and the acting. However, the show isn't without moments over the years causing some to raise their eyebrows. Most notably, the Grey's Anatomy Season 2 episode where Bailey coined a memorable term.
What happened in the 'Grey's Anatomy' 'vajayjay' episode?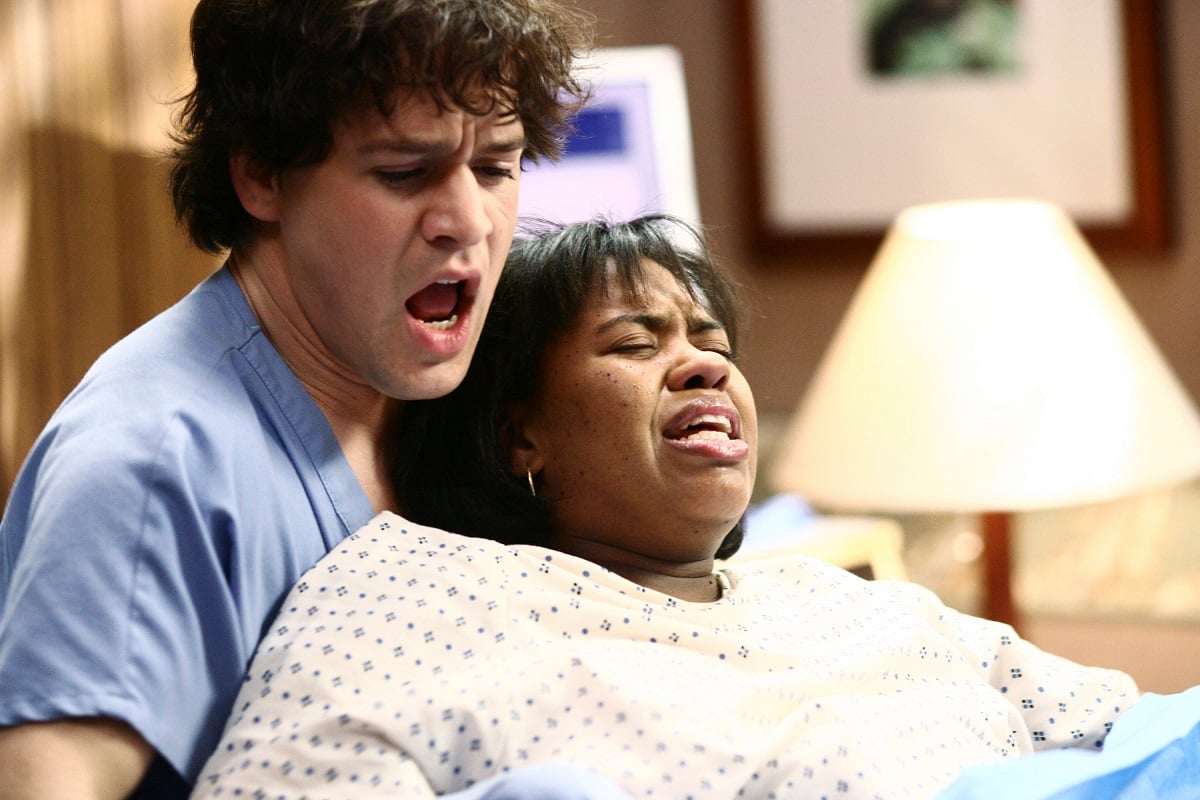 In the two-part Grey's Anatomy episode "It's the End of the World (As We Know It)," Dr. Miranda Bailey gave birth to a baby boy with the assistance of intern George O'Malley. The moment was sweet and inspiring, especially since Bailey decided to name her newborn son after George. However, in the scenes leading up to Bailey giving birth, fans watch as Bailey's water breaks while she's standing in the hospital, speaking to George.
According to MsMojo, only about 10% of women experience their water breaking before going into active labor, making this scene very medically unlikely. But even if her water did break, there's still a continuity error to account for. 
Though technically Bailey could have experienced the gush of amniotic fluid shown, her jeans would be soaked. But a moment later, when George helps her into the waiting wheelchair, they appear dry. 
Later in the same episode, Bailey memorably yells at the attending staff in the delivery room, "Stop looking at my vajayjay!" Pompeo told Jimmy Kimmel that creator Shonda Rhimes came up with the silly word to get around standards and practices. 
Other 'Grey's Anatomy' medical mistakes
Over the years, fans have noted numerous medical mistakes in Grey's Anatomy. One notorious scene involves a patient, Sylvia, who gets a fork stuck in her neck and requires urgent medical attention. Not only does Dr. Meredith Grey manage to remove the fork with no damage to Sylvia's neck or throat, but she orders an MRI — something that would have caused the fork to fly out of her neck, causing severe injury. The whole storyline provided a lot of drama but isn't realistic, medically speaking.
Although showrunners and actors have claimed that the surgery scenes are made hyper-realistic by including real cow's organs, Grey's Anatomy often receives poor marks from serious critics who argue it doesn't have much medical realism. 
Doctors say that 'Grey's Anatomy' isn't very realistic
Fans thrive on Grey's Anatomy's human interest storylines and romance. However, some medical professionals have called out the series for not being realistic. These professionals point to how characters often behave inappropriately at work, with doctors and medical staff having romantic encounters on the hospital grounds. Additionally, critics have talked about how the storylines are often highly dramatized in a way that tends to create unrealistic expectations about what actually happens at hospitals. 
Although Grey's Anatomy isn't the most realistic medical drama on television, the writers take their storylines seriously. Dr. Zoanne Clack and Dr. Fred Einesman are real doctors and executive producers on Grey's Anatomy. The producers sometimes call upon them as references for specific storylines. 
In the end, fans love Grey's Anatomy for the drama and the characters, even if the medical scenes don't always make sense.