Guillermo del Toro's 'Pinocchio' Composer Used Only Wooden Instruments to Score the Film
Guillermo del Toro's movies are always masterclasses in worldbuilding. Even at their most fantastical, his settings remain connected to our world and feel like real places you could actually visit. You'll never confuse a del Toro project with anyone else's work. The director's unique vision and attention to detail are apparent in his stop-motion adaptation of Pinocchio for Netflix. 
Del Toro made significant changes to the story and characters of the original 1883 book by Carlo Collodi, as well as creating a soundtrack to the film that is comprised entirely using wooden instruments in the vein of its main character. 
The score used wooden instruments to match the music to Pinocchio's distinct vibe
Del Toro's Pinocchio is unlike any other version that you've seen before. Rather than take place in a fairy tale world, it is set in a gothic rendition of Fascist Italy between World War I and World War II, where many magical creatures are replaced by government officials working in the name of Benito Mussolini. 
Most strikingly, the movie uses stop-motion puppetry and handcrafted sets inspired by the work of illustrator Gris Grimly's additions to a 2002 update of Collodi's work instead of using CGI like the forgettable version directed by Robert Zemeckis released on Disney+ in September. 
The creativity of del Toro's take on Pinocchio also extends to the score. He and the film's composer Alexandre Desplat worked together to create music that, like its main character, is made exclusively with wooden instruments. 
In a behind-the-scenes video where del Toro and some of his fellow artists discussed the production process behind Pinocchio, Desplat explained that this choice was made to "create a very strange environment that belongs to Pinocchio."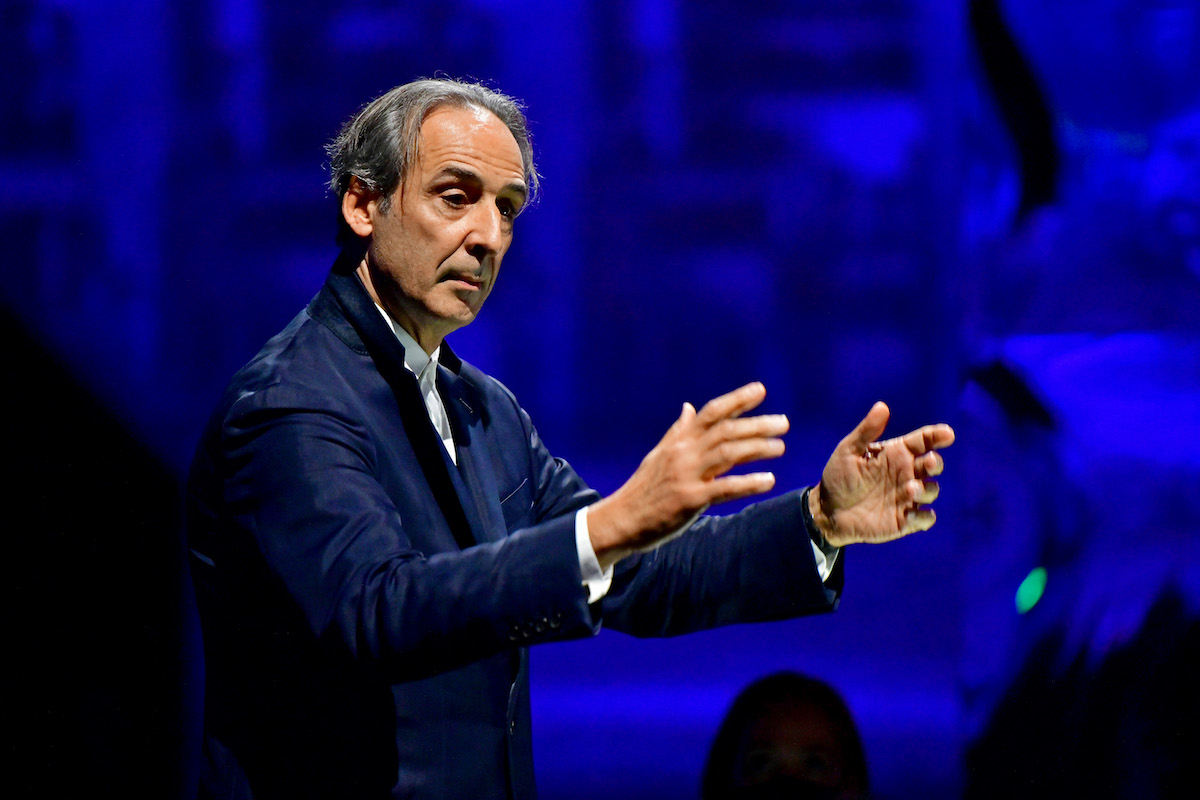 He and del Toro also wrote lyrics to nine songs on the soundtrack to give voice to the film's overall mood, and the content of their words touched the cast members. 
"The songs spring out of Pinocchio completely by surprise, and there's a purity, a handmade quality to the songs themselves," said Cate Blanchett, who voices Spazzatura, the monkey assistant of the chief villain Count Volpe (Christoph Waltz). 
Desplat and del Toro have worked together before
Pinocchio is the second film Desplat and del Toro have worked on together. They collaborated on the score for The Shape of Water, which earned the composer his second Oscar for Best Original Score.
Desplat won his first for his work on The Grand Budapest Hotel at the 93rd Academy Awards in 2016. He also made history that year by becoming the first composer to win against another of his own scores (Desplat was also nominated for The Imitation Game) and the seventh one to be nominated twice in the same year. Overall, he's been nominated for 11 Oscars in his career. 
So Desplat is a pretty big deal in his field. He started making film scores in his native France in 1998 before making his big break in Hollywood with The Girl with a Pearl Earring in 2003. Desplat's artistry has caught the eye of many celebrated filmmakers over the past two decades. 
The composer has worked with Wes Anderson six times (including his upcoming movie Asteroid City) as well as David Fincher, Terrence Malick, Kathryn Bigelow, Ben Affleck, and Greta Gerwig. Desplat is working with Gerwig again for Barbie. 
'Pinocchio' is arguably the best animated movie of the year
Pinocchio is universally hailed as an excellent and inventive take on an old fable. 
The visuals are breathtaking and make the movie worth watching on its own. Still, they are underpinned by a plot that twists the story's message to speak about the importance of independence more than Pinocchio doing everything he can to become a "real boy." 
"It's a book full of great invention, but it's also in favor of obeying your parents and being 'a good boy' and all that, del Toro told Vanity Fair. "This [movie] is about finding yourself and finding your way in the world—not just obeying the commandments that are given to you, but figuring out when they are okay or not."
Pinocchio has a 97% rating on Rotten Tomatoes. It will surely be in line for several Oscars during awards season.