'Gunsmoke' Has a Very Disappointing Golden Globes History
Gunsmoke is one of the most prominent television shows to ever hit the air. It continues to enjoy a life with longtime fans in the form of repeat viewings, but it didn't always earn the same adoration during the awards season. Gunsmoke had a rather disappointing run when it came to the Golden Globes, especially in hindsight given the legendary show's untouchable legacy.
'Gunsmoke' was one of the most successful Western television shows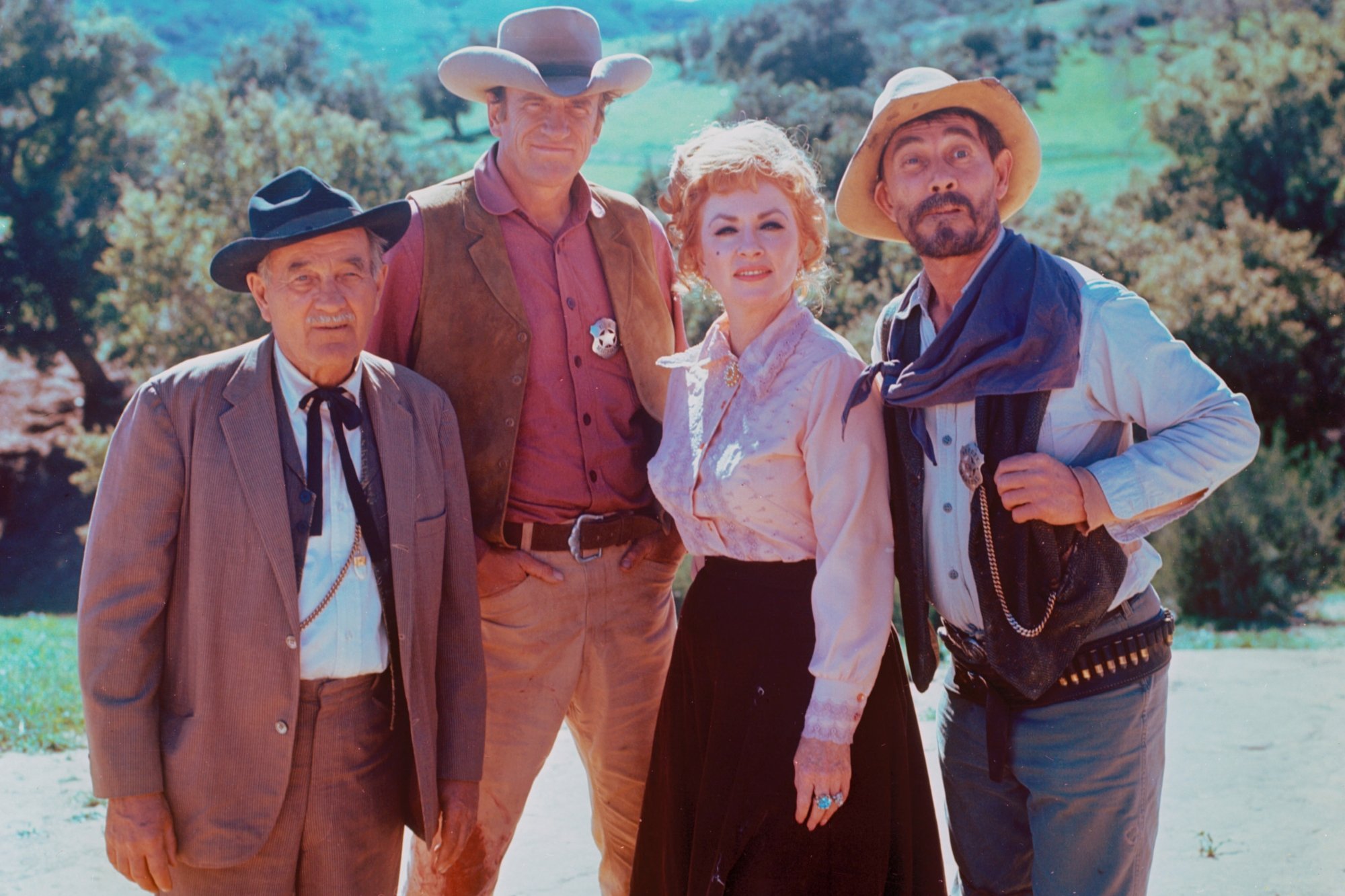 It took quite some time for the Golden Globes to recognize Gunsmoke before nominating it. The show was first adapted from a radio show in 1955, rather quickly catching on. The Western genre went through periods where it was notably popular, allowing Gunsmoke to take off as more a more "adult" form of storytelling compared to its competition.
The television show went on to become the top-rated show, making it an incredibly important asset for the network, CBS. The performers included James Arness, Amanda Blake, Milburn Stone, and Dennis Weaver in its initial principal cast, who quickly captured the hearts of audiences across the country. They were also the focus when it came to celebrating the show with awards.
'Gunsmoke' never won at the Golden Globes
Gunsmoke didn't earn its first nomination at the Golden Globes until 1970 after season 15. There, it still only managed to squeeze out one nomination for Blake for Best TV Actress – Drama. However, she lost out to Linda Cristal in The High Chaparral. The other nominees included Denise Nicholas in Room 222, Peggy Lipton in Mod Squad, and Eleanor Parker in Bracken's World.
Blake earned additional praise at the Golden Globes for playing Miss Kitty Russell in Gunsmoke in 1971. However, she once again lost, but to Lipton in Mod Squad this time. Nicholas and Cristal were also repeat nominations, but Yvette Mimieux in The Most Deadly Game was added to the category.
The Western drama went on to earn two Golden Globe nominations in 1972 for Blake in the same category, as well as Stone for Best Supporting Actor – Television. However, neither of them took home the win. Blake lost to Sue Ane Langdon in Arnie, who was nominated alongside Gail Fisher in Mannix, Sally Struthers in All in the Family, and Lily Tomlin in Rowan & Martin's Laugh-In. Meanwhile, Stone lost to Edward Asner in The Mary Tyler Moore Show, with James Brolin in Marcus Welby, M.D., Rob Reiner in All in the Family, and Harvey Korman in The Carol Burnett Show.
Gunsmoke never made another return to the Golden Globes, leaving its legacy as one of the greatest Western television shows to never earn a single win at the awards ceremony.
It went on to win Primetime Emmy Awards
Fortunately, the Golden Globes weren't the only award show to nominate Gunsmoke. However, some of them actually gave the Western a win. The Primetime Emmy Awards gave the show five wins and 15 nominations over the course of its run.
Gunsmoke earned its first nomination in 1957 for Best Continuing Performance by an Actor in a Dramatic Series for James Arness, but he lost to Robert Young in Father Knows Best. Other nominees included David Niven for Four Star Playhouse, Charles Boyer for Four Star Playhouse, and Hugh O'Brian for The Life and Legend of Wyatt Earp.
The Western series finally took home its first win at the Primetime Emmy Awards in 1958 for Best Dramatic Series with Continuing Characters and Editing for the episode "How to Kill a Woman." Other notable wins included Best Supporting Actor in a Dramatic Series for Weaver, Supporting Actor in a Drama for Stone, and Sound Editing.