Guy Fieri Credits Zig Ziglar for Eliminating His Stage Fright
Guy Fieri is a successful Food Network star and is now a household name with his over-the-top style and spiky hairstyle. Best known as the host of Diners, Drive-ins, and Dives, Fieri has always had a passion for the culinary industry. Winning the Food Network Star competition in 2005, Fieri skyrocketed into food coinsure stardom. With his TV fame also came learning to cope with his nerves on stage. As one of Fieri's favorite motivational speakers, Zig Ziglar gave him advice that he still follows today to overcome stage fright.
Zig Ziglar credited for helping Fieri cope with stage fright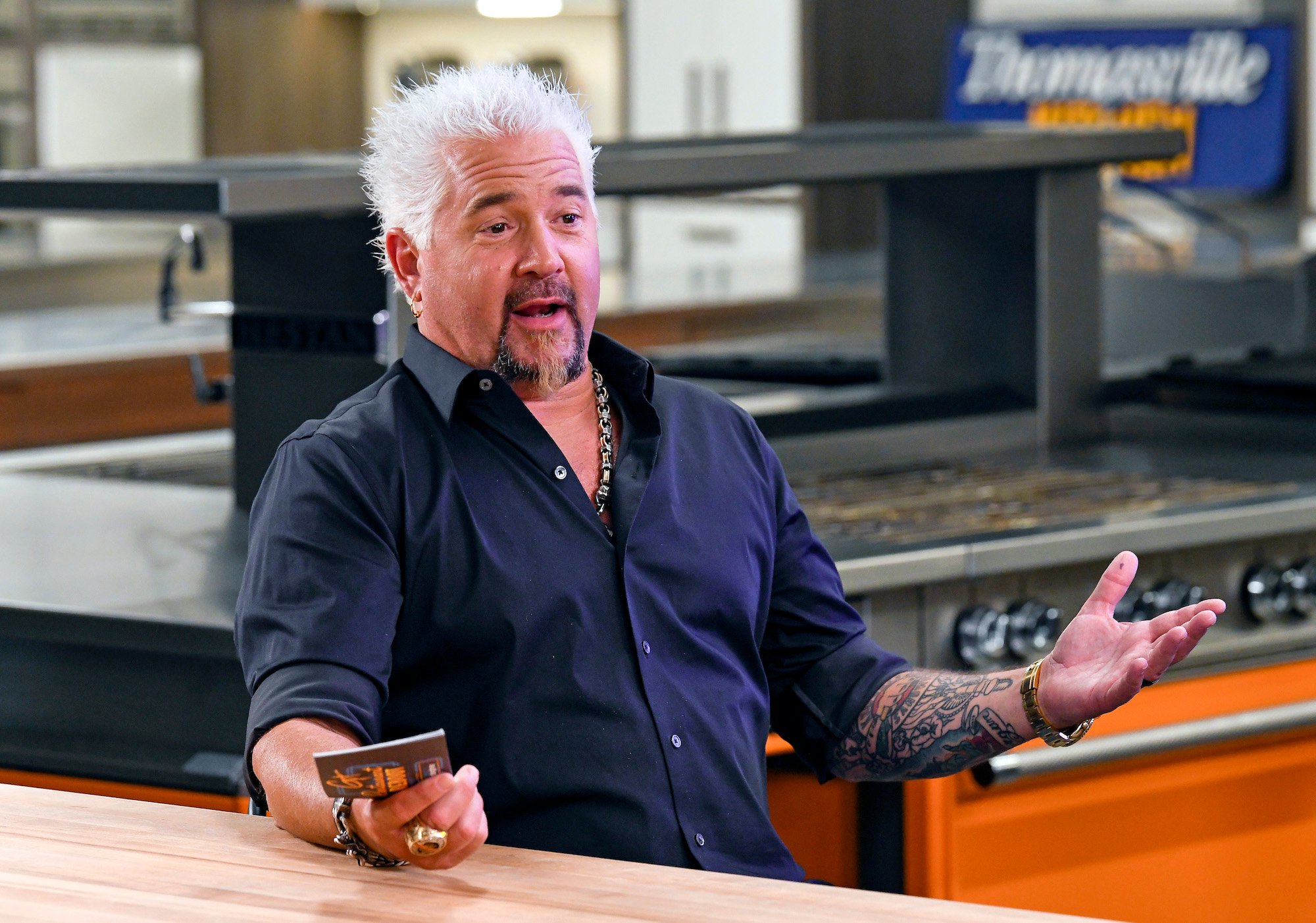 With Fieri's fiery personality that matches his iconic platinum spiked hair and flame shirt, many may be surprised to find out that he once struggled with stage fright. While getting nervous when getting on stage is common, it is often not thought that it affects popular TV stars like Fieri. There are many tactics to help people cope with their stage fright, but for Fieri, it is thanks to advice from Zig Ziglar.
Fieri has always been a fan of the salesman and motivational speaker. Therefore, when he had the chance to meet Ziglar at one of his presentations at the Anaheim Convention Center, he couldn't wait to ask the motivational expert one question about overcoming his nerves on stage.
According to Delish, Ziglar responded to his question with, "The day you're not nervous is the day you're not going to do well," and explained how you try harder and really make an effort when you're nervous. Fieri keeps Ziglar's advice in mind to this day and understands that "If you act like it's no big deal, it will come off that way."
Other things that shake Fieri's nerves
While Fieri has learned to overcome his stage fright while still giving it his best thanks to advice from Ziglar, he still has a few other things that take him on an emotional roller coaster. It's only human to be shaken by intense situations, so fans can relate to Fieri not always being his usual calm, cool, and collective self when it comes to certain occasions.
As a father of two boys, Hunter and Ryder, Fieri says watching his kids compete in basketball gets to him. He said, "As much as people think I'm all tattoos and rock and roll, I have sensitivity and emotion." Another thing that he always gets nervous about is pitching a big project, such as a new show idea to The Food Network.
With his years of experience dealing with nerves, he wants to prepare his children for difficult situations and instill within them the courage to speak up to things they don't understand and "cope with life's pitfalls." He refers to it as "conditioning" them for the good, bad, and ugly of life. Fieri lives by "Once something's happened, you can't do anything about it, but you can prepare yourself for the future and handle it." 
Will the Fieri fame pass to the next generation?
Fieri's path to Food Network fame started after partaking in a competition on the network where the winner was awarded their own TV show. While some viewers enjoyed his over-the-top antics and bold personality, others were not impressed. However, whether you love him or hate him, there's no denying that the popularity of the Food Network would not be the same without Fieri's flavorful presence.
With Fieri's success in the entertainment industry, many fans are wondering if his sons will follow in his footsteps. Hunter Fieri has appeared alongside his father since he was 10 years old, and now studying hospitality has fans speculating if the Fieri legacy will continue to the next generation.