Guy Fieri's Favorite Tacos Have 1 Surprising Ingredient
Guy Fieri says that he wakes up in the morning "thinking about food," and those thoughts often include tacos. The popular TV chef loves to take his fans to Flavortown with his Old School Beef Taco recipe.
But his favorite tacos actually come from Roberto's Authentic Mexican Food in Anthem, Arizona. And they feature one surprising ingredient.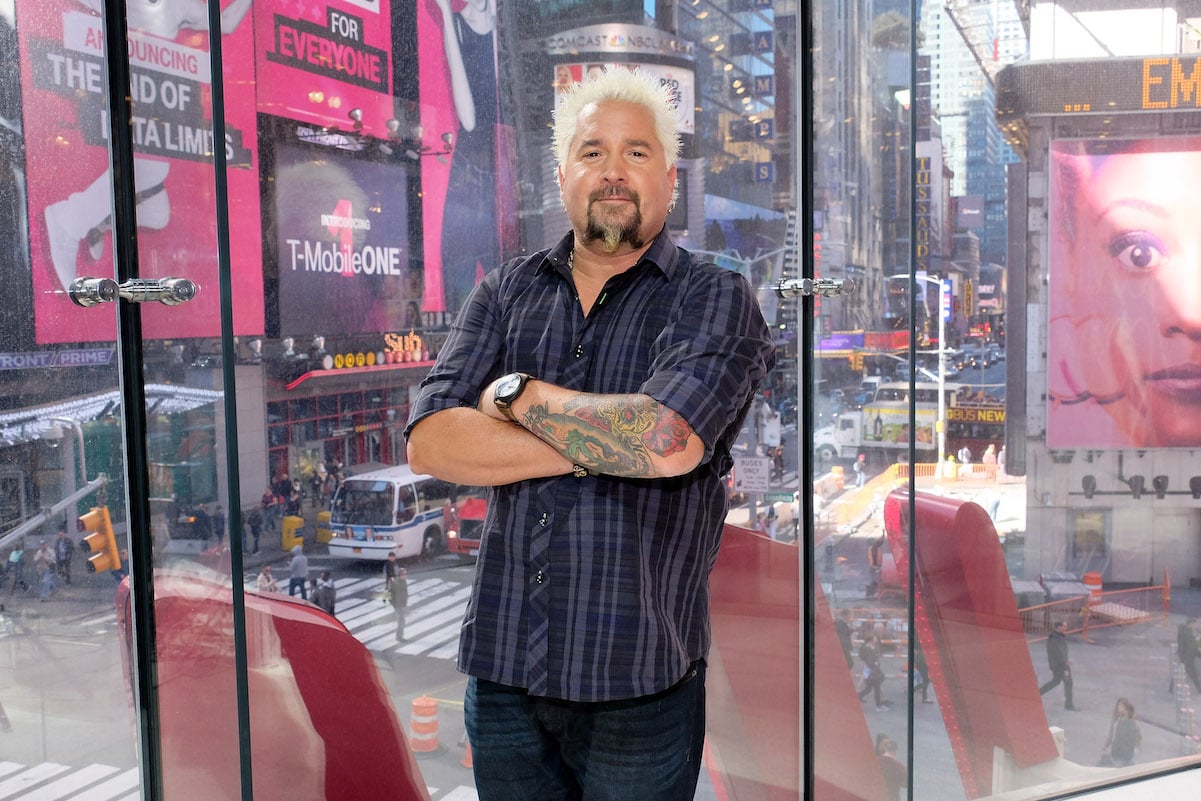 Guy Fieri's Old School Beef Tacos feature homemade taco seasoning
Before we get to his favorite tacos, let's take a look at Fieri's recipe for regular beef tacos. Obviously, you aren't going to use any pre-packaged taco seasoning when making Fieri's Old School Beef Tacos. For his taco filling, Fieri's recipe calls for sauteed onions and green bell peppers, and one pound of 80/20 ground beef. Then, you season the meat with cumin, granulated garlic, paprika, onion powder, Kosher salt, and fresh cracked black pepper.
For Fieri's homemade enchilada sauce, his ingredients are dried Guajillo or New Mexico dried chile pods, EVOO, bashed garlic cloves, onion, cumin, canola oil, and a can of diced tomatoes.
Griddle the tortillas in olive oil and Parmesan
For the tortillas in Fieri's old school recipe, you'll need seven-inch corn tortillas, some finely grated Parmesan, olive oil cooking spray, and a griddle.
"I've always been an eccentric, a rocker at heart. I can't play the guitar, but I can play the griddle," Fieri says.
The Food Network star advises to spray the griddle with olive oil cooking spray, then warm a tortilla for about 30 seconds on both sides. Next, lightly coat one side with a sprinkle of Parmesan cheese. Let it warm through before flipping to toast cheese-side down.
To assemble the tacos, place a tortilla cheese side up on a plate and top with your ground beef mixture, a slathering of enchilada sauce, and garnish with tomatoes, shredded lettuce, Mexican crema, lime, and cilantro.
Guy Fieri's favorite tacos have a surprising ingredient
Old school tacos are yummy, but Fieri's favorite tacos actually come from the Arizona restaurant Roberto's Authentic Mexican Food. He featured the recipe — known as Tacos al Pastor — in his book Diners, Drive-Ins and Dives: The Funky Finds in Flavortown. What's so special about these tacos? They have a surprising ingredient — pineapples.
First, Fieri's recipe for Tacos al Pastor calls for a three-pound boneless pork shoulder, cubed. To achieve the sweet and spicy flavor, Fieri says to puree kosher salt, granulated garlic, cumin, mild chile powder, white vinegar, and bay leaves in a blender.
Don't forget the pineapple juice
Then, Fieri says to cook an eight-ounce can of pineapple chunks with the juice in a skillet over medium heat until the juice is reduced by half – about ten minutes — and then let it cool.
The last step is to combine the cubed pork with the spice paste and the cooled pineapple and juice in a large skillet over medium heat.
Simmer and stir the pork for about 40 minutes, until saucy and tender. As Fieri says, "Manage the heat, let the meat cook, and you'll get fantastic results." Serve the pork on tortillas with pico de gallo and cilantro.
Guy Fieri serves Tacos al Pastor at his Dive Bar & Taco Joint
The TV chef and cookbook author has two Guy Fieri's Dive & Taco Joint locations in the United States. One is at Powerplant Hampton Roads in Hampton, Virginia. The other is in the Power & Light District in Kansas City. On the menu, Fieri features Tacos al Pastor with a mouth-watering description.
"Boulevard Ginger-Lemon Radler glazed pork shoulder, cilantro, grilled pineapple-serrano salsa, Cotija, avocado-tomatillo salsa, chicharron dust."
Diners, Drive-Ins, and Dives airs Friday nights on The Food Network. Diners, Drive-Ins, and Dives: The Funky Finds in Flavortown is available on Amazon.