Guy Fieri Owes His Charitable Spirit to Being Raised by 'Hippie Parents' (Exclusive)
Food Network celebrity chef, Guy Fieri credits his parents for his constant desire to lift people up and give back.
He recently told Showbiz Cheat Sheet he was raised by "hippie parents." But he also credits the small town he grew up in because the people were dedicated to giving back to the community and helping others. Fieri strives to use his platform to make a positive contribution in any way he can.
Guy Fieri's parents migrated to California because of the vibe
Giving back to others comes naturally for Fieri "when you're raised by hippie parents," he said. His parents, Jim and Penelope Ferry moved to California in 1968 and "were following the energy out there," Fieri shared with The Wall Street Journal in 2016.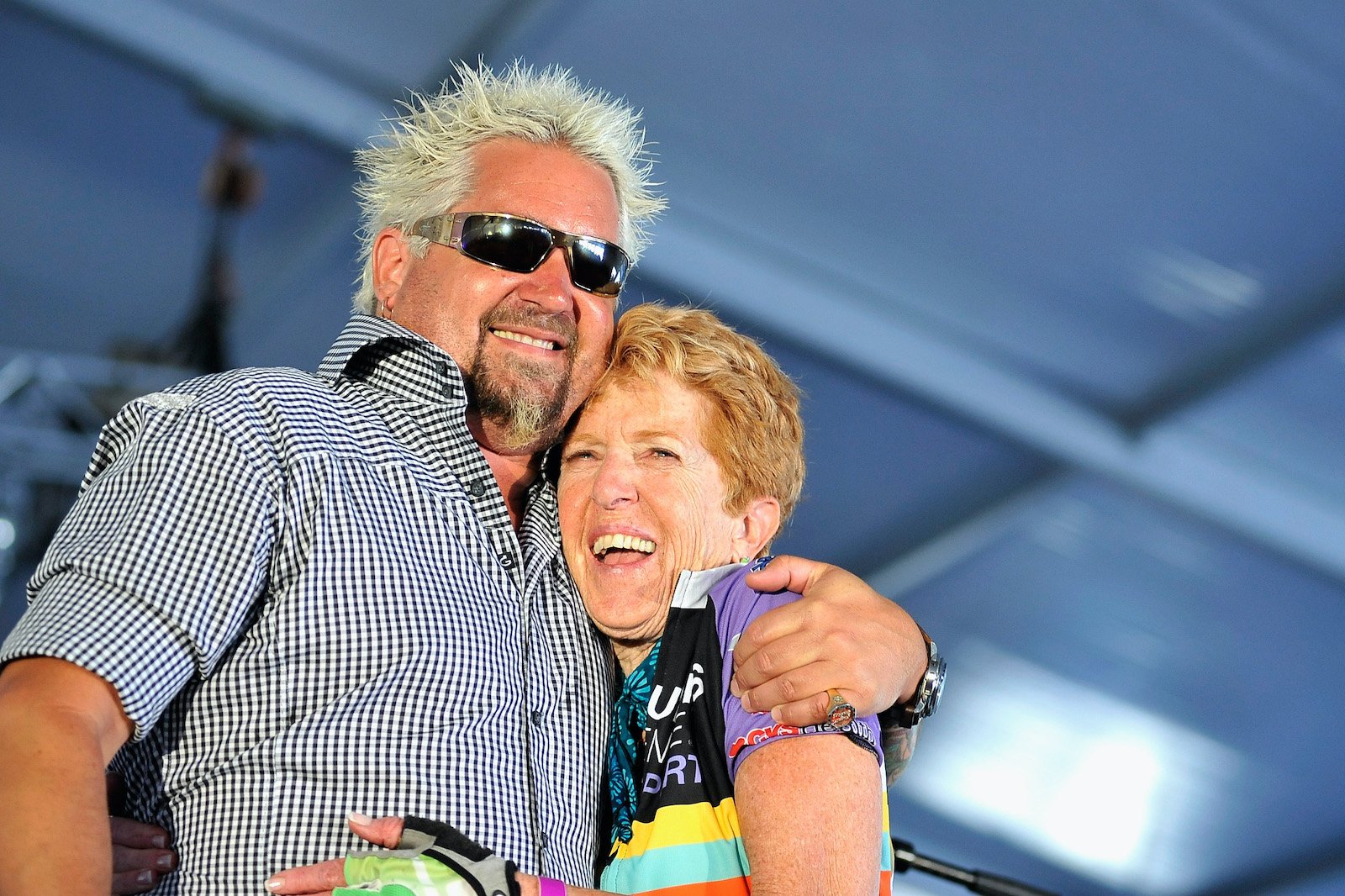 "They never did drugs or anything like that. California just fit their whole-earth lifestyle," he said. "My dad, Jim, was an entrepreneur and my mom, Penelope, was a homemaker who helped my dad. Soon after they settled in Ferndale, they opened Dave's Saddlery—named for their partner Dave Clowse—where they sold the belts and candles they made."
Fieri's parents were always supportive and helped to fund his first restaurant. "After junior college, I worked in every facet of the food business. I had my heart set on opening my own restaurant, and eventually, I did thanks to my parents, who mortgaged their house. I paid them back in six months," he said.
He's always remembered the support he received from his parents. Last April he bought them a new car. "Surprised my mom and dad with a new Kia Sportage!" he shared on Instagram. "They have been amazing parents and always supported me in my adventures."
'Outbreak' filmed in the town he grew up in
Fieri shared a fun fact with Showbiz Cheat Sheet about where he grew up. "When I was younger, I lived in a town in Northern California called Ferndale," he said.
"I don't know if you ever saw that movie Outbreak with Dustin Hoffman, but that was filmed in my little town," he continued. "It's very community-oriented. And my parents were always that way. And, you know, I'm a very fortunate person. I have this great career and great family, great friends. And when you have that kind of opportunity, why not share?"
Guy Fieri is being honored for his generosity
Fieri also started a foundation to help others. "And so, my foundation, The Guy Fieri Foundation is all about supporting our veterans," he shared. "We have a big veterans program, first responders, women, and children. And we have a reading advocacy program that we're doing now where we're inspiring kids with a reward to read."
"So when you get to have the platform that I have, it's really a shame to waste it on just about being Guy when I can take it and share it with others. And that's what I chose to do when we started talking about charity and about involvement," he added.
Fieri also quietly donates perishable food from Guys Grocery Games to local shelters. He prepared and distributed over 2,000 meals to first responders following the Carr Wildfire in 2018.
Additionally, Fieri managed to raise $21 million for restaurant employees impacted by coronavirus (Covid-19). He created the Restaurant Employee Relief Fund, funding over 43,000 $500 grants to restaurant employees.
The South Beach Food and Wine Festival will hold a tribute dinner to Fieri to honor his endless charitable contributions. In addition to Fieri, the dinner will also honor Bill and Peter Deutsch of Deutsch Family Wine & Spirits. The event will be held in Miami, Florida on Saturday, February 26, from 7:00 PM – 11:00 PM.