Guy Fieri's Signature Platinum Hair Was Serendipity — 'I Was Speechless'
Guy Fieri has many claims to fame, from his restaurant days to his cookbooks, to his dozens of shows on the Food Network. But the number one thing he's known for is his signature white-blonde, spiky hair. It's so recognizable that it's hard to imagine him without it. 
But his hair didn't always look like it does today. His style was once dramatically different, and the change came about in an unexpected way. 
He once had a 'clean look'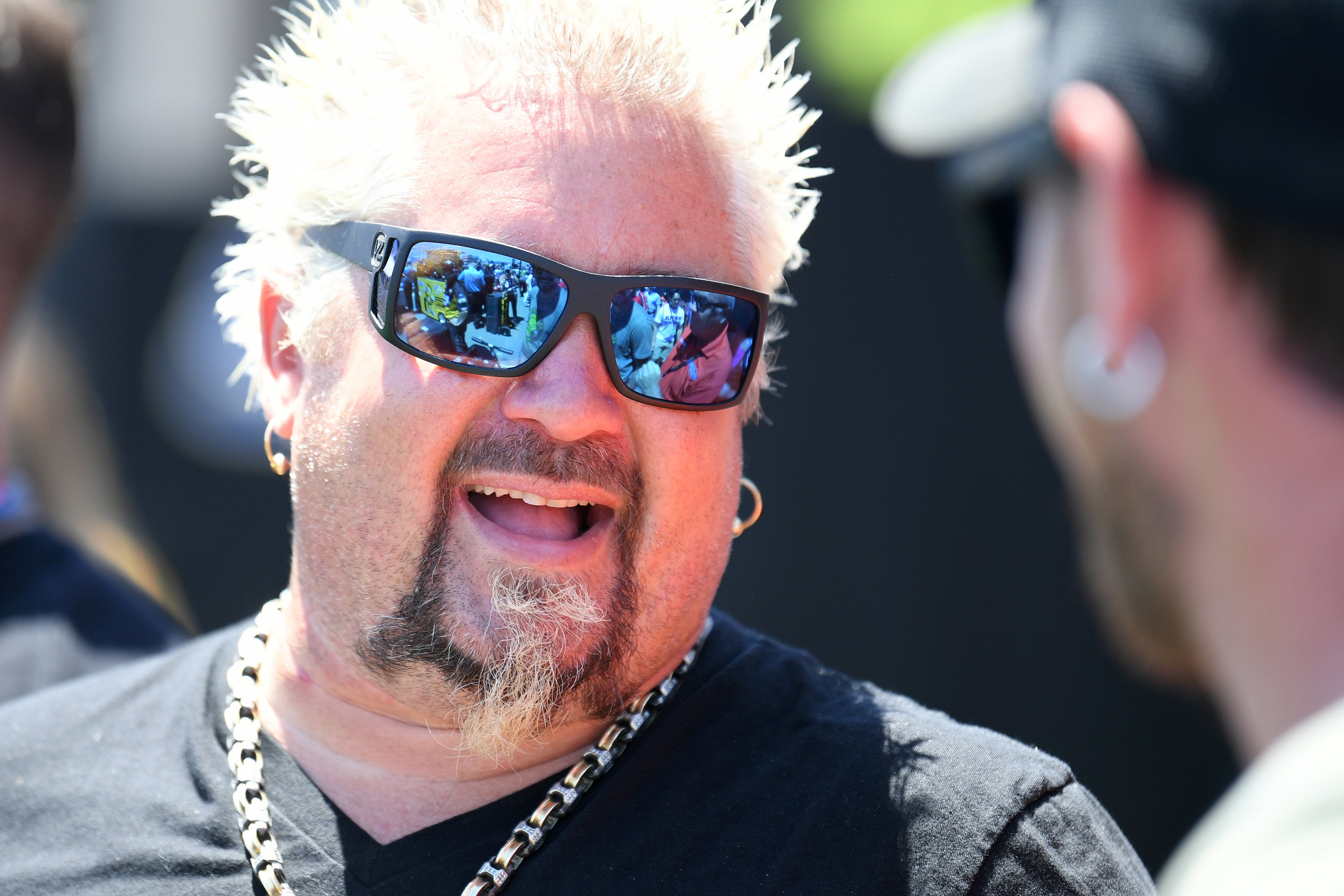 According to The Things, Fieri met his wife Lori in 1992, when he was working as a restaurant manager in California. And he looked quite a bit different at the time. 
"When I first met him, he had no goatee. He had dark hair. He wore a suit to work every day," she explained. "Now I look at him and I'm like, 'Where's that man I married with the whole clean look?'"
Over time, Fieri transitioned from working in the front of the house to the kitchen. As he pursued his passion for cooking, his style shifted too. Instead of a respectable, clean-cut look, he started to grow his hair long. 
How the platinum style came about
Delish reports that Fieri's hair stylist wasn't happy with his long hair, and she kept trying to convince him to try something new. It took a few years, but she was finally able to talk him into letting her switch things up. But the change was bigger than he'd anticipated.
"She'd always complain that I needed to get contemporary," Fieri said, "so one day I said, 'Fine. Do whatever you want,' so she cuts my hair, and when we get done, I asked, 'When are you going to wash the shampoo out?' She said, 'What shampoo? That's your new hair color!'I am rarely speechless, but I was speechless then."
Fieri wasn't thrilled with the look, but he had to got to work right after his dramatic make over. He tried hiding his hair under a baseball cap, but it wasn't very effective. When he walked into the restaurant, the staff fell silent. His son Hunter, who was four years old at the time, probably expressed everyone's shock best, saying "What happened to you, Daddy?"
It took a while for Fieri to get comfortable with his bright-white hair, but eventually he embraced the look. 
However, maintaining his signature style isn't easy — and the pandemic made it even more complicated. 
Keeping his style during Covid-19
Many people let their hair grow out and their color go natural during the work-from-home days of the pandemic. But Fieri didn't really have that option, because he was still appearing on screen. 
According to Mashed, he was shooting segments for The Kitchen from home. He also worked to raise money for the Restaurant Employee Relief Fund, and he even traveled to film episodes of Diners, Drive-Ins, and Dives. Yet, like much of the country, the hair salons in his hometown were closed for business.
Fortunately for Fieri, his wife did her best to help him with haircuts. And even better, he has a close friend in the area who owns a hair salon. 
"I was able to coerce him over here," Fieri said. "We just had to get creative. Did I have some long hair days? Yeah."
Between the two of them, they managed to keep him looking presentable on camera. Fieri's signature hairstyle may have happened on the spur-of-the-moment, but it looks like it isn't going away any time soon.