Guy Fieri's Weakness Is 'Poor Man's Prosciutto and Melon' — Here's How to Make It
Here's how to make the dish that makes Guy Fieri weak.
Over the years Guy Fieri has been one of the many talented cooks to create a successful career as a celebrity chef. Food Network's fans and viewers have enjoyed watching Fieri since his debut on the air back in 2006. Guy's Big Bite, Fieri's premiere television show, was the first of many and ran for a total of 19 seasons. Guy's Grocery Games, Guy's Ranch Kitchen, and, of course, Diners, Drive-Ins and Dives are just a few more of the famous chef's entertaining series. Fieri's fans and followers have enjoyed getting to know the celeb cook on and off the air, and as time has gone by, Fieri has shared some pretty surprising and fascinating culinary insights. 
Guy Fieri's weakness is 'poor man's prosciutto and melon'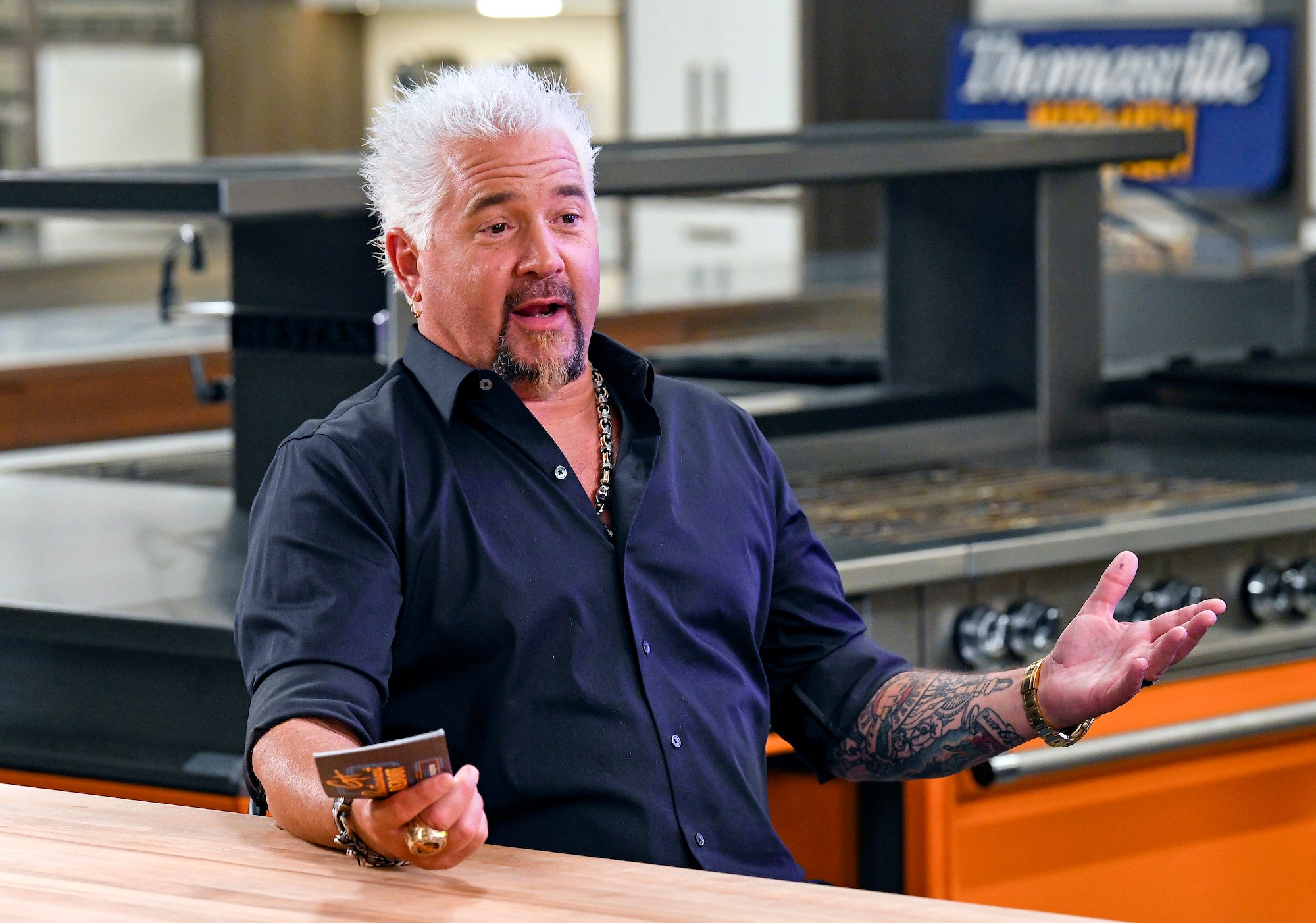 Fieri has often recounted how his love for the culinary world began at an incredibly young age. One of his first experiences working with food stemmed from a pretzel cart he made with his father.
Fieri used the money he made from selling pretzels and washing dishes to study abroad. It is sufficient to say that Fieri wasn't an average kid. Learning about and experimenting with food from such a young age led the celebrity cook to get hooked on what Fieri refers to as the "poor man's prosciutto and melon". 
Delish's recent feature shared the details behind Fieri's unique creation that is a play on the popular and renowned appetizer. As many can imagine, there actually was no prosciutto or melon involved. The star of Fieri's guilty pleasure is simply salami and a Granny Smith apple.
Fieri thinly slices the apple and then wraps the fruit in the salami. As the chef explained, "I've been eating it—not kidding you—since I was about 7 years old, long before I'd ever had prosciutto, and to this day, nobody gets a bigger kick out of it than me." The snack must be pretty good if Fieri loves it so much. 
Guy Fieri's favorite ingredients & dish 
With as much experience and clout as Fieri has, people often turn to the celebrity chef for everything from advice to recipes. Many of Fieri's fans are often surprised to hear that he is so "vegetable-centric", and he even typically builds his dishes around the veggies. 
With that being said, fans and followers of Fieri probably weren't too surprised to see all of the fresh produce listed amongst Taste of Home's "16 Foods Guy Fieri Thinks Are Off the Hook".  Cilantro, Asian cuisine, and his trademark sushi were just a few of the ingredients and plates to make the cut. However, when it comes to favorites, there is one recipe that takes the cake.
Fieri once said picking a favorite dish was sort of like picking a favorite child. In other words, almost impossible. However, in the chef's heart-of-hearts, there is one creation that surpasses them all: Fieri's collard greens. 
The secret behind Guy Fieri's collard greens 
Throughout his career Fieri has released a total of six cookbooks. His fans and followers can't get enough of his tips and tricks, and fortunately, he didn't hold back when it came to his prized collard greens. 
Food Network shared all of the tasty details behind Fieri's "Southern Collard Greens". As Fieri will tell you, one of the tricks is to use smoked turkey instead of the traditional ham hocks. The recipe takes a little over an hour, and the results and reviews speak for themselves. From his "poor man's prosciutto and melon" to his critically-acclaimed cookbooks, Fieri's talents, skills, and passion are evident.