Hailey Bieber Sued for Trademark Infringement Over Rhode Skin Care Brand Name
Hailey Bieber just launched her new skin care line called Rhode, and the brand is already causing controversy – the model has been sued for trademark infringement by a clothing company of the same name. Here's what we know so far about the lawsuit against Bieber over Rhode.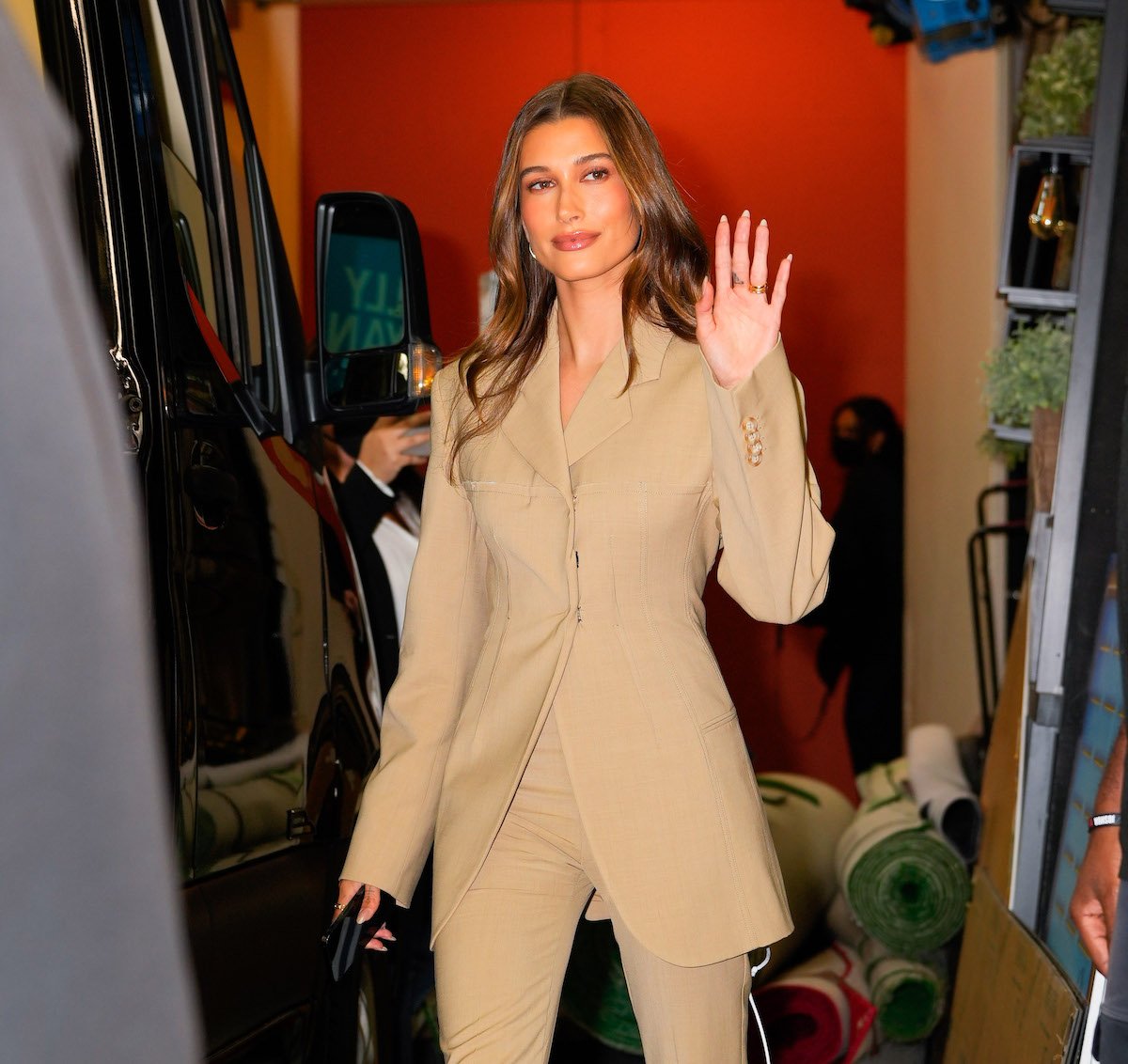 Hailey Bieber recently launched Rhode, her line of skin care products
On June 15, Hailey Bieber shared an Instagram post announcing the debut of Rhode, her new line of skin care products. Bieber used her middle name as the brand's moniker.
"We are a line of curated skincare essentials made with thoughtful intention. our formulas nourish your skin barrier to instantly give you dewy, delicious skin while improving its look and feel over time," the runway model captioned a photo of herself with white cream dotted across her face.
Bieber wrote that Rhode worked with dermatologists and chemists for years to formulate their products. She added, "Formulated for sensitive skin and suitable for all skin types, we are vegan, cruelty-free, gluten-free, and we're available fragrance-free. all our products are under $30. everyone is welcome here 🤍 come on in at rhodeskin.com."
The Rhode skin care line currently includes a "barrier restore cream," a "peptide glazing fluid," and a "peptide lip treatment." The products range in price from $16 to $29, and the entire line, including all three flavors of the lip treatment, can be purchased for $95. 
Hailey Bieber was sued for using the brand name Rhode for her skin care line
Just one week after launching her Rhode skin care brand, Hailey Bieber was sued for trademark infringement. The fashion brand Rhode, founded by Phoebe Vickers and Purna Khatau, filed a lawsuit against Bieber and the brand on June 21. According to court documents obtained by Vanity Fair, they are requesting to block Bieber's use of the brand name Rhode.
The clothing brand shared an Instagram post on the same day, explaining the details of the lawsuit in a lengthy caption. 
"Nine years ago, we quit our jobs and founded Rhode out of our apartment, creating a fashion company from nothing. We're two women entrepreneurs who met in college, built the RHODE brand, and put years of hard work into our minority co-owned company," the owners wrote.
"Today, we were forced to file a lawsuit against Hailey Bieber and her new skin-care line that launched last week and that is using the brand 'rhode,'" they continued. "We didn't want to file this lawsuit, but we had to in order to protect our business."
Khatau and Vickers went on to say that they "admire Hailey" and they "don't want to sue" her, but that she "could choose any brand for her skin-care line."
"We have only the brand name 'RHODE' that we've built. That's why we didn't sell her our brand when she asked four years ago, and why we ask her now to change her skin-care line's brand," they claimed. "Her using our brand is hurting our company, our employees, our customers, and our partners."
The model recently shared her thoughts on women 'competing' with each other
Hailey Bieber and Emily Ratajkowski recently discussed competition amongst women in a YouTube interview. Bieber asked her fellow model about the biggest challenge she has faced as a woman in her industry. 
"I just feel like there's a barrier in general when women meet each other, of kind of like, 'Are we competition?' I think that's so sad," the "Blurred Lines" music video star answered. "And I don't blame women at all for doing that. I think it's, like, how we are trained to be. But I just think that I would like that to change."
"I feel like people really perpetuate women-on-women drama and women competing against each other and fighting with each other," Bieber responded. "And I've just always really felt like there's enough space for everybody. There's enough room for everybody to thrive, and we're so much more powerful when we're just supporting each other."
RELATED: Hailey Bieber Talks About Future Children With Justin Bieber in Sweet Mother's Day Instagram Post