Hallmark Star Ryan Paevey Shows You How to Make This Surprisingly Easy Yule Log Recipe
Ryan Paevey joined 'Home & Family' host Debbie Matenopoulos to make this festive and easy-to-prepare bûche de Noël.
Do you need a show-stopping dessert for your holiday table? Look no further than this recipe for a gorgeous bûche de Noël – aka a yule log. Hallmark Channel star Ryan Paevey teamed up with Home & Family host Debbie Matenopoulos to make this classic Christmas dessert during a visit to the channel's now-canceled morning talk show. 
Ryan Paevey and Debbie Matenopoulos prepared this surprisingly easy-to-make Christmas cake 
Paevey visited Home & Family in 2018 to promote his movie Hope at Christmas. He also helped Matenopoulos make this surprisingly simple recipe for a yule log cake. The secret to this easy-to-prepare dessert is boxed cake mix.
"A lot of people don't make bûche de Noël at home because it seems intimidating – I mean look how beautiful it looks – so they buy it for the holidays," Matenopoulos explained. "But the truth is, this is so easy to make." 
To make the sponge cake, all you need to do is double the number of eggs called for on the back of the cake mix box from three to six and remove some of the oil and milk. You'll have a little batter left over, but you don't want to throw that away. Instead, use it to make a couple of cupcakes, which can you use to make bumps to put on your log. 
This step is key when making the bûche de Noël, the 'Coyote Creek Christmas' star learned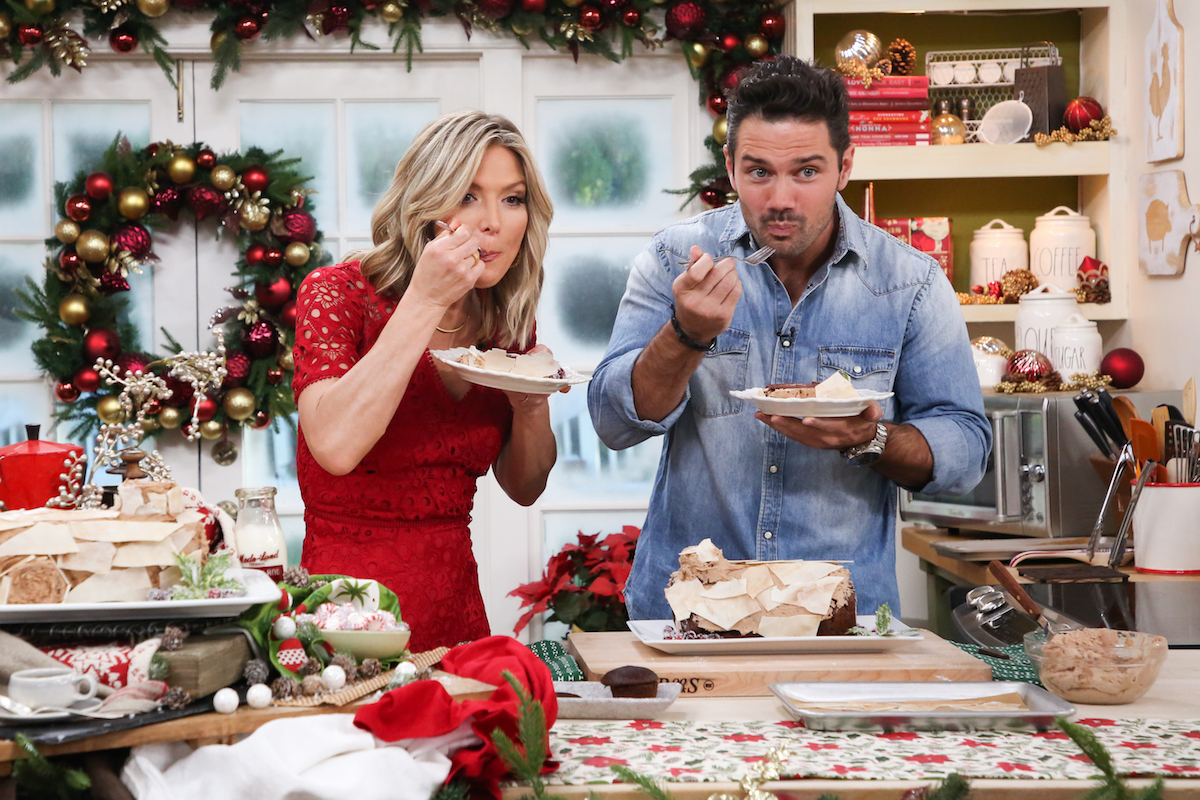 After you bake the cake in a sheet pan, you need to let it cool. But don't let it cool for too long, or it will break when you try to roll it. About five minutes should be enough, Matenopoulos said. 
Paevey – – whose latest Hallmark movie is Coyote Creek Christmas – seemed a bit intimidated by the process, noting that he was "much more comfortable with Pop-Tarts." But he rolled the slightly-warm cake without a hitch. 
After you roll the cake, you need to set it aside to let it cool completely. The cake will have a slight curl when you unroll it. Next, you add a layer of cream cheese and raspberry filling. Then, you roll the cake again and let it rest in the refrigerator for about 30 minutes. 
Top the yule log cake with a buttercream frosting and homemade chocolate bark  
Once the cake comes out of the fridge, you spread on a homemade buttercream frosting. The frosting doesn't need it to look perfect, since you're trying to create the appearance of a rustic log. 
Finally, you decorate the yule log with some bark made of melted white chocolate that you let cool in a very thin layer on a cookie sheet lined with parchment paper. To give it the look of real bark, use a pastry brush to top the white chocolate with a bit of cocoa powder. 
Add the bark to the frosted cake. To give it a little more festive flair, place some sugared cranberries around the log. 
You can find the complete ingredients list and directions for the bûche de Noël on the Hallmark Channel website. 
Check out Showbiz Cheat Sheet on Facebook!