Hallmark's 'Godwink Christmas' Movies Are Inspired by True Stories
A new 'Godwink Christmas' movie airs Dec. 11 on Hallmark Movies & Mysteries, and like previous films in the series, it's inspired by a true story.
A fourth movie in the popular Godwink Christmas series airs Dec. 11 on Hallmark Movies & Mysteries. Like the three previous holiday movies, A Godwink Christmas: Miracle of Love is inspired by a real-life story of "godwinks," or divine coincidences.  
All the 'Godwink Christmas' movies are inspired by true stories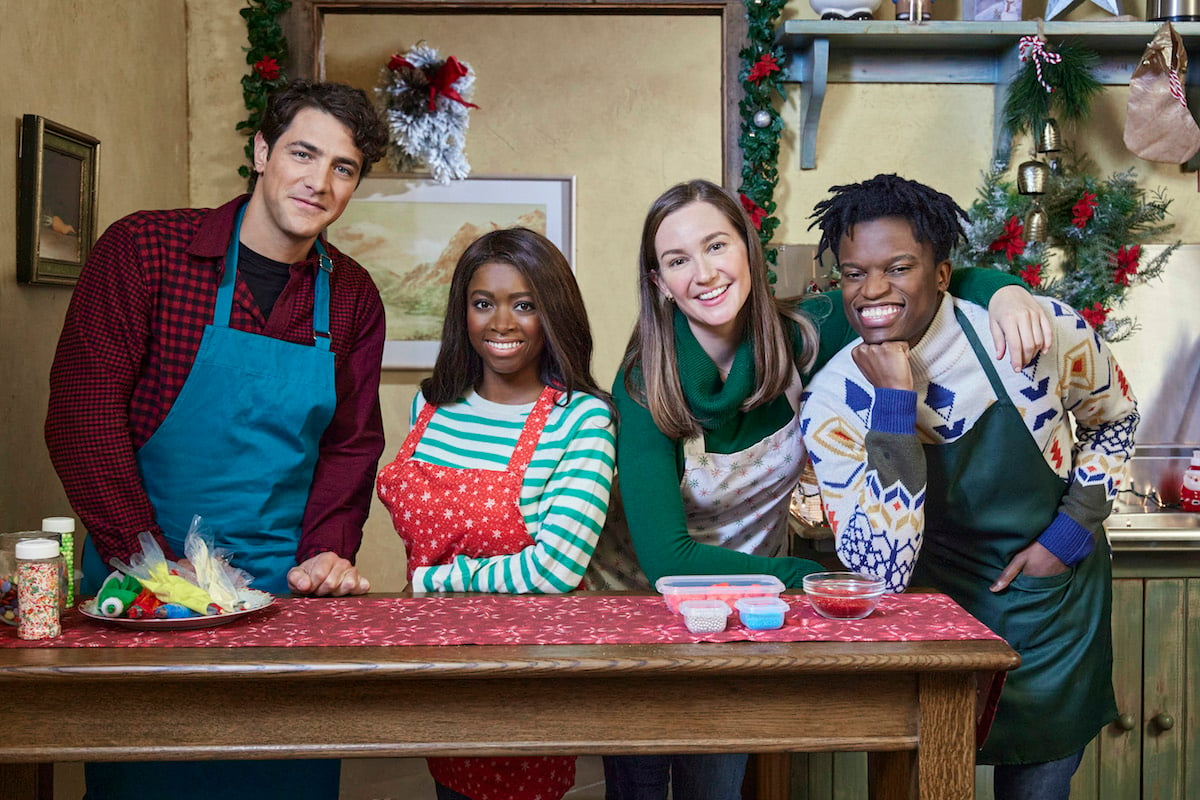 The first Godwink Christmas movie aired in 2018. It was inspired by the true story of how Gery and Paula Conover met and fell in love on Martha's Vineyard, according to an article in the Vineyard Gazette. 
A Godwink Christmas: Meant for Love tells the story of how Alice and Jack Totah fell in love at first sight. In the process, they also reunited two friends who'd hadn't seen each other for 50 years, according to Today.  
In A Godwink Christmas: Second Chance, First Love, former high school sweethearts Pat and Margery Godfrey end up reconnecting in an unexpected way after not seeing each other for years, according to Seattle Weekly.
All of the Godwink movies are based on stories in the Godwink books by Squire Rushnell and Louise DuArt.
What is 'A Godwink Christmas: Miracle of Love' about? 
A Godwink Christmas: Miracle of Love stars Katherine Barrell from Wynonna Earp and Good Witch. Barrell plays Joy, who has long dreamed of following in her mother's footsteps by becoming a nurse. After completing her education, she's ready for the next step in her life. She returns home for holidays but with no job on the horizon, she finds her interest piqued by an out-of-town volunteer opportunity. 
While helping to build a new home for a family at Christmas, Joy meets another volunteer named Eric (Alberto Frezza). Together, they find a new sense of purpose. Through a series of coincidences, or "Godwinks," plus a medical miracle, they start to believe in destiny.
"It's based on a true story. It's a beautiful story," DuArt, who is an executive producer on the movie, said in a Facebook update. In real life, Eric was seriously hurt in an accident just weeks before his planned wedding to Joy. However, a fortuitous coincidence meant that the doctor who treated him had just learned a new technique to repair his injuries, according to a 2015 segment on Today.
Katherine Barrell talks about working on her new Hallmark movie 
For Barrell, filming A Godwink Christmas: Miracle of Love was particularly meaningful. That's because she made it right after the birth of her first child.
"This movie was SUCH a special experience for me," she wrote on Instagram. "Just 5 weeks after my son was born- getting 'back in the saddle; was both exciting and very intimidating!! This team lifted me UP- the kindness they showed my family and the understanding of my need as a new mother (hello breast pump!) really renewed my faith that the film industry is changing to support women and new parents more and more."
"I poured my little mommy heart into this beautiful true story," she added. "I'm really proud to share it with you guys on December 11!"
A Godwink Christmas: Miracle of Love premieres Saturday, Dec. 11 at 10 p.m. ET on Hallmark Movies & Mysteries. 
Check out Showbiz Cheat Sheet on Facebook!