'Halloween Kills' Gets a Killer Score from Creator John Carpenter
In Halloween Kills, Michael Myers is back doing what he does best, decreasing the population of Haddon. Creator John Carpenter is scoring his latest killing spree. Considered one of the best horror movies of all time, Halloween became Carpenter's signature film as a director and composer. He created the scores for many of his films, including Escape From New York, The Fog, and They Live. Now, he keeps busy producing new music with his son, Cody.  
John Carpenter returned to 'Halloween' with successful reboot in 2018
The new Halloween brought back original star Jamie Lee Curtis in a generational story that skipped the endless sequels. It was a killer idea to get Carpenter back to compose David Gordon Green's successful franchise reboot. Who else knows how to score the man in the William Shatner mask?
Carpenter's distinctive theme has been haunting audiences since the release of the original movie back in 1978. It has become one of the most recognizable scores in the horror genre. The movie was a low-budget film and had no money for a big orchestra. So, Carpenter recorded the score in a synthesizer studio in just a few days. He composed a few themes and inserted them into the movie to significant effect.
Gordon Green was tabbed to direct an updated version and wrote a screenplay that respected the original concept. He convinced Carpenter to return to the franchise. For years, Carpenter had seen countless sequels and remakes. This time, he decided to get involved and help make the best Halloween movie yet.
"Lost Themes": John Carpenter composes new music with son, godson
John Carpenter is enjoying "retirement" life. Earlier this year, he released his third non-soundtrack collection, "Lost Themes III: Life After Death." The best part is working with his son, Cody, and godson, Daniel Davies. Together, they wrote "Lost Themes" (2015) and "Lost Themes 2" (2016), the first two collections.
Carpenter told EW says he can't quite explain how they write and record the tracks. "It's a lot of improvisation," he said. "Somebody has an idea, a sketch, a bass-line, a chord, a snatch of a melody, and we just start working on it. I have a home studio with a lot of great electronic sounds, and that's how we do it."
Carpenter credits his son with many of the compositions, including time signatures. "He's a virtuoso musician, keyboard-player, (and) he loves experimenting with different time signatures," he said. On the significance of the new title, "Alive After Death," Carpenter said, "Oh, that's what we hope our art will be."
'Halloween Kills' and the future of John Carpenter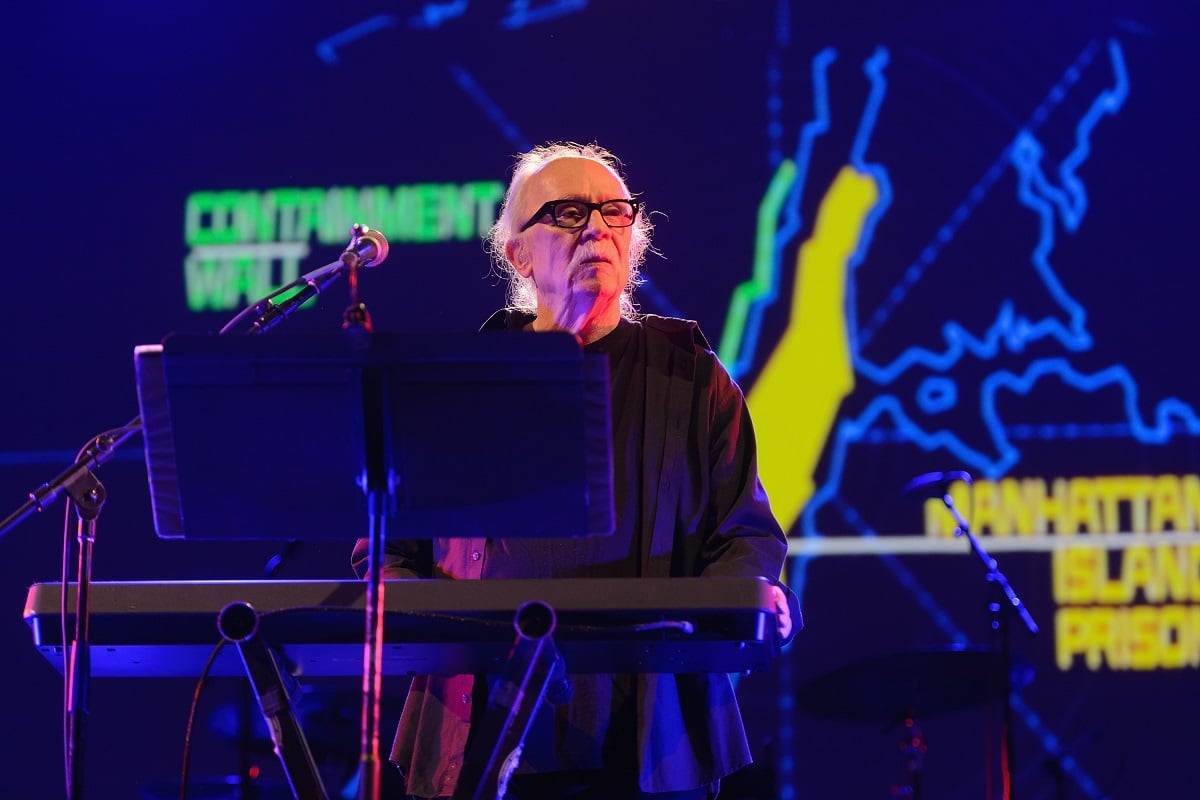 Now, the trio is back terrorizing audiences with Halloween Kills arriving in theaters on Oct. 15. Carpenter described the second movie in the new trilogy as "brilliant. It's the ultimate slasher. I mean, there's nothing more than this one." They will also score the finale Halloween Ends, due to be released in October 2022.
And once the world recovers from the coronavirus (COVID-19), Carpenter looks forward to going back to playing live shows. "I get to play with the son and my godson," he said. "We have a rock and roll-type type band. A bunch of guitars and drums. This is the greatest!"
Part of Carpenter's legacy will be the original Halloween score. It works despite its minimalist pieces. The audience gets sang-froid and a sense of dread with the distinctive theme. Carpenter created a theme as memorable as that of John Williams' Jaws and Bernard Herrmann's Psycho themes.
RELATED: 'Halloween': Did Director John Carpenter Play Michael Myers in the Horror Movie