Halsey Announces New Album 'If I Can't Have Love, I Want Power'
Singer-songwriter Halsey is full of surprises. On June 28, Halsey dropped her newest surprise and revealed that she will be releasing a new album called If I Can't Have Love, I Want Power. The album is produced by Trent Reznor and Atticus Ross. A brief teaser for If I Can't Have Love, I Want Power hints it will be a punk rock album.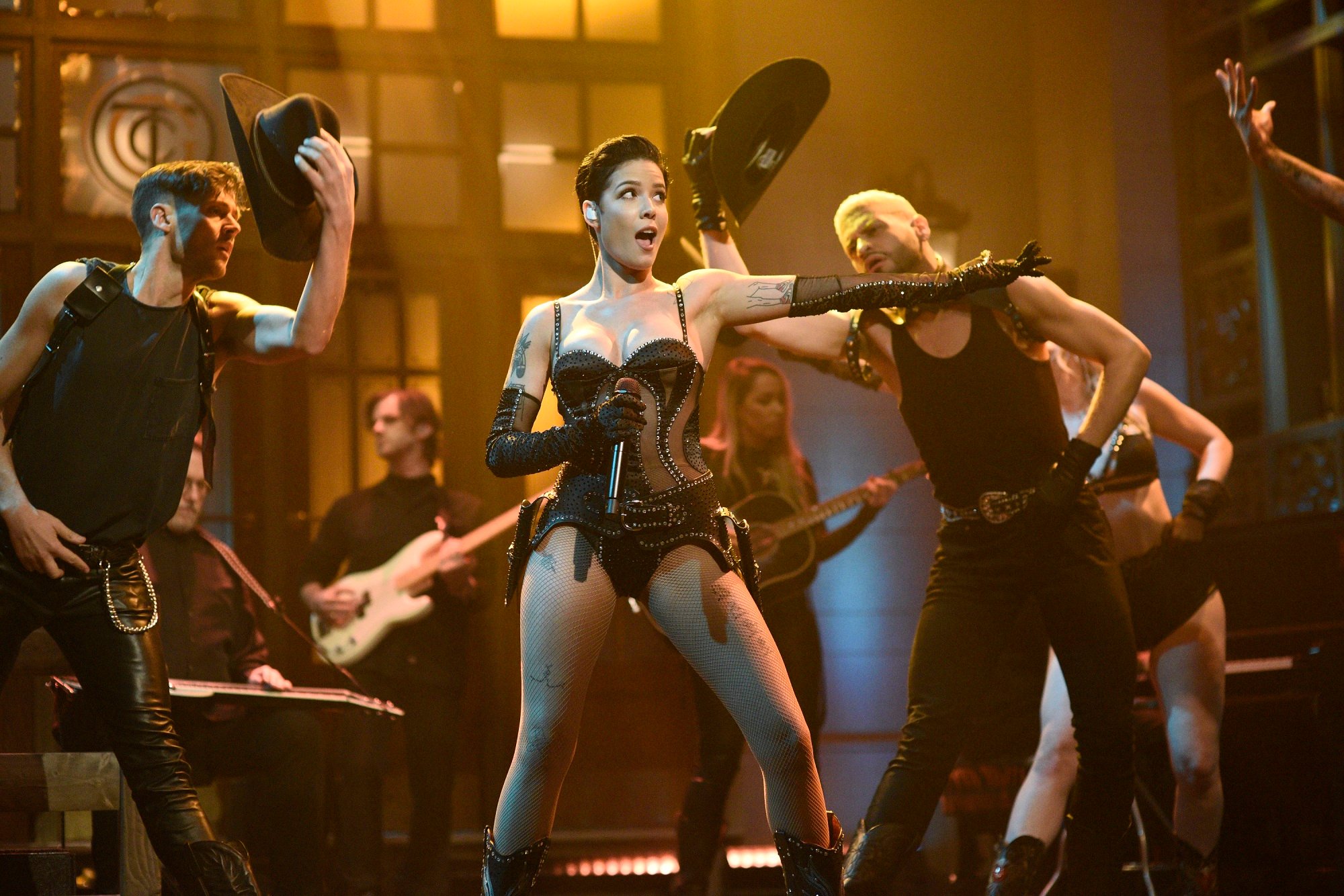 Halsey's fans knew there would be an announcement on June 28
While the reveal of If I Can't Have Love, I Want Power was a surprise to the general public, fans knew something was coming. In the weeks leading up to the album's reveal, fans received postcards in the mail, and Halsey followed an Instagram account that featured a cryptic website and teased clues about the album.
On June 27, a photo featuring coordinates was published on the Instagram account. Fans were able to pinpoint the coordinates to a billboard in Los Angeles. While waiting for the billboard to be put up, fans communicated on social media.
RELATED: Halsey Just Revealed Her Newest 2021 Secret and Announced She Is Pregnant
Halsey announced the album with a billboard
At 12:13 p.m. EDT, the singer-songwriter shared a video on Twitter showing the completed billboard that teases the album art for If I Can't Have Love, I Want Power.
"If I Can't Have Love, I Want Power The FOURTH album by Halsey Produced by Trent Reznor and Atticus Ross," Halsey tweeted.
In the teaser, the camera zooms out to show the billboard while audio of Halsey singing "All of this is temporary" plays. Based on the short clip of dark music, If I Can't Have Love, I Want Power sounds like it will be a rock album of sorts.
Reznor and Ross are known for scoring movies like The Social Network, The Girl with the Dragon Tattoo, Gone Girl, and Soul. Their work on these films earned them two Academy Awards for Best Original Score and a Grammy Award. Ross and Reznor are both members of the rock band Nine Inch Nails.
RELATED: Halsey Reveals There Are 3 Different Versions of 'Wipe Your Tears'
Fans reacted to the album announcement
So far, If I Can't Have Love, I Want Power does not have an official release date. All fans know is the album's title and the producers Halsey chose to work with on the record. After the album was announced, Halsey trended on Twitter as fans discussed the album.
One fan wrote on Reddit, "I have been saying for a few years a Reznor and Atticus produced Halsey album would be phenomenal!"
Another fan wrote on Reddit, "Considering who is producing it, I'm so excited! We might be getting a rock album!"
"… this has the potential to be my favorite album of hers yet!!!!" A Reddit user wrote. "I wasn't expecting another album from her for at least another year because of her baby so this is such an amazing and pleasant surprise and I'm sooooo beyond happy the new album theories were right!!!!!"
"Without having a release date, part of me really hopes that she will just drop the album unexpectedly. Wishful thinking, I'm sure!" A fan wrote on Reddit.