'Hamilton' on Disney+: What Happened to Peggy Schuyler?
Eliza married Alexander Hamilton, and Angelica wrote to her sister and lover throughout this Broadway musical. The third Schuyler sister, though, is noticeably missing from Hamilton's second act.
What happened to Peggy Schuyler? Here's what Lin-Manuel Miranda said about this character and the historical figure that she was created after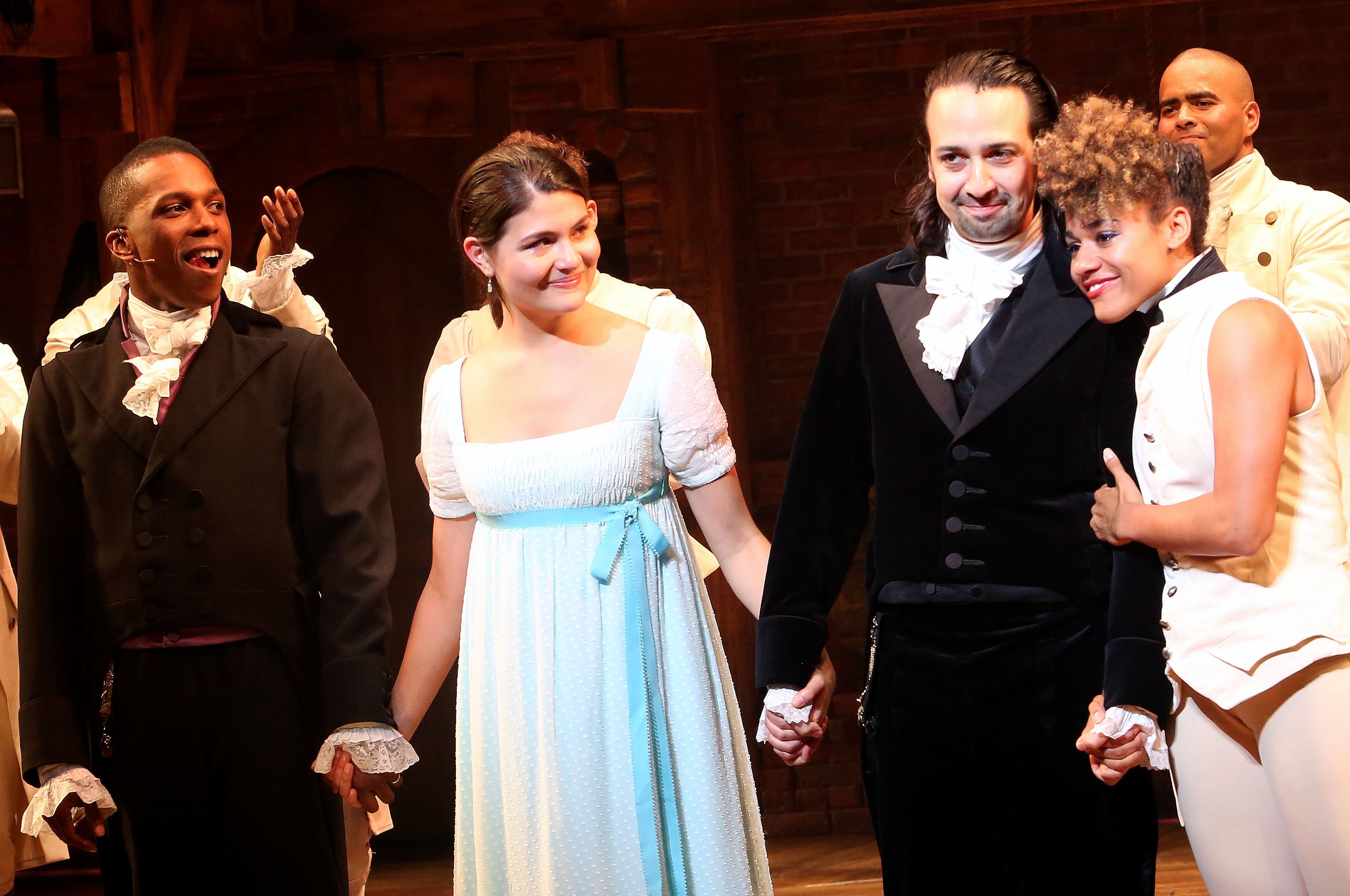 'And Peggy!'
Eliza is kind and caring, while Angelica is the oldest and the wittiest. There's also Peggy Schuyler, a spunky character from the first act of Hamilton. She appeared in songs like "The Schuyler Sisters" and "Satisfied," even attending Eliza's wedding in the process.
However, Peggy Schuyler is not included in the second act of Broadway's Hamilton. According to Miranda, this reason is not explicitly mentioned in the musical, but the answer has to do with the actual historical figure behind this character.
RELATED: From 'Captain America: The First Avenger' to 'Hamilton' — Here Are the Most Patriotic Films to Watch on Disney+ This 4th of July Weekend
What happened to Peggy Schuyler in Broadway's 'Hamilton'?
One of the creators of Hamilton commented on this intentional Peggy erasure. During an interview with WIRED, one fan asked what happened to Peggy Schuyler. Would there be a sequel regarding Peggy's story?
"I am not planning a sequel to Hamilton," Miranda said. "I don't know on Earth how I could follow that up. It's good that you wonder what happened to Peggy. She doesn't continue in our story into the second act because, sadly, Peggy didn't live that long.
"The broad outline of Peggy's story is that she married a very rich young man and died pretty young," he continued. With a limited amount of time of viewers in the theater (and on Disney+), the actor added, if a character didn't live to the second act, they didn't make it further in the story. However, the real-life story of these historical figures is "just a Google click away."
"In March 1801, Peggy died at age 42 in Albany, New York," Screenrant stated. "In Ron Chernow's 2004 novel Alexander Hamilton – the source material for Lin-Manuel Miranda's play Hamilton – the author reveals that Peggy was visited by her famous brother-in-law before dying."
RELATED: The Writer Behind 'Hamilton' Actually Appears in the Original Cast of This Broadway Musical
Peggy Schuyler isn't the only character missing from the second act of 'Hamilton'
This Schuyler sister is not featured in Hamilton's "Act 2," but she's not the only character who died. John Laurens, one of Alexander Hamilton's closest friends, died after the Revolutionary War already ended.
Marquis de Lafayette does not die, but he is also noticeably absent from Hamilton's second act. This character is made reference to throughout the second half of the musical, as he was, allegedly, fighting in France.
One version of Hamilton, featuring the original Broadway cast of the stage production, is available for streaming on Disney+. To learn more about Disney's subscription service, visit their website.