'Hamilton' on Disney+: The Schuyler Sisters Give off Serious Disney Princess Vibes With These Dresses
The Schuyler Sisters sport colorful dresses. Now that 'Hamilton' is available for streaming on Disney+, some fans are comparing these characters to Disney princesses.
Eliza is kind like Snow White and outspoken like Merida. Angelica cares for her sister like Elsa, and Peggy wears a billowing yellow dress like Belle. Hamilton is now available on Disney's streaming platform, but are these characters considered official Disney princesses? 
Here's what we know about the Schuyler sisters from Lin-Manuel Miranda's award-winning Broadway musical.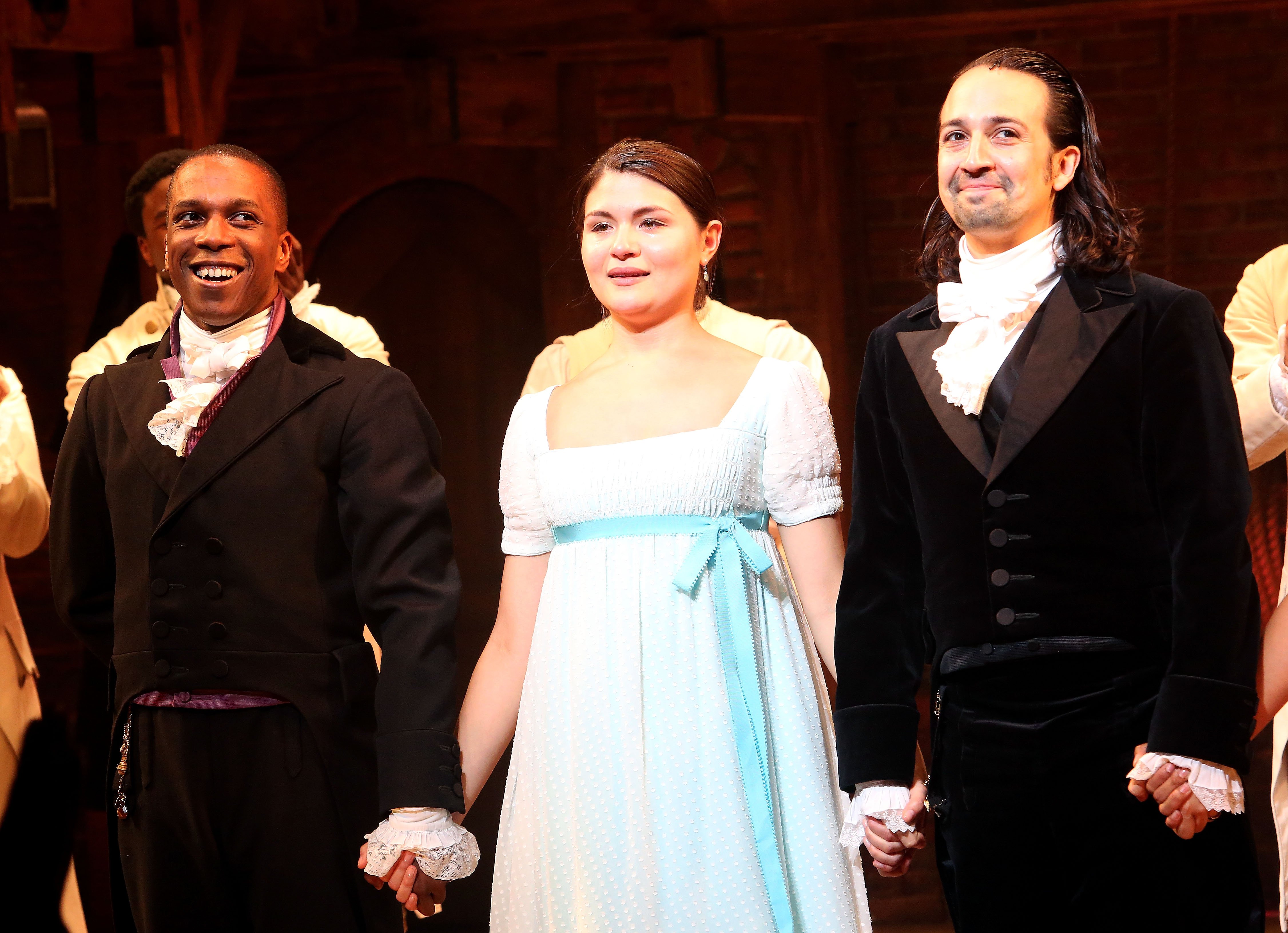 'Hamilton' featured characters like Elizabeth, Peggy, and Angelica Schuyler
This Tony Award-winning Broadway musical told the story of the Founding Fathers and some of the women involved in the Revolutionary War. That included the daughters of one wealthy New York man, Philip Schuyler. 
These three characters acted in Hamilton, sporting colorful outfits throughout the stage production.
These women performed during songs like "The Schuyler Sisters" and "Alexander Hamilton," appearing alongside the characters Alexander Hamilton, Aaron Burr, and George Washington. Eliza even had a budding romance with Hamilton, marrying her even though her sister had a secret crush on him.
Is Eliza Hamilton a Disney princess?
When these characters appeared during the song "The Schuyler Sisters," each of them sported a different color. Eliza wore blue, leading some fans to compare her to Cinderella from Disney's animated film of the same title. 
Peggy sported a yellow dress, sharing some similarities to Belle from Disney's Beauty and the Beast. Angelica Schuyler wore pink for this track, leading some Disney fans to compare her outfit to Aurora from Sleeping Beauty.
Although these characters share similar qualities with Disney's animated characters, Eliza Hamilton is not a Disney princess. Not officially, anyway. Manuel partnered with this company to bring his Broadway musical to fans across the globe, with a recording of Hamilton debuting on Disney+ during July 2020.
A recording of 'Hamilton' is available on Disney's streaming platform, Disney+
With a live recording of Hamilton joining Disney's streaming platform, some fans considered Eliza the next unofficial Disney princess. This character may not have an animal sidekick, but she raised funds in D.C. for the Washington monument and even spoke out against slavery. 
"She's a… hero if I've ever seen one," one Reddit user said. "Plus, she lived to be 97, and I don't think anybody was doing that back then. So, yes. Of the two things that must be ticked alongside being human, she's got one and a half. So, she is a Disney princess!"
"As far as I'm concerned, all three of the Schuyler Sisters are Disney princesses! Even Peggy," another Reddit user wrote. In the original cast, Eliza Hamilton was portrayed by Phillipa Soo of The One and Only Ivan.
There are a few other characters who fans are hoping could eventually join Disney's princess roster. That includes María of West Side Story, portrayed by Rachel Zegler in the 2021 adaptation. This recording of Broadway's Hamilton is available for streaming on Disney+.