'Hamilton' Fans Shouldn't Throw Away Their Shot to See These 5 Movies Now Streaming
'Hamilton' fans can see the show on Disney+ now. But here are some other recommended movies available to stream after watching Lin-Manuel Miranda's musical.
Whenever a Broadway show goes mainstream, the sad reality is that most fans never get the chance to see the original cast perform the show onstage. And that ensemble will likely never reunite on stage again. But with the Disney+ release of Hamilton, subscribers can be in "the room where it happens" as many times as they like.
Given the cultural phenomenon Hamilton has spawned, it might be only a matter of time before the award-winning show gets the big-screen treatment. After all, it's already one of the most successful stage productions of all time. But for now, the Disney+ Hamilton is the closest we'll get to seeing the show at home, especially with this cast.
For Hamilfans hungry for more after the curtain call, these five movies are now streaming.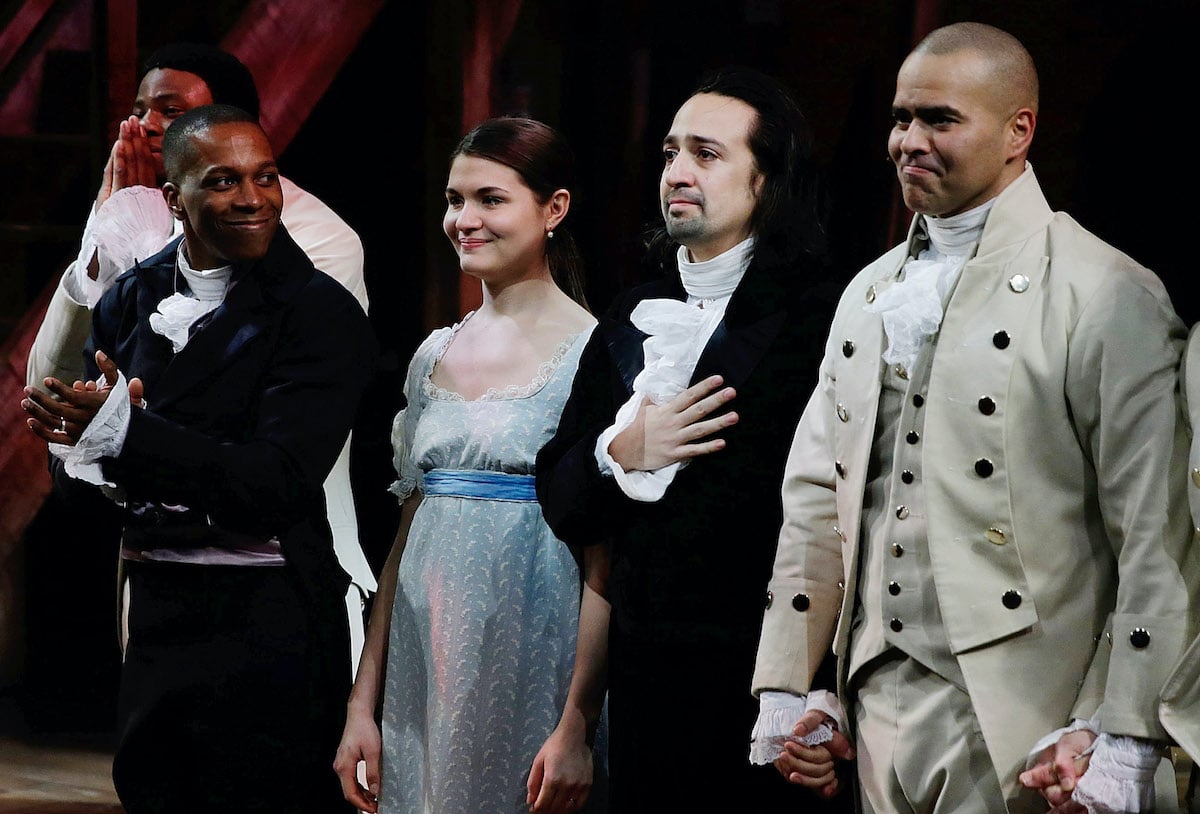 'Hamilton' creator Lin-Manuel Miranda wrote the music in 'Moana'
Disney+ subscribers watching Hamilton are probably already familiar with this 2016 animated musical, also available to stream. Hamilton creator Lin-Manuel Miranda co-wrote the music and even performs on "We Know the Way." Meanwhile, Christopher Jackson — who plays George Washington in Hamilton — provides the singing voice for Moana's father, Chief Tui.
Daveed Diggs co-wrote and stars in 2018's underrated 'Blindspotting'
Daveed Diggs delivered a Tony-winning dual performance in Hamilton. But we'll bet most Hamilfans missed this 2018 comedy/drama co-starring and co-written by Diggs (and streaming on HBO Max). Like Hamilton, the film has many famous fans — including Barack Obama — and uses hip hop as a driving force. Plus, the show's Jasmine Cephas Jones plays a supporting role.
'William Shakespeare's Romeo + Juliet' modernizes a period setting
Part of what makes Hamilton so infectious is how it marries a period setting with modern language and musical stylings. Decades earlier, this William Shakespeare adaptation proves the inverse also works. Leonardo DiCaprio and Claire Danes bring the literary classics' words to life in a modernized setting. And fans can turn to Starz to finally see or revisit this box office hit.
'1776' also presents a musical version of the Founding Fathers
Hamilton might leave some viewers on a bit of a historical high. Indeed, the show's distinctive approach makes the story behind the United States of America very compelling. This 1972 film similarly sees the Founding Fathers burst into song as they start a new nation. The movie — available on Pluto TV — even stars William Daniels (Mr. Feeny of Boy Meets World).
'Hamilton' director Tommy Kail also reimagined 'Grease Live' for TV
The Disney+ release of Hamilton isn't exactly a film adaptation. Instead, it aims to capture the thrill of the show's initial Broadway run. Director Tommy Kail also reimagined Grease for this 2016 TV production on Fox. Now streaming on Crackle, this version even improves aspects of previous takes. And it demonstrates Kail's ability to translate a musical story to film.