'The Handmaid's Tale': How Does Elisabeth Moss Feel About Joseph Fiennes' Exit?
It finally happened–June Osborne tasted bittersweet revenge. Now that fans have caught up on the June 2021 premiere of the Season 4 ending, The Handmaid's Tale ended with quite the cliffhanger. June corners Fred in the woods with the angry mob of handmaids. "Run," June says, and Fred gets what he deserves. Then, June is seen with Nichole and Luke in a heartbreaking and questionable moment.
Although the final scene with Commander Waterford is a violent one to swallow, the cast had to bid farewell to one of the TV show's main actors, Joseph Fiennes. The series' lead, Elisabeth Moss, revealed how she felt about Fiennes' exit.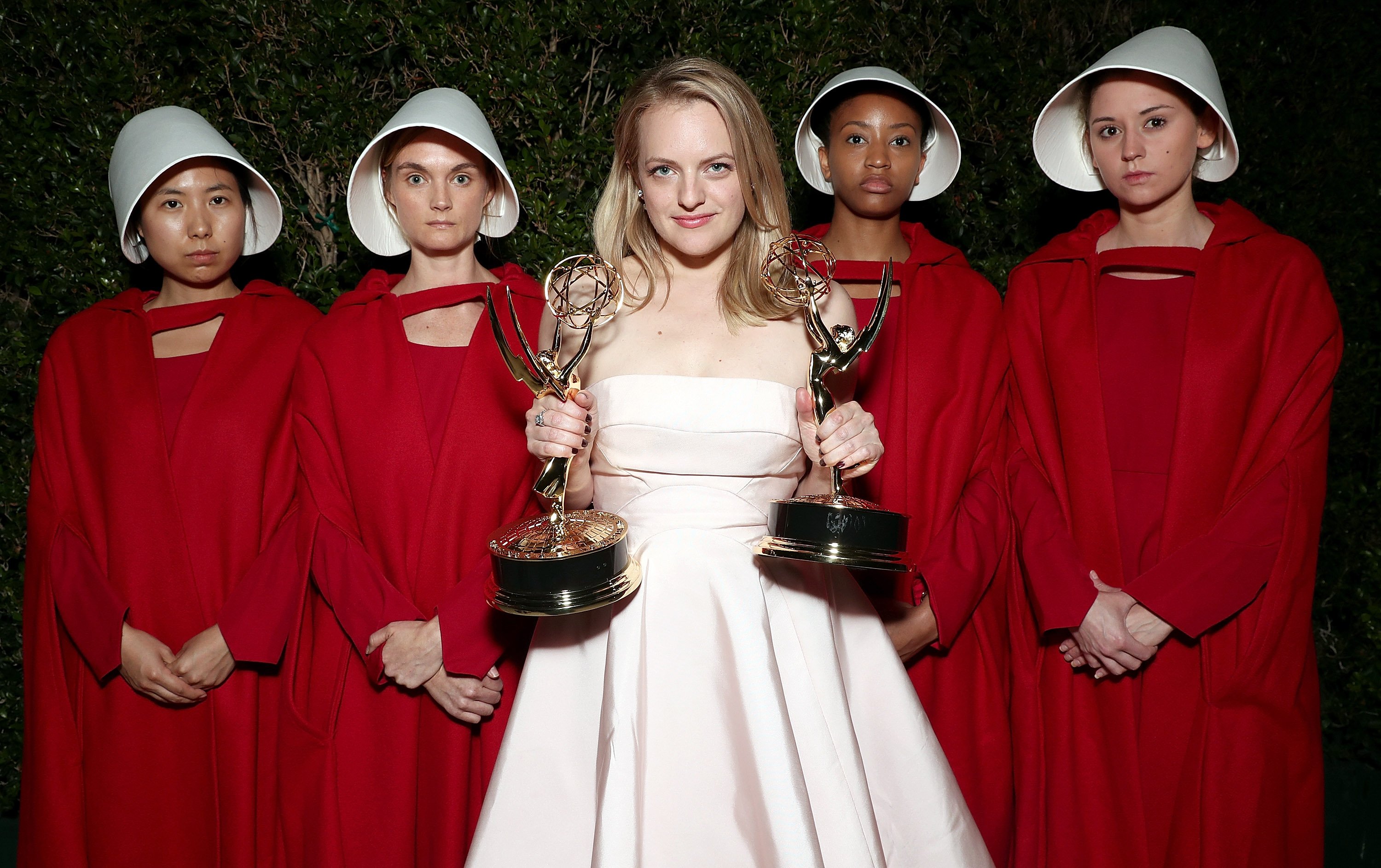 A recap of Seasons 1-4 of 'The Handmaid's Tale'
Based on Margaret Atwood's dystopian novel The Handmaid's Tale, the show focuses on the disturbing future in the Neo-Puritanical regime, Gilead. People are categorized into groups, but the story's central focus is on "handmaids:" women who are forced to bear the children of wealthy Commanders and their wives. June is known as "Offred," indicating that she is the property of Commander Fred Waterford. Yes, the show's future is more than misogynistic. It's pure evil.
If the plot doesn't sound disturbing enough, all four seasons of the show grip viewers in a tight grasp and refuse to free them. Season 1 introduces viewers to June's life in Gilead, under the ownership and control of the Commander. After the forced pairing between June and Nick by Serena, June faces the consequences for refusing to stone Janine.
Season 2 opens with Nick helping June hide. The uprising gradually develops, and viewers can finally meet June's daughter, Hannah. The Marthas decide to help June (or "Offred) escape. But this season ends with June returning to Gilead, thirsty for revenge.
The third season introduces the unique Commander Lawrence; he does not participate in the sadistic, violating "ceremony" with handmaids and the wives. Nevertheless, Commander Waterford does not hold back in his terror and continues to extend his wrath. Serena is later ambushed and arrested when she is given a chance to deflect. The season ends when the Marthas and June successfully help 86 children escape Gilead and fly to Canada.
Season 4 focuses on the uprising among the rebel handmaids. June finally can seek justice and take down the despicable philosophy that the Sons of Jacob created. Throughout the season, viewers question whether June is a hero or a villain. However, the season thankfully ends with Commander Waterford's imminent demise.
Watching this show requires endurance; the graphic images and storyline don't give viewers a break.
What did Moss say about her co-star?
Although they are on-screen enemies, Moss had nothing but positive comments about her "thoughtful" co-star. According to Express, Moss reflected on Fiennes's dedication to his role.
"There's a shot in Episode 10 where he slips and falls as he's coming around a corner, and that was him, not a stunt double," the show's lead actor recalled. "The woman behind him playing June is a stunt double! I've done plenty of running in this show."
Related: 'The Handmaid's Tale' Season 4: How Elisabeth Moss and Joseph Fiennes Created June and Fred's Prison Scene
The Primetime Emmy-award-winning actor added that Fiennes put a lot of work into his final moments, saying, "When we were shooting 10 and being there in the woods when we were shooting the salvaging itself, just as [Fiennes] does everything, he really did put 110% into his final moments in this passionate, enthusiastic, caring way."
Moss also complimented Fiennes' personality and said "He's always been a very thoughtful actor, as anyone knows who's worked with him. He's very thoughtful about every line, but he really embraced it in this way that was so cool and inspiring…But he was just so inspiring and fun [and] working with him as an actor and then as a director was just, I'm going to miss him."
Fiennes is relieved that his role ended
Although Moss is sad to see him go, Fiennes told Vanity Fair he is "happy" that his time in Gilead is over. This role is a sinister and perturbing one to watch, let alone portray as an actor.
"I'm quite happy to shake off Fred, to tell you the truth," Fiennes noted. "He served his time and it's been a great journey, but there is just something that makes my skin crawl with Fred. I'm really happy that I'm getting distance from him."
Fiennes added that he was happy for the audience "knowing they've been so patient" when reading the Season 4 finale script. "There's a reward in seeing Fred extinguished in the way he is," Fiennes said. "I mean, I'm sad to leave all of the wonderful people that I've grown to love very much, but I am thrilled at the same time."
Season 5 may be the end of The Handmaid's Tale. The discussion has circulated online over the finality of the show, but nothing has been confirmed yet.
Season 4 is streaming on Hulu.
Related: 'The Handmaid's Tale': Will June Be Able to Move on in Season 5?