'The Handmaid's Tale' Season 4: Elisabeth Moss Says the New Season Is 'Bigger in Every Way'
It's been a while since fans have seen a new close-up of  June Osborne's (Elisabeth Moss) face, but The Handmaid's Tale Season 4 is finally on its way. The Hulu original will return with 10 episodes this spring. And according to Moss, the next season of The Handmaid's Tale will be "bigger" than ever before.
'The Handmaid's Tale' Season 4 release date on Hulu
In February 2021, Hulu finally dropped The Handmaid's Tale Season 4 promo trailer. The streaming service teased what's next for June as the fight against Gilead starts to build some traction. But with that comes new challenges and dangerous situations. 
Meanwhile, Hulu confirmed the release date for The Handmaid's Tale Season 4. New episodes will drop starting Wednesday, April 28, 2021. The first three episodes are expected to be released on premiere day. Then the remaining seven episodes will come out every week through the season finale.
Elisabeth Moss teases the new season of 'The Handmaid's Tale'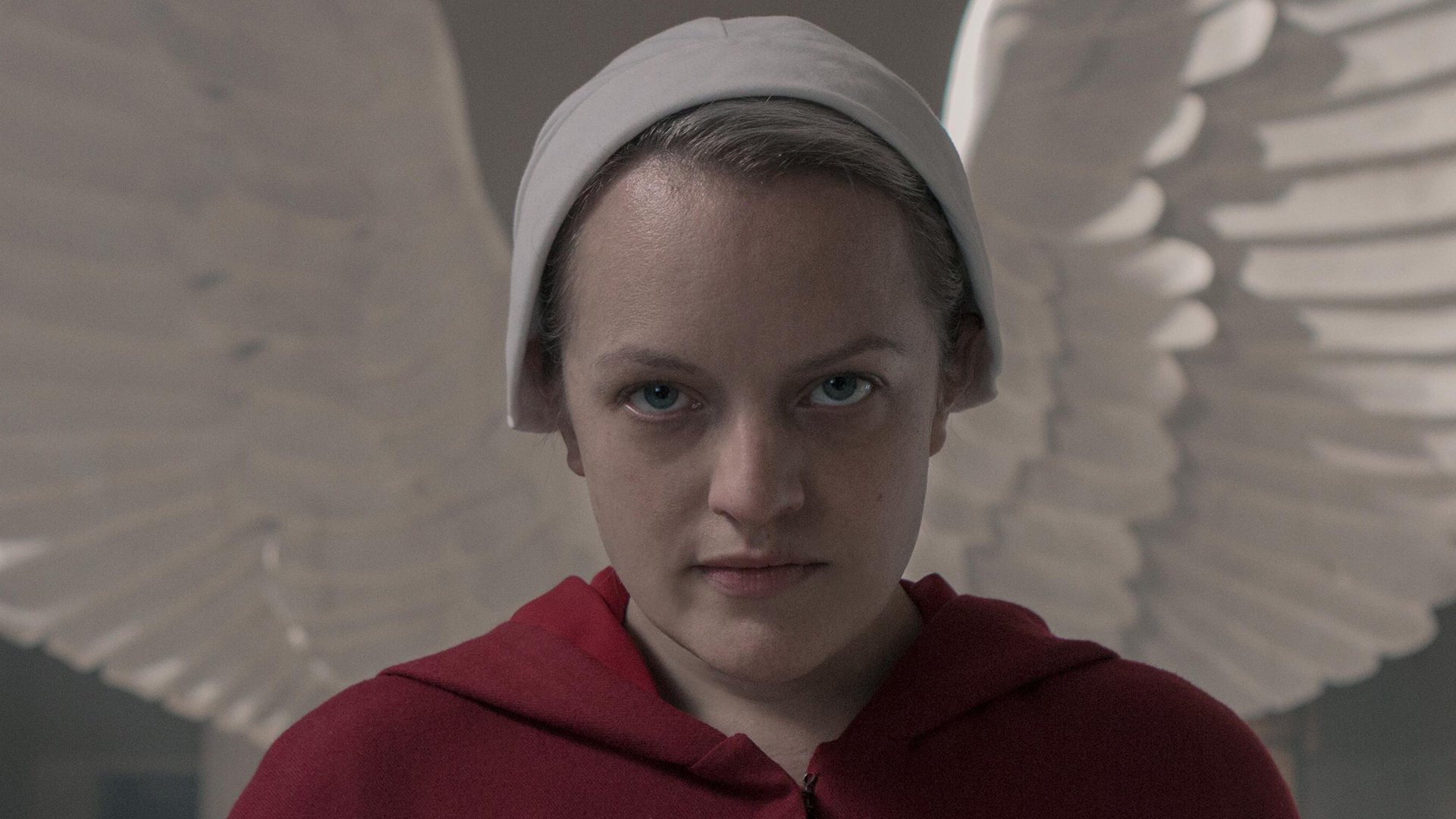 While The Handmaid's Tale fans have plenty of time before the show returns to Hulu, the cast and crew have already teased what's coming next. In an interview with Deadline from January 2021, Moss revealed the team was "halfway through" filming season 4. She also shared her thoughts on the first few episodes.
"I will say that the first half of this season is definitely bigger than we've ever done," Moss said. "It has been incredibly challenging. It has been, on a production level, really, really outside of our box, and it's just bigger in every way."
Moss also hinted that the first three episodes of The Handmaid's Tale Season 4 will throw fans for a loop.
"It's one of those things where you're going to think that something's going a certain way in episode 1, and then you're going to have that change in episode 2," Moss said. "Then, you're going to have it change again in episode 3, and you're never going to quite be able to figure out where it's going."
Bruce Miller and Warren Littlefield tease what's next on 'The Handmaid's Tale' Season 4
Now, Moss' comments may not be surprising to some Handmaid's Tale fans. For the past three seasons, the Hulu drama has been setting up the scene for something "bigger." Then when speaking at the Television Critics Association's winter press tour, creator Bruce Miller revealed that the new season delivers.
"I think the biggest thing is, this season we're delivering," Miller said, per The Wrap. "We're delivering on the things that we've set up, and I think that's very satisfying."
The creator continued, "I think in this season, we weren't waiting around. We were trying to make progress. It was time for sh*t to happen and we tried to make sh*t happen."
Meanwhile, The Handmaid's Tale executive producer Warren Littlefield agreed with Miller, noting the fourth season is "about patience rewarded."
"We've planted seeds for several years about this uprising and hotspot in Chicago and the forces of Gilead really can't keep it under control and that's where the uprising is," Littlefield said. "Nick [Max Minghella] is going to be sent to Chicago. And now we go. We leave our world, our central universe around the greater Boston area and, boom, we're in a completely new environment."
Littlefield added, "In season 4, we're nomadic. We are following June's passion, her drive, her relentless pursuit for change and that takes us everywhere. We're out on the road, there is no home base. Go figure, in this year of [the coronavirus (COVID-19) pandemic] we attempted our most ambitious production year because we're out there following this journey."
The Handmaid's Tale returns to Hulu on April 28, 2021.